Today I'm sharing my Prom Scrapbook Layout. Since this is a very exciting day for you and your teen, this will help you put this day in their memory book for them to enjoy for years to come!
This post may contain affiliate links that won't change your price but will share some commission.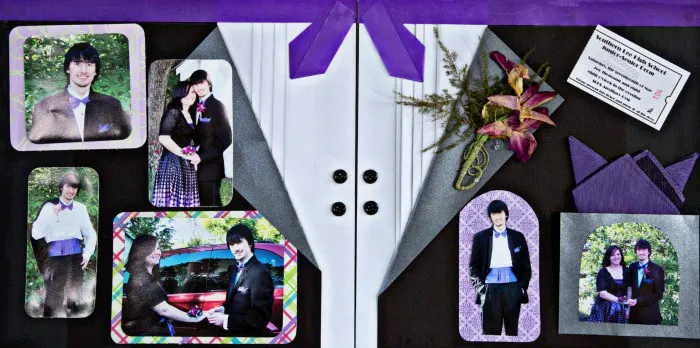 DIY Prom Scrapbook Layout:
Planning for prom was an exciting time in our house. From shopping for the clothes to taking pictures, we had a ball! We took photographs in our yard to remember this day and from there the Prom Scrapbook Layout was born.
DIY Prom Scrapbook Layout Supplies:
2 Sheets Cardstock (same color as tuxedo jacket)
2 Sheets Shimmer Metallic Paper ( that compliment tuxedo jacket)
2 Sheets 12×12 Paper (for shirt)
2 Sheets Paper (color or choice for matting photos)
4-Buttons
3 yds Ribbon
12-inch Scrapbooking Paper Trimmer
Corner Rounder Punch
Cutter Bee Precision Cut Scissors
Adhesive Applicator
Gloss Paper Adhesive
Photographs
Prom Ticket or Photograph of ticket
His Boutineer
His Tuxedo Pocket Square
How To Make A Prom Scrapbook Layout:
Step 1: Lay out the cardstock in the color of his jacket for your pages.
Step 2: With the paper for the shirt, make accordion folds 1 inch apart. Make your first folds at 2, 3, 4, 5, and 6 inches from the edge. Then pick up each fold and fold it toward your first edge. This process will give you 5 pleats. Use your apply adhesive to keep your pleats flatter. Repeat this process for the other side.
Step 3: Attach your pleated shirt front to your pages with your adhesive applicator. Keep the shirt all the way to the left and aligned with the top and bottom.
Step 4: Make your tuxedo jacket lapels by making a fold over the corner in your shimmer metallic papers. Attach this to each side of your layout, on top of the pleated shirt, starting 1-1/4-inches from the inside edge and keeping aligned with the bottom of the pages.
Step 5: You will see a gap at the top of your layout. Don't worry. we will take care of this opening. We will cover the gap with the ribbon that is going to make up the tie. For a bow tie, cut two twelve inch pieces of ribbon to go across the top and attach to your layout with your adhesive. Next, cut two 7-inch pieces off for the pieces of the bow. In the middle of your piece, fold one side at a 45-degree angle and fold the other piece at a 45-degree angle across the first piece. Cut your ends off at a 45-degree angle with your precision cut scissors and attach to the layout at a 45-degree angle with your adhesive.
Step 6: Attach one button on each side of the layout 6-inches from the top with your gloss paper adhesive. Repeat with the second button 7-inches from the top.
Step 7: Using the gloss paper adhesive attach your flattened boutineer. You can leave the pin in that was holding it on to his jacket lapel.
Step 8: Cut a 4-3/4-inch square for the jacket pocket out of your shimmer metallic paper. Attach the square on the lower right corner of your scrapbook page on three sides, leaving the top open, with your adhesive applicator. Insert the actual pocket square into the pocket.
Step 9: Attach the prom ticket to your scrapbook page with your adhesive applicator.
Step 10: Using your paper trimmer, or your precision scissors, trim your photographs and cut out any mats for your photographs you need. Mats will make your images stand out from the background. You can also make rounded corners on any pictures you wish with a corner rounder punch. Using your precision scissors and cutting around the edge of the images also makes them stand out well. Attach them to your scrapbook pages with your adhesive applicator.
There you have it! You have recorded the memory of your teen going to their prom in a fun and easy prom scrapbook layout! If I had been doing a page for my daughter, I think it would be fun to try to replicate her dress.
Check out all of our Scrapbooking Posts:
Christmas Scrapbook Pages Ideas
Disney Vacation Scrapbook Ideas
DIY Graduation Scrapbook Layout
Drivers License Scrapbook Layout
Best Scrapbooking Tools for Every Project