I am so excited to share these Easter door decoration ideas with you! I love this time of year, and I love decorating for Easter.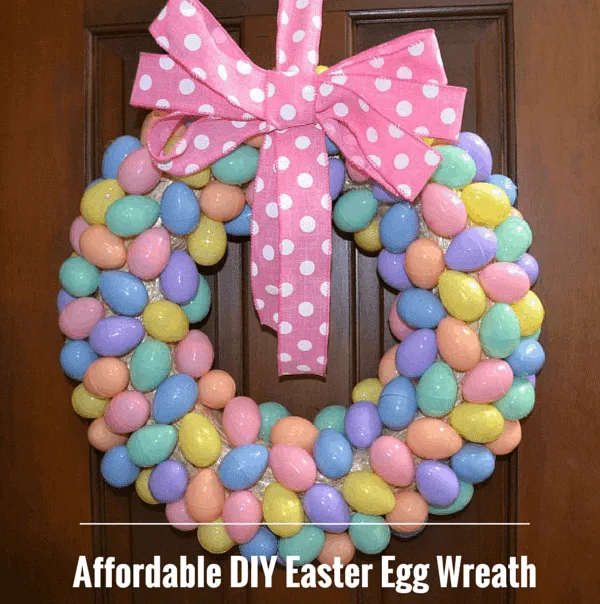 My mom made this Easter Egg Wreath for her front door a few years ago, and people went crazy. It is one of the simplest crafts we've ever featured and is affordable! You only need plastic eggs, a wreath form, a bow, and a hot glue gun!
Crafting together is a great way to bond with your kids or enjoy a day out with the girls. Every year a week or two before Easter, you should get all of your friends and their kids together and host a crafting party! You can thank me later.
Easter Door Decoration Ideas:
Below you will find some of the cutest freaking Easter decorations for your front door you have ever seen!
Beautiful DIY Wreaths:
Easter is the season of new beginnings, so you can expect to see colorful eggs, beautiful blooms, carrots, crosses, and LOTS of pastels!
The Bunny Wreath:
Can you think of Easter without the Easter Bunny? I know I can't! These adorable cottontail wreaths are usually found on the doors of families with small children and grandkid-obsessed grandparents, and we are here for it! From cute little bunny ears to fluffy bunny tails, the cuteness is too much!
The Spring Wreath:
I'll be honest, I love to decorate my front porch, but I wouldn't say I like having to change it every month. That's why I usually stick with seasonal wreaths and door decor that can stay up for a few months. Instead of decorating for the Easter holiday, I would rather decorate for the entire spring season.
Spring wreaths feature artificial flowers, fresh flowers, paper flowers, a cute little spring carrot, and various other spring decor items(chicks, an egg or two, a single bunny shape) to capture a spring vibe.
Check out some of my favorite Spring Wreaths:
DIY Quail Egg Wreath – This unique craft uses speckled quail eggs, lichen, faux florals, and a wreath base.

Loop Yarn Spring Wreath – This wreath looks like something I would want to bury my face in. Omg, I love it. I also think this would be an amazing baby announcement wreath! Made with loop yarn, a foam wreath form, and some sewing pins, this wreath would make your entrance door stand out!

Peeps Chicks Wreath – As you see above, I love the bunny wreath, so I would love the chick version as well. This wreath is probably more affordable because it doesn't use as much candy. I imagine these wreaths would be a huge hit on classroom doors, but could the teachers keep the kids from snatching the candy off? Hard to say!

Spring Colors Ribbon Wreath– Do you have ribbon scraps you need to find a use for? If so, this may be the perfect way to use them. You may love this fun project so much that you're willing to buy new ribbons to make this wreath. Either way, I hope you'll share your creation with us.

Pastel Spring Wreath – I have my coffee filter wreath here, and I would have never thought to dye the filters!

Easter Egg Wreaths:
I shared our wreath above, but I wanted to give you a few more easter wreath ideas so you can tap into your creative side!
Easter Themed Door Hangers:
Easter door hangers are similar to traditional Easter wreaths but they are usually less time-consuming.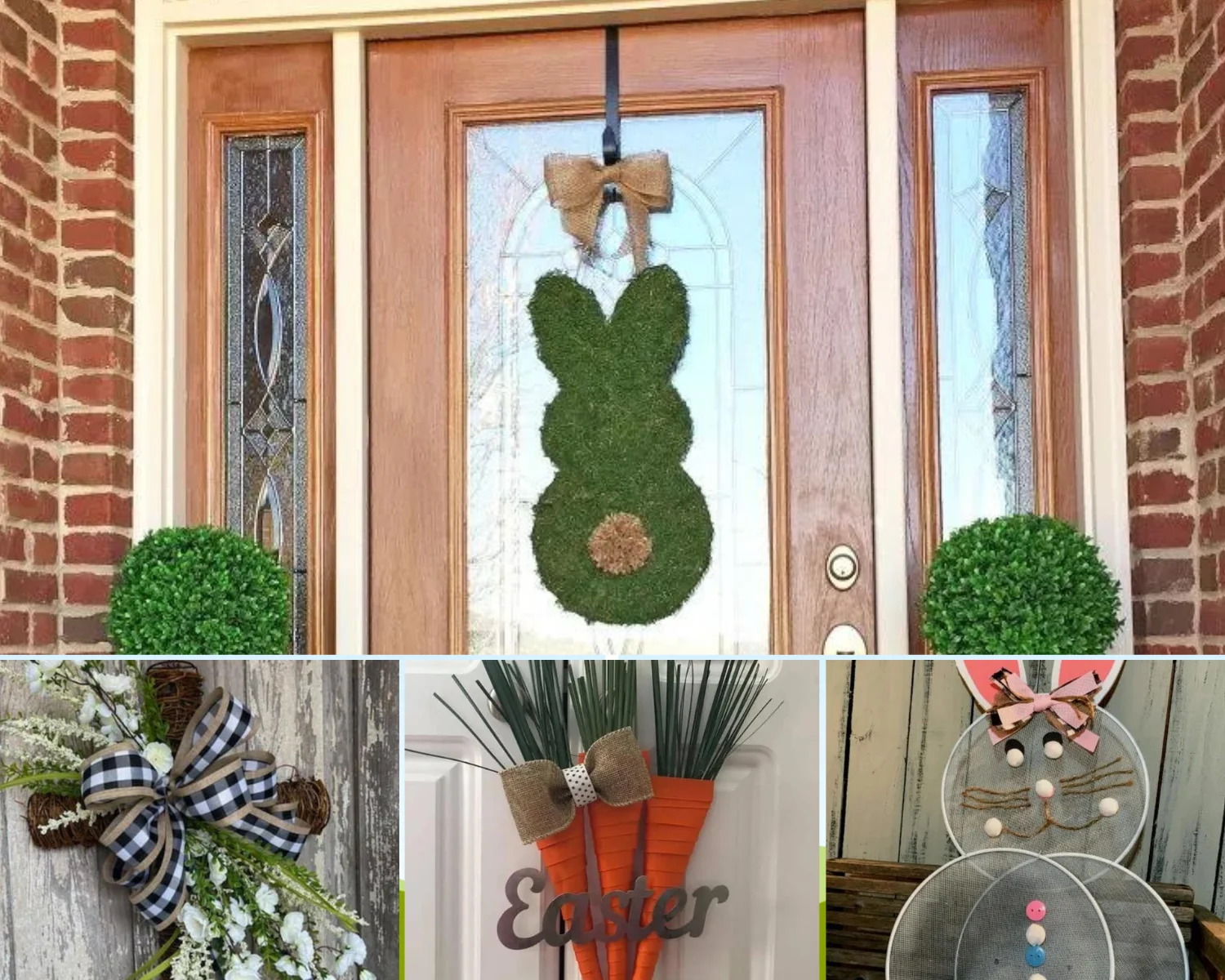 Spring and Easter Door Decoration Ideas for Classrooms:
If you landed on this post and are a teacher, thank you for your hard work! We are lucky to have you serving our children, and you don't get the recognition you deserve!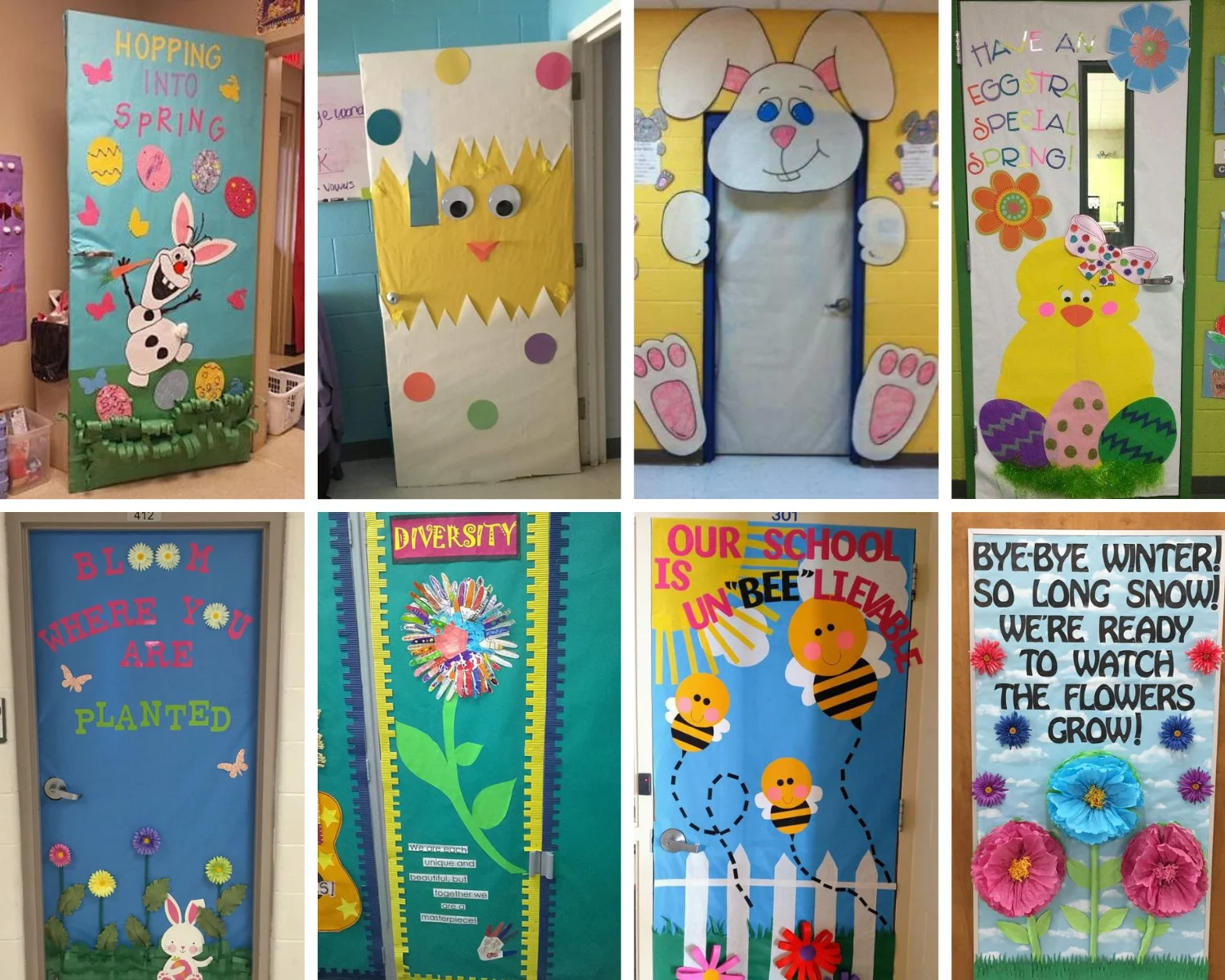 I wanted to share some inspiration for your classroom doors and bulletin boards. These are just some of the awesome ideas I saw on Pinterest for spring classroom doors, Easter classroom doors, and Sunday School door decoration ideas.
I hope you enjoyed this post and found everything you were looking for. We love featuring crafts from our readers, so please share what you create via email or Facebook! I hope you all have an amazing Easter!