Today we are sharing our favorite Baby Stocking Stuffers. We share over 100 great stocking stuffer ideas for babies and infants that we know you will love for the upcoming holiday season.
Shopping for a baby's first Christmas stocking stuffers can seem challenging.
Especially if your little baby was born only a few months before Christmas, but don't worry; with this list of our favorite things, we have you covered.
Baby Stocking Stuffer Ideas: Toys
You can fill your infant's stocking with many things, but we think the best place to start is in the toy section!
Toys are so much fun, and depending on your baby's age, Christmas is the perfect time to start adding new additions to your child's toybox.
You want to keep all toys age appropriate but don't be afraid to think ahead. All the toys on this list range from newborns to 6-36 months ( .5 – 3 year olds ). The following toys are the perfect size and come in different shapes to help hand-eye coordination and other motor skills.
While many of these toys would also be appropriate for toddlers, we will soon share a Toddler Stocking Stuffers post! Toys like sensory balls, colorful stacking cups, and toys that capture your baby's attention make for the most fun stocking stuffers.
Beware of small parts as they can be a choking hazard.
You don't have to be a boy to like cars, and you don't have to be a girl to love dolls. These are perfect unisex gifts.
These come in a variety of colors.
I'm pretty sure we owned every Baby Einstien toy ever made. The DVDs and lullaby CDs were favorites in our home.
You can't go wrong with these classic childhood toys. While you're at it you might as well go ahead and find the Fisher-Price Chatter Phone, Retro Record Player, See N Say, Little Snoopy, Corn Popper, Block Sorter, Xylophone, and Little People.
Similar to playing with a cardboard box, for some reason, these simple toys are a favorite among babies and toddlers.
Stacking cups may seem like a boring option, but I promise you, babies love these things!

Infantino Tag Along Travel Pals
Bath Toys:
Baby Stocking Stuffers: Teethers & Pacifiers
Teethers and Pacifiers are a great idea because you can never have enough of these around the house, in diaper bags, and at grandma's house.
When I was parenting babies and toddlers, I was always purchasing extra pacifiers, and my children loved it when I bought cute designs, so I made sure to include some super cute selections for you in this list.
Opt for a silicone teether, teething rings that can be placed in the freezer, and necklaces because they are best sellers.
Amber necklaces teething necklaces are a must-have for all parents of teething babies!
These teethers rose in popularity when my youngest was born, and she LOVED them. Some smart mama who was tired of her baby eating her necklace had to have come up with this!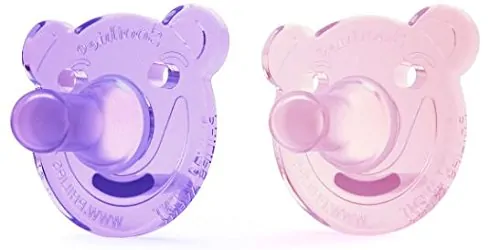 Baby Stocking Stuffers: Books
Books are great gift ideas for kids of all ages. You will probably find your big kids reading these books to your baby, which is a sweet bonus.
These books are also great for a toddler's stocking.
Christmas is a great way to start building your child's library with these board books.
Scroll down to the bottom of the list to view all the board books we recommend.
Top-Selling Board Books:
In A Hurry>>>OR check out all Baby Books HERE
Baby Stocking Stuffers: Snacks & Feeding
Candy will not be in this year's stocking, but that doesn't mean your baby can't partake in a fun treat like everyone else!
Yummy snacks make perfect stocking stuffers for babies!
While everyone else is munching on peppermint bark baby doesn't have to feel left out.
Just toss in their favorite baby food, baby snack foods, or yogurt snacks, and you'll have a happy baby on your hands! 😉
You can also use this as an excuse to buy super cute baby bottles, a new flashy sippy cup, or food-grade silicone dinnerware.
These did not exist when I was raising my children, but I would have loved this option because it seems less messy for car rides.
My kids were obsessed with these. Not gonna lie; I also enjoyed them from time to time!
Be careful with glass jars. Some companies now offer baby food in plastic jars, which make more sense for gifting.
These feeders are perfect for babies who are learning to self-feed. You don't have to worry as much about choking when you use these feeders. They also help keep the mess to a minimum.
Infant spoons are a must for every home with a baby. From the time infants can eat baby cereal, you will want to have these spoons on hand.
Sippy cups are usually introduced around six months of age, and you can find so many adorable options on Amazon!
As soon as the first teeth pop up, brushing is so important. Not only does it create a healthy habit, it also keeps your little one's teeth clean.
I used these when my babies were teething as well. I had a brush I could put on my finger, and I would let my baby "bite" down on my finger and gnaw on the silicon. It proved to be soothing.
Baby Boy Stocking Stuffers:
While everyone else is unrolling socks and undies on Christmas morning, your baby is the only person in the family who can get an entire outfit in their stocking!
Why not capitalize on their tiny frame and fill their stocking with new onesies, mittens for their tiny little hands, and soft sole baby shoes in five different colors?!
Clothes are always a big hit if you're making a stocking for new moms. They get lots of necessities, but clothing can be personalized in sweet ways. (Think my mom is a cool nurse, Marvel themes, and more)
These would have been a lifesaver for me.
Baby Girl Stocking Stuffers:
I have to admit that baby girl stockings are my favorite.
You can fill a little girl's stocking will adorable bibs, headbands, hair bows, and hats in vibrant colors.
Fill that stocking up with all the fashion you can find because it is a lot of fun to shop for small gifts.
Check out these amazing BLACK FRIDAY deals going on right now from Gerber Childrenswear
While you probably got most of the necessities for your baby shower, you could always add diapers, wipes, shampoos, and anything else you use regularly.
If you find that baby's stocking isn't big enough to hold all the fun gifts you want to purchase, you could always buy a high quality diaper bag and fill it with all the best stocking stuffer ideas.
Above all else, have fun filling your sweet baby's stocking, and have a Merry Christmas!
This post may contain affiliate links that won't change your price but will share some commission.
Gifts For Baby Girls
My Favorite Toys From The '80s and '90s
Trolls Hard Candy Makeup – Super Cute Stocking Stuffers!
Big Lots Christmas Shopping Haul