I have just received one of the greatest gifts I can imagine! One of my readers has taken a tutorial on No-Sew Valance, and has made a beautiful valance of her own! I am so excited that she shared this with me, that I wanted to share it with you! I love her colors, and the bows are delightful!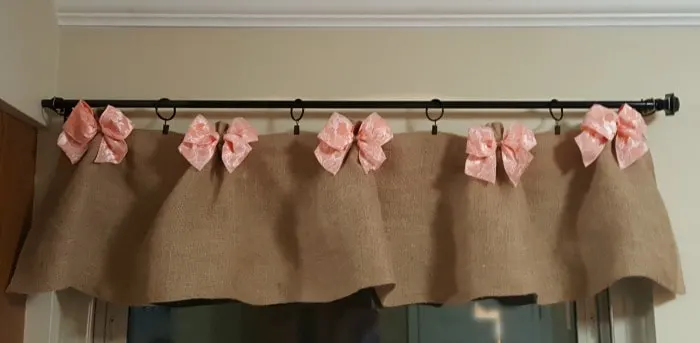 I have been crafting for years. My family has been "admiring" my creations since they can remember. I know they always wanted to make me happy, but sometimes I felt like they just weren't interested.
Now that I work on this blog, I feel like my creations can be appreciated. The good thing about sharing what I create online is that my audience does not have to look and make observations unless they want to!
This particular project started when Lynsey commented on the Easy Affordable DIY Kitchen Window Valances post, a tutorial on how to sew the curtain. She wanted to know if the same Valance could be made without sewing. Lynsey inspired me to make another set of curtains, without sewing, which I had never done before. So now you know how the Easy Affordable No-Sew Valance post came to be. Well, I was very pleased that the curtains that were No-Sew turned out just as lovely as the sewn curtains, and were quicker and easier to make.
I am thrilled that my tutorial was helpful and that she honored me by sharing her results with me. Because of you I was able to learn another way to assemble some curtains. Thank you again, Lynsey. You brightened my day!