~ This Spice Things Up! 30 Day Marriage Challenge shop has been compensated by #CollectiveBias, Inc. and its advertiser #YoursandMine.
Welcome to Faithfully Free's 30 Day Marriage Challenge. I'm so glad you've found this series. If you're reading this, I'm going to assume that you are looking for ways to "Spice Things Up" in your marriage relationship, and for that, I salute you! I speak mostly to women, but if you are a man and you are reading this, then hats off to you as well. As a woman, we often look for the man to be romantic and passionate, but the truth is both partners should be trying equally as hard to keep the passion alive and grow closer together. From planning a date night to decorating your home, the possibilities are endless when it comes to building intimacy in your marriage.
I plan to blog every day for thirty days to give you ideas that will challenge you to grow closer to your spouse, get to know him/her better, and I hope to challenge you to start looking at what you can do to build a better relationship instead of what your spouse would, should, or could be doing. Today, however, I want to give you a few different ideas to get this 30-day marriage challenge started right!
The first thing you need to do is the plan when you want to start the challenge. It's easiest to start on the first day of the month because typically people are wired to enjoy "fresh starts," but maybe Monday is a fresh start for you, make sure you keep track of when you start and what your last day of the challenge will be. I want to stress how important it is to follow through for the entire month. If you're going to see lasting changes in your marriage, it takes time. Don't buy into "having a new husband by Friday" because that is just not going to happen. Building trust, intimacy, and friendship take time, and if you have had any struggles or setbacks, it may take even longer. My advice is this. Don't give up. If you are struggling in your marriage, I understand, and I have walked in your shoes. Don't believe me? Just check out my Marriage, Divorce, and Remarriage series.
Okay, once you've decided on your start date, it's time to start planning what you will do to show your husband/wife just how much they mean to you. Here are a few ideas to get you started:
~ Make A Love Basket:
This basic should be personalized to who you are as a couple, and the focus should be on an area you would like to improve. If you need to spend more time doing fun things, make it an entertainment basket. I wanted to give more attention to our marriage bed, and our bedroom itself. I want to make our bedroom a place of peace, rest, and romance. We have a large master bath in our room, so I focused on that as well.
My intimacy gift basket includes the following:
– A back scrubber, foot brush, homemade Citrus Coffee Scrub, Homemade Frankincense Body Butter (recipe below), a manly smelling candle, cocktail mixers, a framed photo of us for my husband's office (so he's always thinking of us, even when we aren't together), some of my husbands favorite chocolates and K-Y® Yours+Mine.
Now imagine the kind of night a basket like could be used for. I want to serve my husband in the same ways I would like to be served. Men enjoy being pampered, just like women do. I have given my husband pedicures in the past, and he loves them. While a "spa" type basket would usually be considered feminine, I went out of my way to make this as manly as possible, and he LOVED it! As a man, I think the K-Y His and Hers was probably his favorite part of the basic because it was a signal to him that I want to make love. Men, just like women, yearn to be wanted physically, and small gifts like this can go a long way. Initiating lovemaking with your husband is probably the best thing you can do as a wife because it's just the way men are wired.
Any gift that encourages physical closeness is going to make your husband feel loved. Sometimes it's hard for us to understand that because we feel loved by the way we are treated, and in response, we desire to be close. Men are the exact opposite. They feel loved when they experience physical closeness with us.
Want to make DIY gifts for your basket? You can find the recipes below!
~ Make The Bedroom All About "Us":
As you can see, I had a picture of my husband and I on my dresser, and I also had a framed print of 1 Corinthians 13 on the wall, but I wanted to do something to make our room a little more about "us." Your bedroom should be a place where you are constantly reminded of your lover and all of the memories you have made together. I came up with this fun idea while browsing the wedding section at Walmart. Then when I had created my little "clothesline of memories, I asked my husband to pick up some romantic decals or a picture for our wall that he felt described our marriage best. It was fun because he had no idea what it was for; I just told him it needed to be black to match our room. What he came home with was PERFECT! He loved what I had done, and I loved the picture he chose. It was a pleasant experience for both of us, and I can't help but smile every time I walk into our bedroom.
Considering all we've been through that picture indeed describes our marriage!
~ Plan A Date Night:
This one is pretty self-explanatory, but at some point, during this 30 Day Marriage Challenge, you need to plan at least one date night. Getting away from life (especially if you have children) is a must. It is so refreshing to break away from the housework, kids, and yes even the TV to enjoy a night of well basically anything you like. On Friday night my husband and I went to his Christmas party, and while we weren't exactly alone, just getting a sitter and getting away from the house was so much fun, and we enjoyed sharing that time.
Okay here are a few DIY recipes for you: (These are so easy)
You can make your own Citrus Coffee Scrub using this recipe.
To make your Frankincense Body Butter: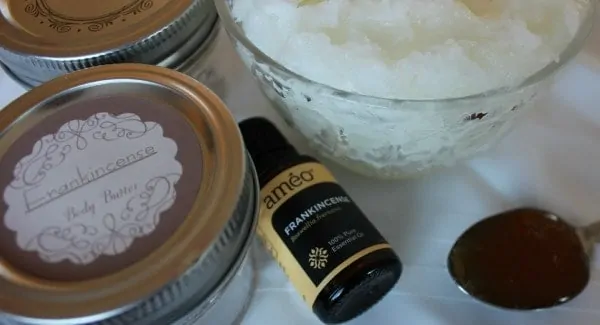 Ingredients:
– 1 c coconut oil
– 6 drops Young Living Frankincense (not pictured)
-1 tsp honey (optional)
– Blend all three until light and fluffy.