I was so excited to find out I was chosen to participate in a craft shop and contest using M&M's Candy Corn White Chocolate. I don't usually have an excuse to buy craft supplies, so this was just the chance I was looking for. You see when I do a shop like this I can tell my husband I have to buy the supplies because it's for "work"! Anywho, I love decorating for Halloween, and we lost most of our decorations last year, so know I'm rocking some super cute new decor!
Take a look at the three projects I created using M&M's Candy Corn White Chocolate Candies. I would love to hear what you think.
Candy Corn Styled Mickey Mouse Wreath:
Supplies Used:
– 2 Small Styrofoam Wreath Rings (2.99)
– 1 Medium Styrofoam Wreath Ring (3.99)
– Black Spray Paint (I sponged on acrylic paint because it was what I had, but I would recommend spray paint)
– 2 Bags of M&M's Candy Corn White Chocolate
– Hot Glue Gun & Glue Sticks
– Toothpicks
– Ribbon To Hang The Wreath
How To Make It:
1. Start by spray painting the Styrofoam wreaths, then allow to dry. I used acrylic paint and a paintbrush because it was what I had at home, but it wasn't easy ;).
2. I found it easiest to separate the M&M's by color and then choose a pattern. Start your pattern on the inside edge of the wreath and continue hot gluing each M&M on the wreath until you circle back around. Then start your second row and continue around, because I didn't want blank spots I attached a few extra M&M's on the wreath even though it usually broke the pattern.
3. Repeat step 2 on your other wreaths, and then attach your "ears" with using toothpicks and seal with hot glue.
4. Attach a strip of ribbon to hang your wreath. Can be glued to the head or ears. If you choose to glue it to the ears, just make sure they are very secure, or they may detach due to the pull of the ribbon.
In addition to our super cute new Mickey Mouse Candy Corn Wreath, I also made a super cute Candy Corn Vase, and the kids made a Candy Corn Frame. They were so easy and affordable!
Supplies Used:
– 3 bags of M&M's Candy Corn White Chocolate
– 1 Vase
– Black and Orange Ribbon
– 1 Unfinished Picture Frame from Walmart
– Black Paint
– Hot Glue Gun & Glue Sticks
How To Make: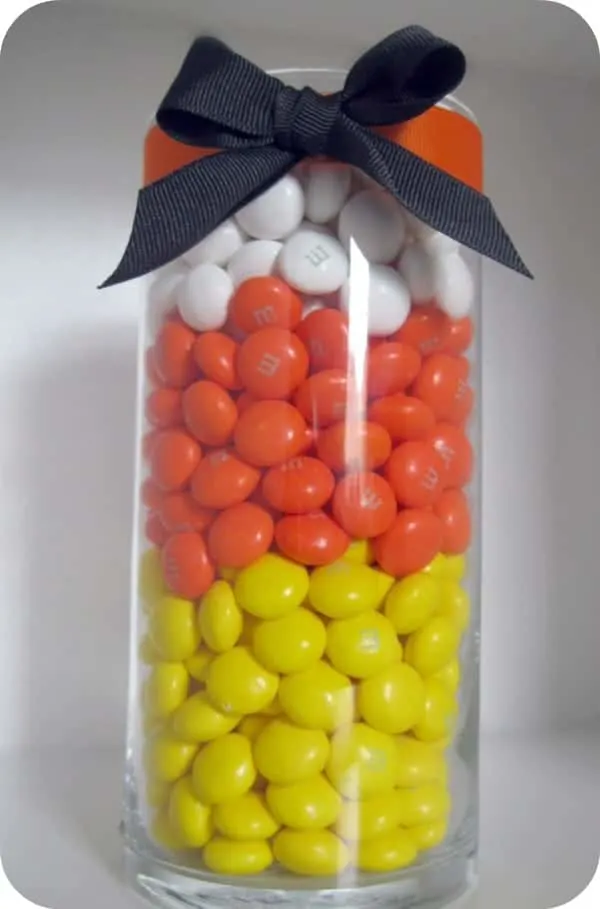 – Sort M&M's for ease of use, and fill your candy vase. We choose to go with the traditional candy corn pattern.
– Then attach the black ribbon around the top of the vase with hot glue, and make a bow with the orange ribbon and attach to the black ribbon with hot glue.
Isn't it cute?!
For the Frame:
– Have your child paint the frame black (or white) and help them attach the M&M's to the frame.
I would recommend having an adult put the glue on the frame, and allow the child to affix the candy until your child can safely use a hot glue gun.
So those were a few ideas I had, I would love to see what you can do with M&M's this Halloween! Feel free to link up your Halloween Crafts in the comment section!
Disclosure: This shop has been compensated as part of a social shopper insights study for Collective Bias. #cBiasAll opinions are my own.