This Halloween Witch Can Craft came to be as a result of the Halloween Tin Can Ghost we made last week. It seemed like it would be an exciting challenge to figure out how to use the same concept to create a witch. What you see below is the result of that experiment.
Halloween Witch Can Craft Tutorial:
Halloween Witch Can Craft Supplies:

Tin Can
Black Trash Bag
Nail
Hammer
3-inch Styrofoam Cone
2-inch Styrofoam Ball
Googly Eyes
Black String
70m Regular Mason Jar Lid
Wooden Skewers
Paint Brushes
Green Paint (Apple Barrel Lime Tree is the color used here)
Black Paint (Folk Art Metallic Sequin Black is the color used here)
Aleene's Original Tacky Glue (my favorite glue for this type of project)
How To Make A Halloween Witch Can Craft:
Step 1: Paint the 2-inch styrofoam ball green. Paint the Can, the lid, and the styrofoam cone, black. It helps with the painting to use the wooden skewers to hold the styrofoam.
Step 2: Punch a hole in the can and lid with the nail. Punch the hole in the middle of the lid but on the top edge of the can. Doing this will help make the witch look like she's riding a broom when you hang it up. If you want your witch to be straight up and down, punch the hole in the middle of the bottom of the tin can.
Step 3: While waiting for the paint to dry, cut your black trash bag into broad and narrow strips. The wider strips will become the dress, and the thinner pieces will make up the hair.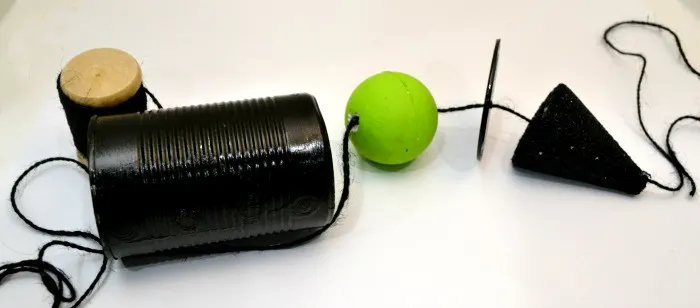 Step 4: Thread the black string through the can, the green ball, the lid and the styrofoam cone leaving plenty of cord at each end for hanging. If you opted for the straight down version, tie a knot at the bottom end of your string that is big enough to keep everything attached to your can. Make a loop at the at the top of the string for hanging.
Step 5: Glue the wider strips of the black trash bag to the bottom of the tin can. Glue the narrower strips of the black trash bag to the green ball. Glue the googly eyes in place. Allow to dry completely.
Step 6: Hang the witch, waiting to tie your string until you have the angle you like.
And there you have it; your spooky, cute Halloween Witch Can Craft to hang up for the big night.
Happy Halloween!