How to Make an Easter Egg Wreath provides you with a step-by-step guide for making a customized Easter wreath.
This post contains affiliate links. When you purchase through our links, you help support this site and future projects. Thank you!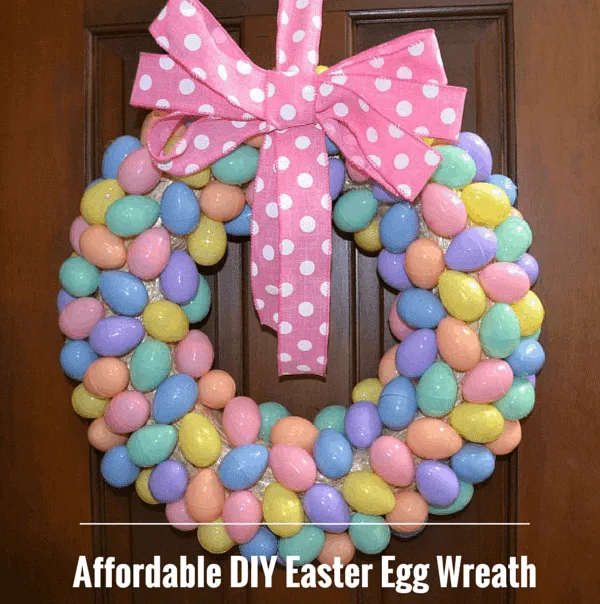 How to Make an Easter Egg Wreath:
With Easter right around the corner, I thought a quick and easy wreath for your front door would be a great project.
Happy Easter, friends!
Wreath Supplies:
1 14" straw wreath like this one (you can use Styrofoam but I like the look of the straw showing through better)
6 packages of 24 Mini Eggs you can find these online
1 Roll of Ribbon 4yds
Glue gun and glue sticks
Step By Step Instructions:
Glue the eggs to the wreath one at a time until you have the entire wreath covered. I put the glue over the break in the eggs to help keep them closed. Make a loop out of the ribbon to hold your wreath.

Make your bow with three loops tied together.

Cut a long length of ribbon to use for streamers that will hang down for the bow.

Glue the ribbon to the loop and hang up your wreath!

Check out our cool variation ideas below for more ideas
There you have it.
A beautiful Easter wreath you can hang on your door for under $10.00!!
If you're in the mood to craft for Easter, check out this fun Tootsie Roll bank Easter basket filler.
Now you know how to make an Easter Egg wreath.
If you have a bigger budget, the sky is the limit!
Easter Egg Wreath Variations:
Add adorable little chicks and rabbits or other spring-themed embellishments.

Use your wreath as a countdown to Easter! You could make it look like a clock and move the pointer to the date or the countdown number.

Make an Easter advent-type wreath. Each day you open an egg and take out a fun surprise.

Use a smaller wreath for children; you will only need one pack of eggs (this is an easy DIY dollar-store wreath).