~This DIY Disney Easter Baskets shop has been compensated by Collective Bias, Inc. and its advertiser. All opinions and ideas are mine alone.
Easter is one of my favorite holidays. Before I share my DIY Easter baskets with you, I'd like to share a little about what Easter was like for me. Even before I understood the importance of Easter, I understood that there was something different about this holiday… something special. I didn't come from wealth, but I did enjoy special Easter baskets every year. Back then, prepackaged Easter baskets were the way to go. Every year I would do my best to fall asleep, but I knew that the Easter Bunny would be sneaking into my home, and that made it terribly difficult to fall asleep! My most memorable Easter basket would have to be the TMNT Easter basket I got (more than once). They came with a water bottle, plastic weapons, a face mask, and three tiny packages of candy. They weren't over the top, but I loved finding my basket on Easter morning. I didn't love trying to open the darn thing without ripping the cardboard insert with the puzzles and word search on it, but I loved those baskets!
Every year my dad's side of the family would gather together, and we would eat fantastic food, and have awesome egg hunts, with real eggs and everything! I ate a rainbow of hard-boiled eggs because the dye had colored the whites of the eggs. There were years where my brothers and I would stumble upon eggs that had been missed, and we loved cracking open rotten eggs! Oh, those were the days. The days before plastic candy-filled eggs and homemade baskets, but I love these days, these new days, just as much. These days are full of Easter traditions that I can start with my family. As much as I enjoyed those pre-made Easter baskets, my children have never gotten one. Their baskets are always personalized and prepared just for them. They are baskets that my mom would have probably made for me, had money not been so scarce. Oh, and the eggs, well sometimes we boil and decorate real eggs, but they usually get eaten before they can be hidden. Times have changed, and traditions change with them, but Easter is still one of my favorite holidays. I hope my kids will look back the way I do, with fond memories of Easter Baskets and egg hunts, but more than that, I hope I have shared with them the true meaning of Easter. I hope they never forget that the reason we celebrate is that Jesus died for us, to give us new life.
So now that you've read… or skimmed my story, I guess I can share my awesome DIY Disney Easter baskets with you!
I created three DIY Disney Easter Baskets, and I hope they inspire you! I created a Disney Jr. Sofia the First basket, a Marvel Avengers basket, and a Disney Princess Basket!
I found these baskets at Walmart and knew they would be perfect. I had originally planned to spray paint my baskets, but I thankfully I didn't have to!
DIY Sofia The First Easter Basket:
I purchased the jewels and the tulle in the craft section at Walmart.
Then I used glitter and CraftBond spray that I had previously purchased. I sprayed both the pink and purple baskets and sprinkled glitter on them. Make sure you cover your area with wax paper because the CraftBond is very sticky and hard to clean up.
After spraying both baskets, I let them dry outside for 30 minutes.
After the baskets had dried, I used hot glue to apply the jewels. Sorry, I didn't get a picture of that. I burned my finger pretty badly and had to take a break. I'm just keeping it real ;). I found out the hard way that you should apply the glue directly to the basket and then add the jewel, don't try to put the hot glue directly on the jewel while holding it in your hand!
To fill my Sofia the First Easter basket, I started in the Easter section of the store. That's where you can find the Sofia Mystery Egg, Sofia Fillable Eggs, Hair Clips, Brush, Wand, Activity Pack and Chapstick.
I'm not sure if any of these items are avaliable at Walmart this year so I'm linking to Amazon in case you are interested in copying these Easter baskets.
Sofia the First: Welcome to Royal Prep Book
Sofia the First: Amulet Necklace
Sofia the First: 2016 Calendar
Sofia the First Nightgown
Sofia the First Nightlight
I also found some other really cute Sofia basket fillers here. You have to scroll down a little because it's sorted by price, and for some reason non-related items always show up when the prices are super low.
I'm also including full baskets below so scroll to the bottom to see them.
You'll notice that I don't put a lot of candy in the baskets. I put jelly beans in the fillable eggs and then added some purple Tootsie Pops, but that's about it.
I didn't put as many jewels on the Sofia the First basket because I had already planned to use the amulet to decorate the basket. I think this basket is beautiful, and I know Anna will love it (which is all that matters).
DIY Disney Princess Easter Basket:
When I designed the Disney Princess Easter basket, I knew that I didn't have anything to put on the front of the basket. I considered attaching the doll, but she was too tall. So instead, I added LOTS of jewels.
Like the Sofia basket, I found most of my basket fillers in the Easter section at Walmart (I will post a picture below so know what to look for though I'm guessing you've seen it… it's hard to miss). I tried to make the baskets as similar as possible, and it was pretty easy to do.
Here's where you can find the supplies for this basket:
2016 Disney Princess Calendar
Disney Princess Hearts Book
Fillable Disney Princess Eggs
Disney Princess Surprise Egg
Disney Princess Nightgown
Disney's Cinderella Doll
Disney Princess Activity Pack
Disney Princess Chapstick
Disney Princess Nightlight
Disney Princess Brush
Disney Princess Hairclips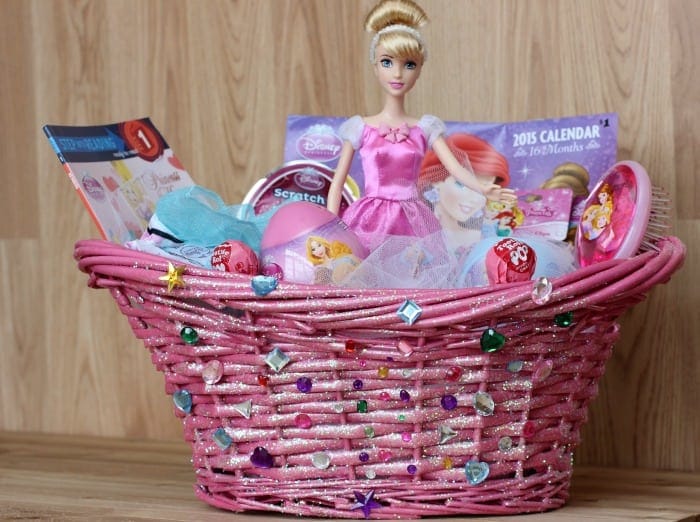 I would have loved these baskets as a little girl (even though I was a tomboy). I think Lexi will flip when she sees this.
As you can see, making a DIY Disney Easter Basket is simple. You can do more or less than I did; that's the beauty of doing it yourself. My little project only took me about an hour from start to finish (unless you count how long it took me to shop 😉 ).
DIY Marvel Easter Basket:
I love making things that sparkle, but I decided to make a Marvel Easter basket for a friend of mine. His son loves all things superhero, so I knew that this basket would be a big hit with him.
Other than the T-shirt and masks, everything I purchased came from the Disney Easter aisle in Walmart.
I hot glued two masks to the back of the basket and used the string on the Hulk mask to place it on the front of the basket. This basket was SO easy to make. I think it took less than 5 minutes to pull this together.
Make your own Marvel's Basket @ Amazon.com
Avengers Activity Set
Avengers Spinning Tops
Avengers Pinball
Avengers Yo-yo
Avengers Gun
Avengers T-shirt
Avengers Surprise Eggs
I hope I've inspired you to head to Walmart & Amazon and try your hand at your own homemade DIY Disney Easter Basket!