~This Easter Crafts for Sunday School shop has been compensated by #CollectiveBias, Inc. and its advertiser #SnackPackMixins. All opinions are mine alone.
If you're planning your Easter crafts for Sunday School, why not mix two sessions into one and do snack crafts?! I taught Sunday School for many years, and for me, the most challenging part of planning fitted everything I wanted to do into a 1-hour time block. So today, let's think of ways we can beat that time clock and teach children in the way they learn best, with all five senses. I think that is probably one of the reasons I loved teaching children: I still know best just like they do, by jumping in feet first and getting a little dirty! Hands-on learning is the best way to go when it comes to teaching children something you want them to carry with them forever. As a Sunday School teacher, that is your primary goal, to share Jesus' love unforgettably, and it ends up written in their hearts for years to come.
With that in mind, I designed three easy-to-make, super cute, affordable, and snack crafts (using pudding cups) for you to share with your class. If you're a mom and not a Sunday School teacher, you can do this at home with your children as well. This craft is great for Sunday School, homeschool, and any school where we want to share the true meaning of Easter with our children! 🙂
3 Easy Easter Crafts For Sunday School:
He is Risen Pudding Cup Snack:
Materials & Ingredients:
Super Snack Packs (flavors of your choice)
Shredded Coconut
Green Food Coloring
Chocolate Mini Doughnuts
Mini Oreo Cookies
Toothpicks
Printable Signs (you can make your own, or download mine below)
How To Make It:
Place coconut in a bowl and add a few drops of green food coloring, mix well
Open Super Snack Pack pudding cups and cover completely with green coconut (grass)
Place one mini doughnut on the grass, and place a mini Oreo in front of the hole in the doughnut.
Using toothpicks attach banner signs with tape and stick into the doughnut (tomb)
Download and Print He Is Risen Banners
Lesson Ideas: When telling of Jesus' burial, have your children create their tombs. They should start with them closed and then roll the stone away as your telling of the resurrection!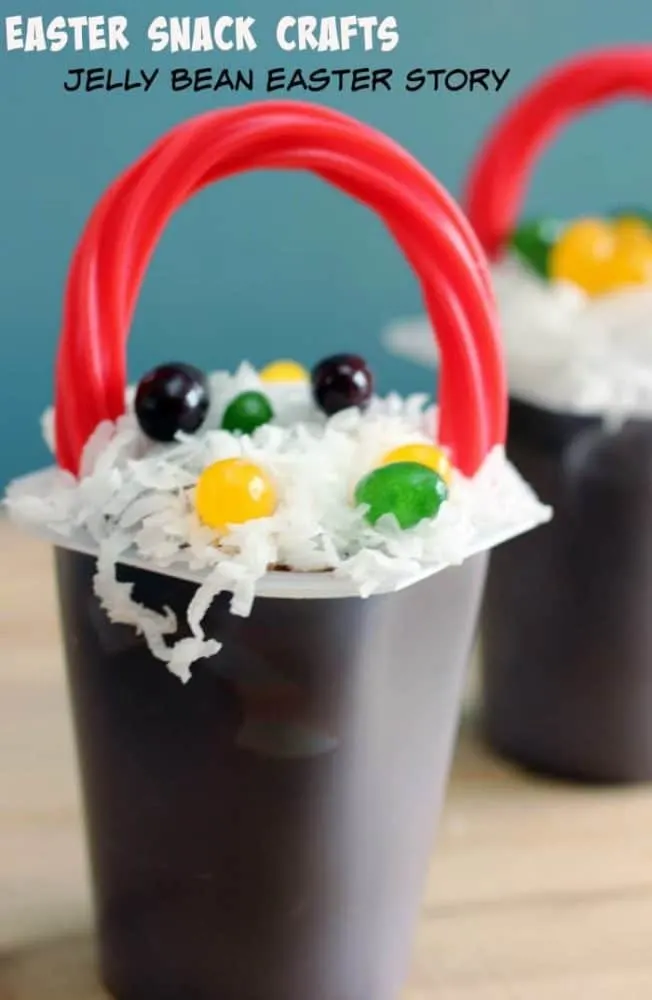 Jelly Bean Easter Basket Pudding Cups
Materials & Ingredients:
Super Snack Packs (in chocolate)
Jelly Beans
Colored Twizzlers
How To Make It:
Open Super Snack Packs pudding cups and place coconut on top to cover pudding
Add your Twizzlers for the basket handle
Separate colored jelly beans needed for this project and place them in your Easter Basket.
Lesson Ideas:
There are hundreds of Jelly Bean-styled poems and lists for telling the Gospel through colors. You can choose as many colors as you can find and use those colors to teach children about the true meaning of Easter. Most kids don't like black jelly beans, so I use brown (where the chocolate pudding comes in). You can, however, still use the black jelly beans, and the brown can symbolize the tomb. For ideas on which colors to use, check out this site for ideas.
Jesus & The Two Criminals Pudding Cups
Materials & Ingredients:
Super Snack Packs (flavors of your choice)
Melting Chocolate
Decorating bags and tips
Wax Paper
Baking Sheet
Oreo Cookie Crumbs
How To Make It:
-Crumble your Oreo cookie crumbs
Line baking sheets with wax paper
Melt chocolate as directed and fill decorating bags
Pipe chocolate crosses onto wax paper lined baking sheets and place in the freezer (time needed will depend on the size and thickness of the crosses, but it shouldn't take more than a few minutes).
Open Super Snack Pack pudding cup top with cookie crumbs.
After crosses are firm place them in the pudding and enjoy!
Lesson Ideas:
Easter is all about God's grace, and nothing shows that more clearly than the picture of Jesus and the two men on the cross. This is a great time to teach children that we don't have to be good to be saved, that we need to believe. Jesus forgave the criminal who believed that man would never have a chance to do one good thing for God. It's a great reminder that it's not about us!
I purchased all of the supplies for my Easter Craft Snacks from Walmart. You can find the Super Snack Pack pudding cups here:
You can also use this coupon and save .50 off any Super Snack Pack purchase. The Super Snack Packs are my favorite for crafts because the cups are bigger, and I love the easy-open lid for little hands (and fewer messes)!
The kids had fun reading the Bible to each other and then enjoying their Bible story-themed snacks!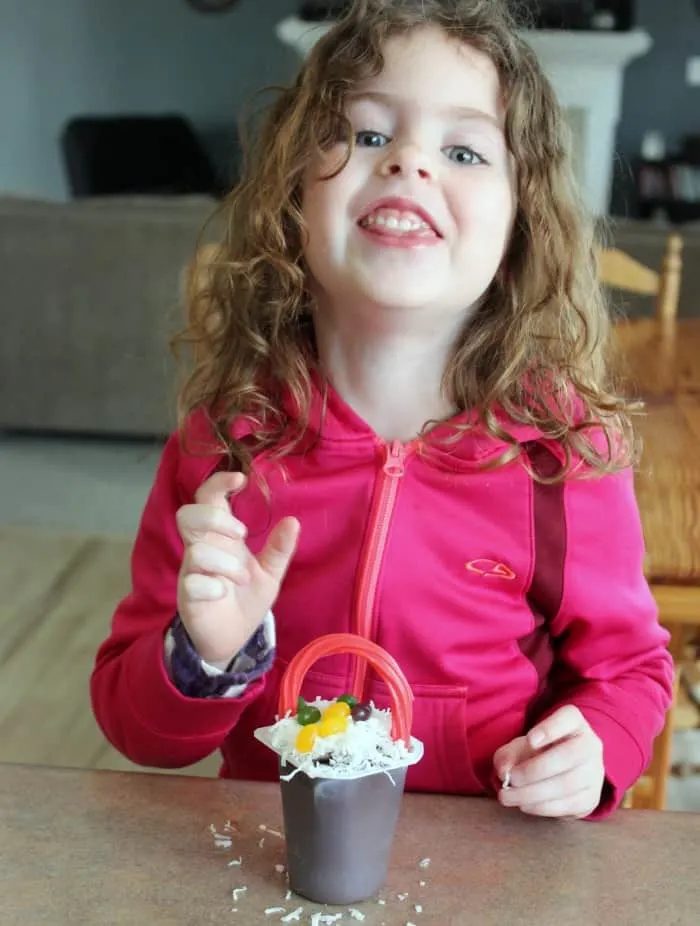 So what do you think of these edible Easter crafts for Sunday School? Do you think your class would like these?