~This shop has been compensated by #CollectiveBias, Inc. and its advertiser to create these White Fudge Oreo Cookie Balls. All opinions are mine alone.
My husband loves OREO Cookies, but his all-time favorite flavor is the Limited Edition White Fudge OREO cookie! They only come out around the holidays, and everyone in our family stocks up just for him. One year his mom actually bought him ten boxes and gave them to him for Christmas! Even Santa knows to fill his stocking with the White Fudge goodness! This year I decided to try my hand at a new holiday dessert, the OREO Cookie Ball recipe I've seen featured all over the internet and even on the OREO cookie displays.
The recipe couldn't be any simpler, which also makes it great for a busy wife and mom. My favorite thing about OREO cookie balls is that the recipe is so simple that you can add any of your favorite holiday ingredients to the mix and come up with your own awesome holiday cookie balls recipe. I purchased mint chocolate chips, peanut butter, chocolate sprinkles, and marshmallows so I could try out some different combinations.
Official OREO Cookie Ball Recipe:
Ingredients:
– 1 pkg (8oz) brick cream cheese, softened
– 36 OREO Cookies, finely crushed (about 3 cups)
– 4 pkg (4 oz each) semi-sweet baking chocolate, melted
Make It!
– MIX cream cheese and cookie crumbs until blended.
– SHAPE into 48 (1 inch) balls. Freeze 10 min. Dip balls in melted chocolate; place in single layer in shallow waxed paper-lined pan.
– Customize with your own ingredient additions and decorative skills.
– REFRIGERATE 1 hour or until firm.
– Share and enjoy!
Now that you can see how simple this OREO Cookie Balls recipe is let me show you my OREO White Fudge Cookie Balls Recipe!
I used the recipe above to make my White Fudge Oreo Cookie Balls. Then I also made a separate batch for myself using Philadelphia Sweet Caramel Cream Cheese, and it was incredible! My husband preferred the original recipe.
After your form your OREO cookie balls, you can prepare your White Fudge for dipping the cookie balls.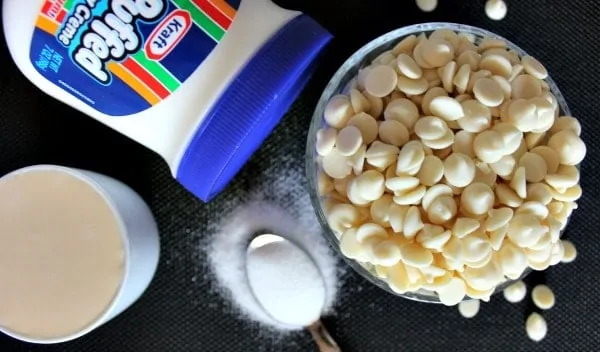 I couldn't find white fudge in Walmart, so I decided to try to make it myself, and it was SO easy!
White Fudge OREO Cookie Balls Recipe:
Ingredients:
– 7 oz marshmallow creme
– 12oz white chocolate chips
– 3 cups of sugar
– 5oz evaporated milk
– 3/4 cup of butter
– 1 tsp vanilla extract
– chocolate sprinkles for garnish
Make It!
1. Place butter, sugar, and evaporated milk in a saucepan. Bring to a rolling boil on med heat for 4 minutes, stirring constantly.
2. Remove from heat and add white chocolate and marshmallow creme until completely melted.
3. Add vanilla and mix well.
4. Dip OREO cookie balls in white fudge and place on a wax paper-lined cookie sheet. Garnish with chocolate sprinkles. You can also drizzle the cookie balls with white fudge (I did this for the kids, to cut the sweetness).
5. Place in the fridge for an hour, or until firm. After cooled, trim off excessive fudge and serve.
6. Keep White Fudge OREO Cookie Balls in a sealed container and keep refrigerated.
I hope I have inspired you to get in the kitchen and create your fabulous OREO cookie balls recipe!