Tonight I decided I wanted to make an Easter craft with things I already had so I decided to make a Tootsie Roll bunny bank because I already have a Tootsie Roll Re-useable Bank from the Dollar Tree. So I ventured into my craft room to see what I could find to make this fun bunny. I chose a polka dot paper for the ears and feet and a matching solid paper for the face. Then I found a couple of eyes and a button for a nose. The hardest part was the whiskers. I didn't have any pipe cleaners, so I was stumped for a few minutes. Then it hit me. I have wire leftover from other craft projects. So I measured out a piece of solid paper, which I cut to 4 5/8 inches wide by 8 ½ inches long. Then I took a pencil eraser dipped in ink and made dots on the paper in a random fashion to make a print paper for my face that would match the paper I chose for my ears and feet.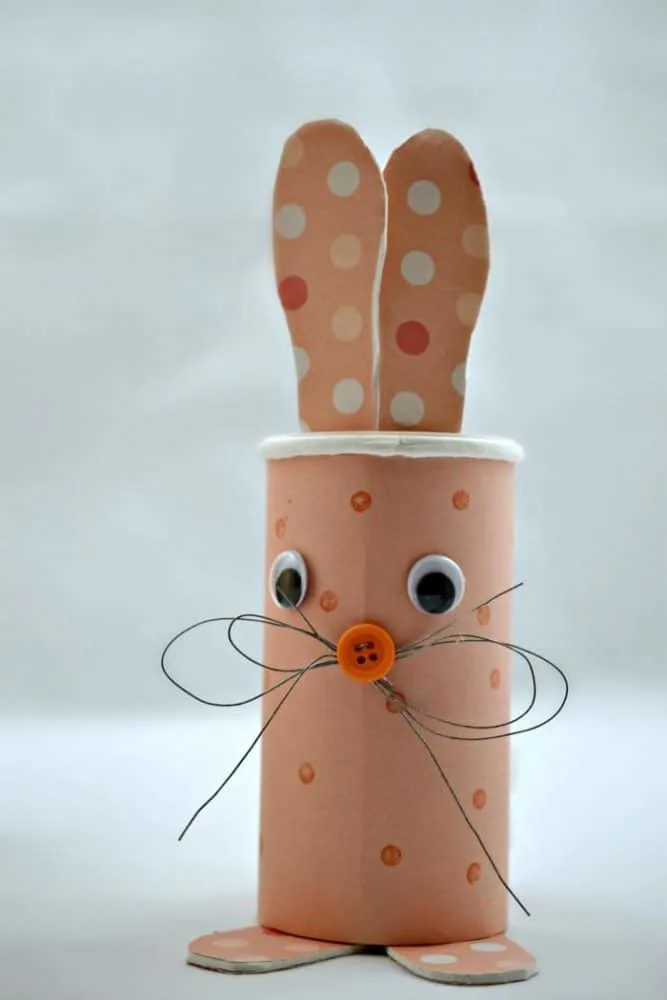 For the ears and feet, I used a piece of foam called silly winks to make them stiff. I cut out the ears and feet freehand cutting the foam sheet at the same time so that it would match the paper. Then I put the paper on each side of the foam so that the foam would only show in the middle between the papers.

After cutting everything out I started to assemble my bunny. First I used two-sided tape to tape on the ears so that I made sure to get them on the front side of the bank. Then I taped on the face paper making sure to cover the whole can and keep the seam in the back. Then I hot glued the feet on. Next, I shaped the wire into shape for the whiskers and added the button for the nose to the wire. Then I hot glued the wires and button on. I glued on the eyes.

Last I realized I needed a tail, so I ran down to the bathroom, grabbed a couple of cotton balls, pulled them apart, smoothed them back together, and glued them onto the back of the can for my bunnies tail. Voila!! In about a half-hour I had an Easter decoration that can be re-used later that I didn't have to buy any extra supplies to make!
You could make this craft using anything you could find in your craft drawer. If you don't have eyes, you could use buttons for the eyes as well. You could also use Modge Podge to add strength to your ears and feet if you don't have the silly winks. The possibilities are endless.