Today I'm sharing my DIY spring dining room table decorations! If you want to spruce up your dining room when you start spring cleaning, then these easy spring table decorations are perfect for you!
Spring Dining Room Table Decorations:
I don't know about you, but I love spring. While January gives a fresh start to a new year, spring brings forth new life and breaks the winter cycle of staying indoors and avoiding the fridged temperatures. I love seeing new flowers bloom, spring cleaning, and of course decorating for spring holidays!
While I love making Easter crafts and decorating my house for the grandkids to enjoy, I also like to make decor that ushers in spring without feeling like it needs to be pulled down after Easter has come and gone.
As you know I don't usually like to spend a lot on themed decor which is why I'll be sharing a few simple spring table decoration ideas with you today. Since these will go up in the attic when summer arrives I try to keep it simple. I also know there is a good chance I will switch it up next year so this keeps my husband from getting too upset with me! 😉
DIY Spring Dining Room Table Placemats:
It doesn't get much simpler than this. These spring placemats are made of burlap and if you're lucky you can get it on sale after Easter! When your thinking about simple spring table decoration ideas placemats and napkin rings are probably the first things that come to mind. After making many holiday table settings over the years, I can tell you, it's always cheaper to make your own. Not to mention it's a lot more fun!
Supplies:
1 roll of Burlap 10 ½ wide
1 package Flowers (I used Spare Parts Yellow Polka Dot)
Mod Podge
Paint Brush
Scissors
How You Make It:
Step 1: Cut burlap for each mat to 18 inches wide.

Step 2: Use Modge Podge around the edge of mats to prevent fraying and allow to dry overnight. I started sewing mine, but quickly found that it was unnecessary when using Mod Podge.

Step 3: Add your flowers or other decor.
DIY Spring Table Napkin Rings:
What makes spring dining room table decorations pop? Baby chicks, that's what! These chicks are adorable and they make your table festive and adorable at the same time!
Supplies:
1 roll Natural/Pearl Burlap Ribbon 1.5" wide X 3 Yards
Craft Chicks (I used the 2" chicks that came 3 to a pack)
Glue gun and glue sticks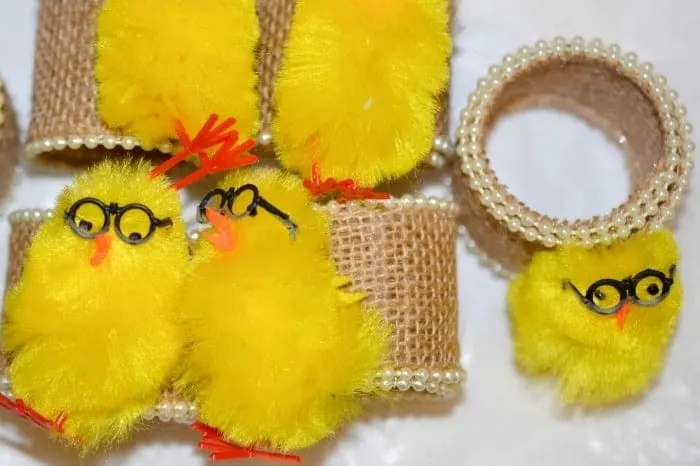 How You Make It:
Step 1: Cut the ribbon to 12" for each napkin ring you need.
Step 2: Roll the ribbon to 1 ½ inch ring and start gluing about every 2 inches for the rest of the length of the ribbon until you reach the end. Make sure you glue the end down good.

Step 3: Glue the chick over the seam that shows when you have made your ring.
How stinkin' cute are these? 🙂

To finish this off, I purchased some Polka Dot Fabric at Hobby Lobby for about $7.00 and cut out 14" squares for my napkins.
DIY Spring Flower Table Arrangement:
I wanted a centerpiece that was a little bit whimsical to go with my placemats and napkin rings to pull everything together and I love my final product! Spring flower table arrangements are easier to make than you would think and will save you a lot of money!

Supplies:
3 Yellow Flowers or any spring flowers you like (from your garden if possible)
Tall Mason Jar
Yellow Polka Dot Ribbon (I used 1 1/2 inch)
Hot glue and glue sticks
Wire Cutters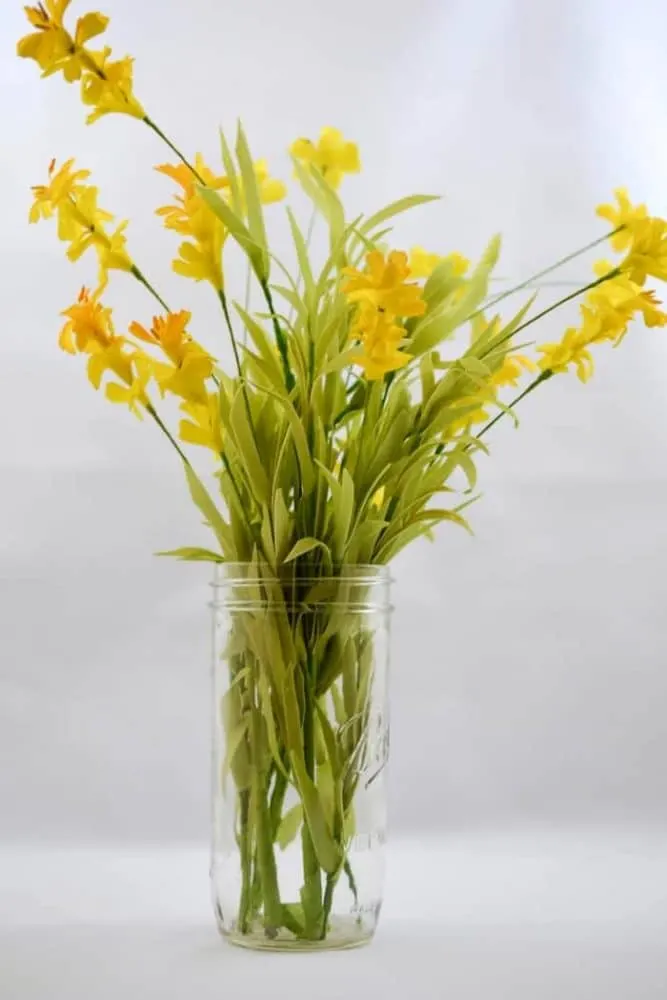 How You Make It:
Step 1: Cut the stems off the flowers, cutting just below the last leaves. I wanted the flowers to be full enough to fill the jar so that I would not need anything else in the jar.
Step 2: Glue ribbon around the bottom of the jar to cover the stems of the flowers.
Step 3: Take a longer length of the ribbon and make three loops to make a bow. Then cut another piece for the streamers for the bow. I used part of the last loop to make the front loop of the bow and catch the streamers so that I could hot glue the bow together. I then cut a ribbon to go around the top of the jar and glued the bow to that piece before I glued it to the top of the jar.
So what do you think of my spring dining room table decorations? I had a blast making these and I think you will have a wonderful time making your own spring decor as well!