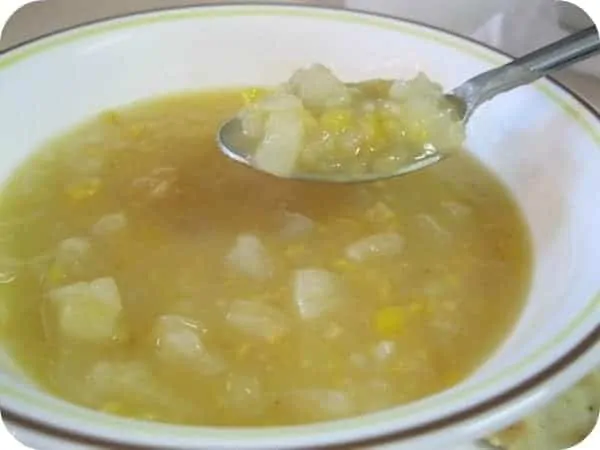 My husband served in the Youth Group when we lived on Cape Cod. After he would go away to a camp or missions trip he would always come home and tell me about a new favorite dish of his. Well, one year the dish he fell in love with was corn chowder. I had never heard of it, so I looked it up and tried making it at home. I failed miserably. He basically said it was too runny and didn't really taste anything like the soup he had tried (in a nicer way than that of course).
Fast forward about 4 years later. I had the pleasure of browsing through Knorr's Online Recipe Library for a recipe, so I could test out their new Homestyle Chicken Stock. They had a lot of recipes that I plan to try, but the Southwestern Corn Chowder caught my eye, and I knew it was time for round two. I went out and bought everything I needed for the recipe, came home and got to work. By work I mean I cut up some potatoes and tossed everything else into the pot and waited for it to boil. This was a really simple recipe. The verdict: Not only was the Knorr Homestlye Stock easy to use (easier than the bullion cubes I normally have on hand) it also tasted 10 times better. I think the bullion is flavorless compared to this. You get that full natural chicken flavor, which is what I think sealed the deal on this recipe. My husband agreed that this what corn chowder should taste like, and my kids lapped it up! Well, everyone but Lexi… she put so many saltines in hers she could barely swallow it :).
What Cha Need:
– 2 Tbsp. I Can't Believe It's Not Butter!® Spread
– 3 large all-purpose potatoes, peeled and diced (about 1 lb.)
– 1 cup finely chopped onion
– 1 tub Knorr® Homestyle Stock – Chicken
– 3 cups water
– 1 can (14-3/4 oz.) creamed corn
– 1 Tbsp. lime juice (This adds a kick of flavor that makes the dish!)
– 2 Tbsp. finely chopped fresh cilantro (optional)
How Ya Make It:
Melt Spread in 4-quart saucepan over medium heat and cook potatoes with onion, stirring occasionally, until potatoes start to stick and onion is tender, about 5 minutes.
Stir in Knorr® Homestyle Stock – Chicken until Stock is melted. Stir in water, scraping up any brown bits from bottom of saucepan. Stir in corn and bring to a boil over high heat.
Reduce heat to low and simmer, stirring occasionally, 15 minutes or until potatoes are tender. Lightly mash potatoes with fork or potato masher until creamy. Stir in remaining ingredients.