Tired of paying top dollar for a holiday decoration? How about making your own Simple Valentine's Day Wreath for less than $12.00? After looking at the prices of decorations at different stores, that is exactly what I decided to do.
Simple Valentine's Day Wreath Materials:
Metal Heart Shaped Wreath Frame
Wooden Banner
Wooden Hearts
Ribbon
Paint
Hot Glue Gun & Glue Sticks
Buttons

My first step was to spray paint my heart shaped form and 1/2 of my small wood hearts red. While that was drying I started making small bows out of my 5/8″ ribbon. I used just over 12 inches of ribbon for each bow. When I liked the shape of the bows, I trimmed the streamers to the length I wanted.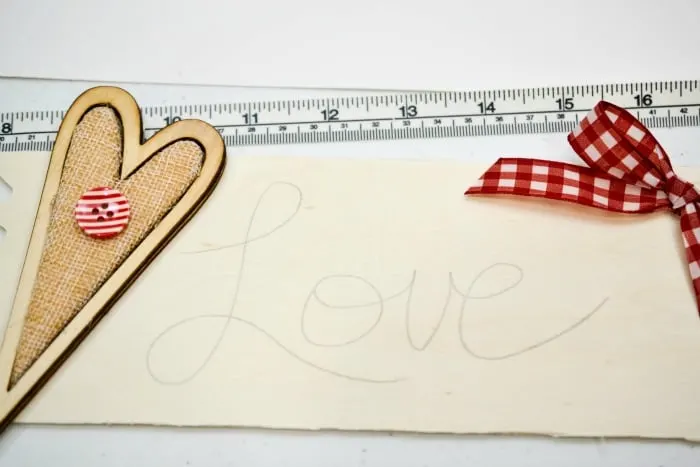 Once I had enough bows made I wrote the word "Love" with a pencil on my banner for painting.
Then I painted over my writing with the red paint. I have to admit, this part terrified me, I am not really confident in my freehand paint skills. But, once my word was painted I added my long wood heart and a bow with a button to the banner.
Now that my hearts were dry, I started laying out my hearts on the form to get an idea of where I wanted to hot glue them. A drop of hot glue later the bows I made from ribbon were attached to my small wood hearts. Another drop of hot glue and the buttons were added on top of the bows.
I decided that the hearts and banner were missing a little something, so I used ink to distress the edges of both so that they would match my long heart shape better. After a simple couple of lines of hot glue on the form, my hearts were in place.
Now, my new challenge was finding a way to attach the banner. I debated putting the banner in the center of the heart shape surrounded by the small wooden hearts but decided I would rather have it hanging down from the bottom. That decision made, I took a 12″ length of my plaid ribbon and cut it right down the middle to make two hangers from the one piece of ribbon. Then I looped the trimmed down ribbon through the heart form and hot glued the ends to the back of the banner.
Voila, my Valentine theme decoration was complete. All I had left to do was hang it up. What do you think? Would it have looked better with the banner glued to the middle of the heart-shaped wire form?