If you're looking for a Pottery Wheel For Kids, Pottery Cool is a great place to start! As a mom, of four I am always looking for new ways to help unlock my children's creativity and introduce them to new hobbies and this month we enjoyed hours of messy pottery fun.
My daughters have never owned a pottery wheel before, but they have owned other Cool Maker products, so they were stoked to get their hands on this pottery wheel.
When it comes to crafting, I'm pretty sure my girls would quit school right now and become full-time artists if I would let them. I can never find any of my craft supplies because Lexi and Anna are always making birthday cards, building Lepracan traps (yes in September), and coming up with other ways to get glitter into every crack in the house. Don't get me wrong; I love having girls with vivid imaginations that want to design all day, but I want my own things too.
That's why I love brands that make arts and crafts products for children. I believe they need to have their own space and their own supplies and materials to create and then they need to learn to leave mine alone. This method seems to be working because they haven't touched my craft supplies in almost three weeks! So that's a WIN!
Pottery Wheel For Kids: Pottery Cool Studio
When you purchase the Pottery Cool Studio, you'll get everything you need to create any of the six pottery projects from the instructions.
Here's what you can create:
Jewelry Holder
Turtle Dish
Smart Phone Speaker
Cupcake Pencil Holder
Monkey Pencil Topper
Puppy Picture Holder
Of course, you can also create anything else you can imagine as well. This is real pottery that your kids can actually do themselves. It's easy to use and easy to clean up, which is great because it can be super messy! We had so much fun being messy with this. Usually, I am such a neat freak but after seeing how easy it was to clean I told the girls to go with the flow and be the artists they were meant to be, mess and all! 😉
The Pottery Cool Studio Kit can be purchased at Walmart and comes with four clay disks, but you can buy Clay Refill Packs as well, which is what we did. If you want to create additional products they sell other product kids as well which come with clay and paint as well as additional instructions to create your project. As you can see the possibilities are endless with Pottery Cool. This kids pottery wheel is sure to lead to hours and hours of fun for your craft kids!
Note: This product requires 4 C batteries (not included)
Pottery Wheel For Kids: Difficulty
We are going to be completely honest here. We have never used a pottery wheel and getting the hang of this can be a bit tricky for kids of all ages. When you first start with the wheel, I highly recommend that mom sticks around to help. My kids (ages 6-13) all took turns making projects, and they all struggled not to crack the clay.
The clay comes in disks which are ingenious because it makes it so easy to start any project, BUT it is really dry and thick which means it cracks easily. VERY EASILY. You really have to wet it down before you start and you have to have a gentle technique when using the wheel. The awesome thing is that once your child gets a handle on how to use the wheel, they will be all set but be prepared for some annoyance. It's like any real art; it takes time and patience to master a skill. Remind your child if they get frustrated that this isn't like most toys, this is a real skill they are building and anything worth doing well takes practice!
Note: If the disk you are working on does crack and you can't repair it simply pull it off the pottery wheel, roll it into a ball and flatten it out into a disk and start over. Again patience is key here.
Pottery Wheel For Kids: Pottery Cool Projects
The projects that come in the studio kit are awesome because they offer something for everyone. I love that the projects are practical and serve a purpose! Pottery Cool Studio lets your child create COOl stuff that they can really use – iPhone (or smartphone) speakers, jewelry holders and so much more! Overall I was really impressed with everything that came in the kit and my girls had such a great time creating everything and painting their art. I think they did a fabulous job!
I purchased two additional refill kits so they could work on some gifts for family and friends and I am sure I will purchase more before the end of the month!
If you are looking for a pottery wheel for your child, I think you will really like this kit and I know your children will love it. Let us know if you have any questions about how the kit works, as always we are happy to help!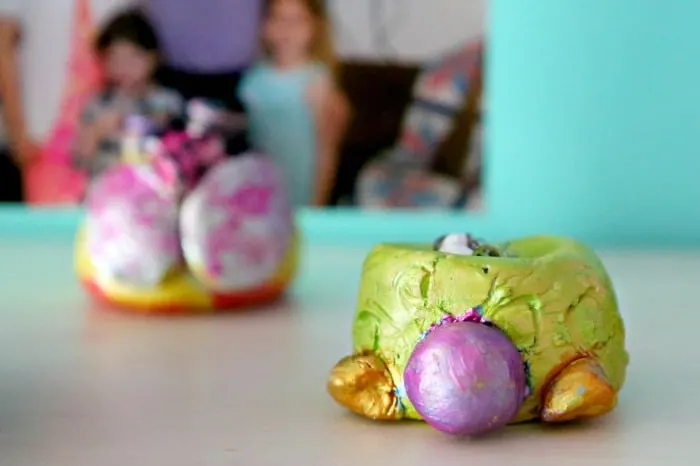 Want to see how it works? Check out this video:
I was selected for this opportunity as a member of CLEVER and the content and opinions expressed here are all my own.