This pink and black princess baby shower theme idea is one of my favorite parties to date!
This post is based on my personal experience. I was provided the samples free of charge by Oriental Trading. No other type of compensation was received for sharing my Pink and Black Baby Shower Theme story. This post contains affiliate links.
The long-awaited day had finally arrived!
I had been planning this shower for only a few months because our lives were a bit crazy, but I still wanted to throw a baby shower we could all be proud of.
After looking through the online selection from Oriental Trading, I finally picked a theme.
I decided to throw a Royal Baby Shower Celebration!
After all, this little princess earned her nickname as soon as we learned she was a girl and the princess she would be!
This is the Royal Princess theme I chose:
I have never attended a black and pink baby shower, so I felt it would be cool to get a little edgy with this shower while still keeping it classy (and fit for a princess).
Thankfully, I also had a pretty cool Rock Princess cartridge that was handy for decorating the white favor boxes I purchased.
After I chose the theme, I had to make my own invitations, which I did use wedding invites you can print at home.
They were easy to make and assemble, which was a plus (unfortunately, I do not have pictures).
Once my package arrived from Oriental Trading, I got to work on crafting the cutest favors ever (okay, maybe I'm biased, but I think they rocked!).
Using my Cricut, I cut out my black and pink cardstock crowns.
After cutting out the crowns, I used an Elmer's Dot Runner to glue the two pieces together, then attached the crown to a ribbon and the ribbon to the box.
I placed a piece of tissue paper inside the box and filled each white favor box with pink and black candies.
Side note: I didn't know if the shower attendees would eat these candies or even take the boxes, but they did! They loved the candy, and almost all the boxes were taken home!
I was seriously running behind when the day of the shower finally arrived.
I had the shower in my hometown and decided it would be smart to do my last-minute shopping, cake pick-up, and everything else once I got there.
That was a BAD idea! I would have been better off leaving only a few last-minute tasks to do because I didn't even get to finish decorating.
Thankfully, I had the help of my husband's cousin Kelly. She took care of all the food and helped me decorate when I finally reached the church.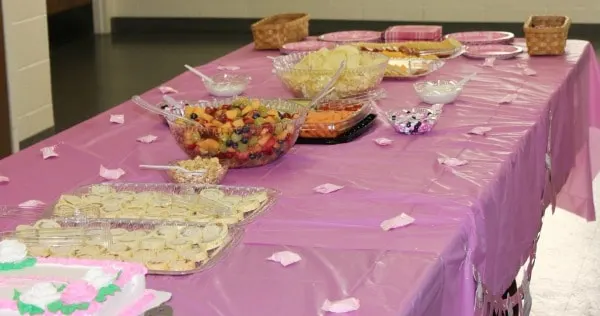 She did an amazing job with the food; everyone loved what she brought. Thanks, Kelly!
After getting all our pink and black tablecloths out, we loaded the tables with food and started working on the other tables in the room.
Since I was such a procrastinator, I had to print and cut the baby shower games right before the shower, but everyone loved the games, and we had an amazing time.
You can find these games and hundreds of others by searching for baby shower games on Google. You can also make your life easier and purchase cute baby shower games from Oriental Trading. I should have done that, but you live and learn.
After everything was said and done, we had an amazing time celebrating the upcoming arrival of our little princess, and she came into the world a few weeks early, so we enjoyed spending time with her as well.
How cute are they? Obviously, they got the "pink and black" memo! 😉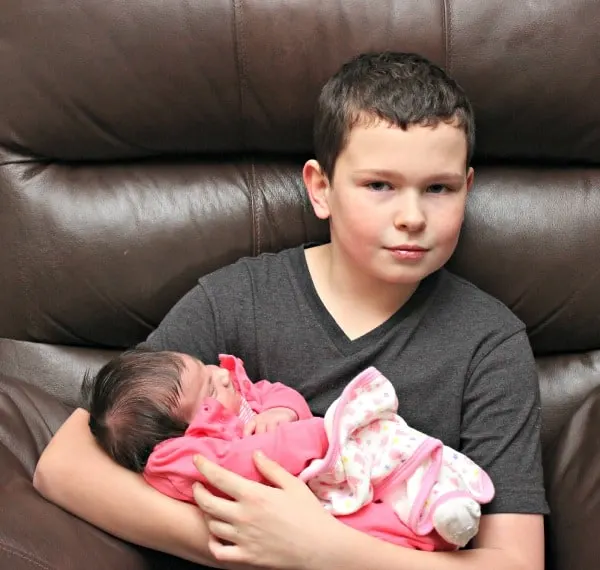 Welcome to the world Princess Brooklyn! We are so happy to meet you finally!