Today I want to take you on the MV Kennicott Ferry Tour! This tour will show you around the ship (at least what I have photos of) and give you a better idea of how you will be spending six possibly painful (if you're not prepared) days of your life.
Taking The Ferry To Kodiak – Everything You Need To Know
MV Kennicott Ferry Tour: The Cabins
I know I was most concerned with where we would be spending the majority of our time, little did I know we would only sleep, eat snacks, and shower in the cabins. We spent the majority of our time everywhere but our rooms.
We are a family of six, so we had two rooms like this. Each room had four beds. The bottom beds can both turn into couches, which is excellent for watching TV, reading, and playing word puzzles. The beds are more comfortable than they look and they provide you will all of your linens. I didn't think to take a picture from inside the room so you can't see the bathroom (with a toilet and shower) or the sink, mirror, and cabinet for toiletries.
There is one dresser drawer under each of the couches/beds. We used these drawers for storage and kept our small suitcases under the beds. – Note: If you are using large and small suitcases pack the small ones before boarding for the room. You can always go down to the car deck and swap out clothes if you absolutely must (we did because we got soaked in Juneau).
This is your "nightstand" and makes a great coffee bar catch-all.
If you plan to bring a lot of electronics, I would buy a few of these before you leave. I honestly can't remember how many outlets there were, but I want to say two. You can find these outlets here
.
Each bed has its own light. These are great for reading at night and getting off of the top bunk to use the restroom.
MV Kennicott Ferry Tour: Food
The second most important thing besides where you'll sleep…you guessed it, where you will eat. We were warned that the prices were super high on the ferry and told to pack foods and snacks, so we had a lot of food. After seeing the prices, I regretted buying so much food. For us, the prices weren't that bad, especially for the quality of the food (which was delicious). Trust me, if you can afford to take advantage of the restaurant, DO IT! Kodiak doesn't have much to offer those of us who love eating out, so eat up! I'll post the prices below.
The galley is not open 24/7, but you can access certain things like the coffee maker (which costs money) and the microwave.
We enjoyed every meal we ordered, and it was nice, having so many different choices each day. If you can't afford to eat every meal from the galley, you can always bring kitchen tools to help make life easier. Some people bring crockpots and small burner stoves. I personally like to pack as light as possible so I would rather not have to deal with all of that. It was a pain just keeping our few cold items packed in ice (there is an ice machine that costs .25 per bucket).
Breakfast is the easiest meal to serve in your room, so we only paid for breakfast once.
Sorry, this one is SO blurry. I took all of these pics with my phone, but you get the idea. These are the drink prices. They have a bar-type room (the Portage Room) where you can drink and eat meals, but I forgot to get a picture of that.
French toast was my one breakfast on the ship, and it was SO much better than the protein bars I had been eating. I tried to stay healthy, but I gained 10lbs on that boat.
MV Kennicott Ferry Tour: Entertainment
Getting bored on the ferry is very likely. It gets old quick. Thankfully there are so many things to do that you can stay sane and keep the kids happy most of the time.
Toddler Play Area: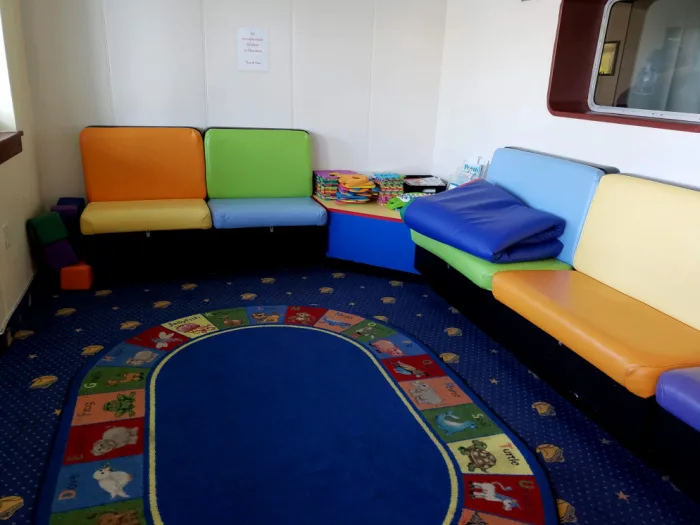 There is a toddler playroom to help keep the littlest passengers occupied. This room has toys and books for the kids and windows for the poor parents trapped inside (I kid).

Movie Theater:
Yep, a theater, how cool is that? The ferry shows movies a few times a day along with some pretty cool documentaries about Alaska. You can bring your own popcorn or buy it in the Cafe to take into the theater. The first day the ferry was so hot we left before the movie ended. Thankfully the ship cools down a little more every day (until it's cold in certain rooms). We watched three or four newer movies that we had never seen. They post a schedule each day so you can see the movies they will play and the times they are showing.
Books, Games, and Common Areas:
There are so many places to sit on the ferry. We got lucky, and our August ferry was not full. By the time we got to Kodiak, we were one of only a handful of families left. It would have probably been more fun for the kids to have more children to play with, but I enjoyed the quiet trip.
These books and games were provided by the ferry, and they switch out the games daily. You should still bring your own books and games. Had the ferry been full it would have been harder to grab a game. I left a few books that I finished so other people could read them. I noticed that the staff seemed to swipe them quickly. I'm sure they appreciate new books.
The purser's station has so many informational books about each port city. I spent hours looking through everything they had at the desk.
You can also purchase a few things you may have forgotten to pack. It will cost you, but at least they have the things you need.
The ship has public restrooms and showers. I was pleasantly surprised by how clean the common areas were.
There is elevator access for anyone that may need it.
The Car Deck:
If you don't have animals you may not spend any time down here, but this is where you will walk your dog, and at the front of the ship there is an open area where dogs will relieve themselves. I was expecting astroturf or something resembling grass, but this is what it looks like. Our dog didn't care for the setup!
I hope you've enjoyed this MV Kennicott Ferry Tour. Please reach out to me if you have any questions.
Read More Posts Like This: