Today I want to share Things To Do In Branson, MO For Couples because my husband and I love going to Branson. We've been a few times, and it's one of our favorite vacation spots. Some of these photos will include our kids because that's when I take the most pictures!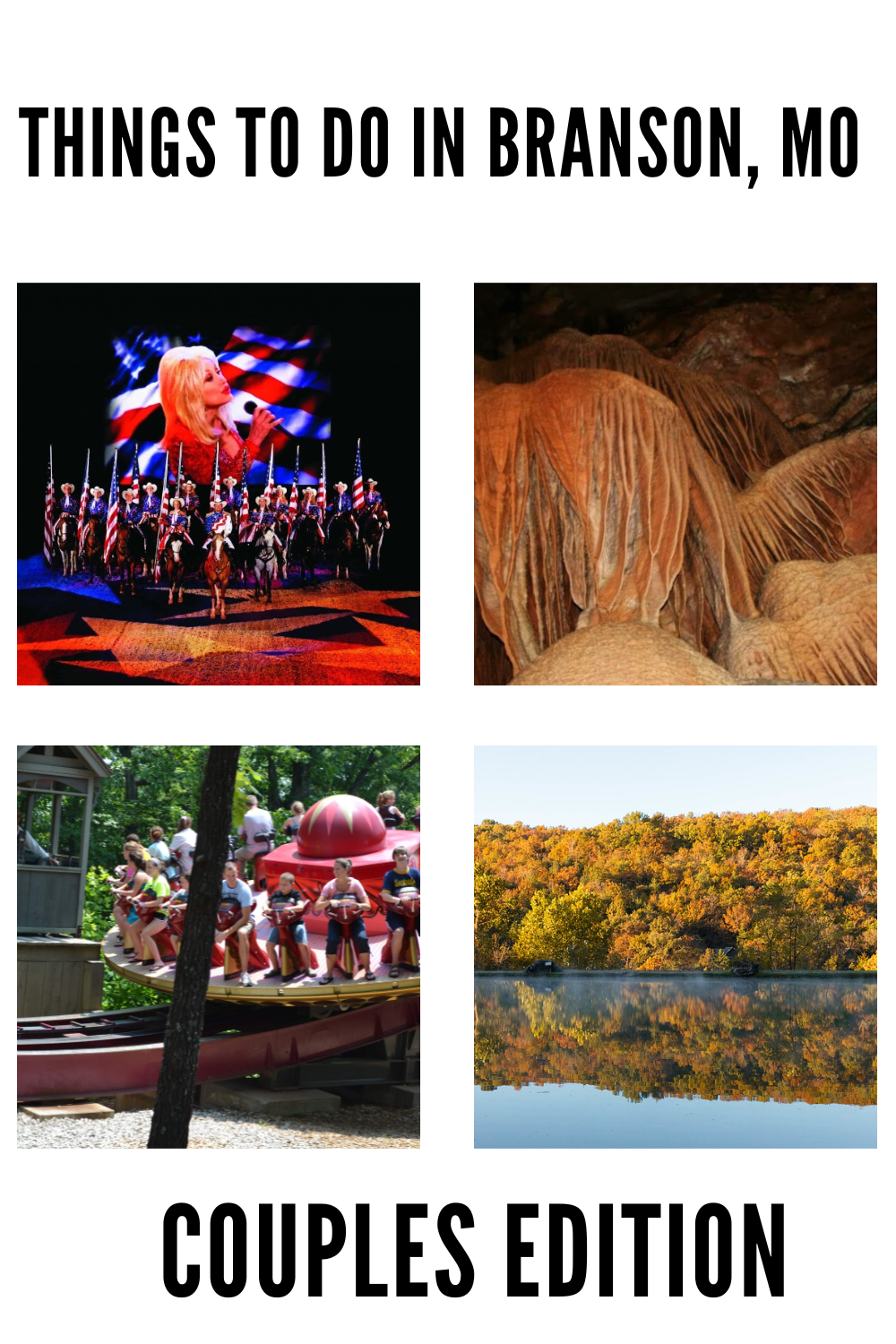 Branson is the perfect place for a romantic getaway because they have unique attractions for every type of couple.
Whether you love the arts, the great outdoors, romance or a weekend of thrills, the Branson area has it all!
I enjoy a little of everything, so I will share some of our favorites along with things I wouldn't do but that you may enjoy (like wine tasting).
Because I love a good thrill, we will start with theme parks!
Silver Dollar City
Silver Dollar City is a theme park in Branson, Missouri, that offers a variety of attractions and entertainment options. Couples can enjoy plenty of activities together, such as taking a stroll through the park's beautiful outdoor scenery, riding thrilling roller coasters and other rides, watching live shows and performances, and exploring the park's shops and restaurants.
In addition, Silver Dollar City hosts several seasonal events throughout the year, such as the famous Christmas festival, which can provide a romantic atmosphere for couples to enjoy. Several exceptional experiences are available for couples, such as a romantic carriage ride around the amusement park or a candlelit dinner for two.
Silver Dollar City can be an excellent destination for couples looking for a fun and romantic getaway.
The Top Silver Dollar City Attractions
Outlaw Run: This thrilling wooden roller coaster reaches up to 68 miles per hour and features a 162-foot drop. – This is my FAVORITE RIDE!
Time Traveler: This is a spinning roller coaster that takes riders on a journey through time, with drops and twists reaching up to 50 miles per hour.
Marvel Cave is a natural wonder and one of the park's oldest attractions, featuring an underground cave system that visitors can explore.
Fire-in-the-Hole: This indoor roller coaster takes riders through a dark, western-themed mine with surprises and special effects. (2023 will be this ride's final season)
The Flooded Mine: This interactive dark ride takes visitors through a flooded mine filled with animatronic characters and special effects.
The Showboat Branson Belle: This paddleboat offers dinner cruises on the waters of Table Rock Lake, with live music and entertainment. My husband and I LOVED this! The show and food were perfect!
The World-Famous Cinnamon Bread: This is a popular snack that visitors can enjoy at Silver Dollar City's bakery, with fresh-baked cinnamon bread made on-site.
Silver Dollar City's Christmas Festival: This is an annual event that takes place during the holiday season, with millions of lights, holiday shows, and other festive activities.
These are just a few of the many attractions and experiences available at Silver Dollar City. Visitors can also enjoy live shows, shopping, dining, and more throughout the park.
Silver Dollar City also has a water park if you're into that kind of thing!
The Track Family Fun Park
Even if you're not a fan of go-karts, The Track is a great place to go if you want to enjoy a romantic view from the Branson Ferris Wheel.
If you like to stay active while on vacation, ice skating may be perfect for you. The batting cages are also a fun way to get competitive while getting in a bit of cardio!
Dolly Parton's Stampede
Branson was unlike any other city I've ever been to! They have a variety of shows that will keep everyone entertained! I wish we would have been able to see more shows because that's my jam, but we only had time for a few.
My family and I had the opportunity to visit Dolly Parton's Stampede, and it was amazing!
It was my first dinner show, so I wasn't sure what to expect.
I knew trying to keep four kids happy and quiet during an entire dinner would probably be a little stressful, but I am always up for a challenge (and something other than Dora the Explorer for entertainment!).
Fortunately, I never needed to call in the reinforcements or bring out the toys I packed in the diaper bag!
The kids were on their best behavior because they were utterly mesmerized the entire time! I can honestly say that this was the best family dinner we have ever had! I didn't know my boys could sit still for almost 2 hours straight!
My children are 7, 6, 2, and 10 months and they all had a wonderful time! The boys are usually very shy and don't participate in group activities, but they happily participated! My daughter clapped the entire time and was in love with the animals!
This show is worth every penny! It's humorous and beautiful at the same time! I can not wait to do this again! We plan to hit the one in Myrtle Beach next year with the grandparents!
Here are a few thoughts from the kiddos:
John (age 6): "My favorite part of the night was when I got to pet the horses."
Jordan (age 7): "My favorite part of the show was everything the horses did."
Alexis (age 2): "I like the piggies."
Wanna know what's on the menu? Take a look at this:
The chicken was seriously the best I have ever had! I would love to tell you how much I enjoyed the dessert, but my daughter managed to eat most of it while I watched the show!
Be prepared to eat with your fingers and pack the leftovers in a doggie bag! At least we know what we're having for lunch tomorrow!
Stampede Tips:
Get there early. It's more fun for little one's if they can see the opening act! Our guy was really funny and a great juggler!
Bring a sweater or jacket because it can be a little chilly.
Babies and toddlers can sit in your lap and share your plate FREE of charge. This is a great way to save money!
Don't forget to visit the horses before or after the show!
We've now been to this show in multiple locations and it is still my favorite dinner show of all time.
Mel's Hard Luck Diner
One of my favorite things about vacation is the food! I love eating out and trying new restaurants and cuisines. After our Dolly Parton, I assumed it couldn't get any better than that.
I.WAS. WRONG.
We ate at Mel's Hard Luck Diner on our last day in Branson, and it was an experience!
When we got inside (being that I have dreamed about auditioning), I first noticed the American Idol paraphernalia!
That's when I realized the past idols they had pictured had worked at the diner!
While I thought it was cool, I was disappointed; it's not like I would get to see Jason Yeager or Matt Kester singing at the diner after being on AI!
The atmosphere is what you would expect from a diner; only the waiters/waitresses sing for you!
I have been to some restaurants where the waitstaff can barely keep drinks on the table, so to serve and sing is pretty impressive!
Our waitress Karla was an excellent singer and even surprised John Jr. with a little "Blue Moon" serenade!
Then it happened.
I realized that the guy with the incredible voice who sang Unchained Melody better than the Brothers themselves was – Jason Yeager!
Yeah, that's right, he was there, singing….and waiting tables!
Listening to him talk to the customers at his tables, I was very impressed by Jason. He seems to be very humble, even after his Idol fame!
Jason, if you happen to read this (haha), I encourage you to keep doing what you're doing!
Stay humble and do all for His glory! You know He has a plan for you!
So my overall experience at the Hard Luck Diner ROCKED! The food was diner food (which is always enjoyable), but I would return just for the atmosphere!
Most Popular Live Shows In Branson
Branson, Missouri, is known for its lively and entertaining live shows, with various genres and styles available. Here are some of the most popular live shows in Branson:
The Haygoods: This show features a talented family of performers who combine music, acrobatics, and special effects in a high-energy performance.
The Baldknobbers: This is a classic Branson show that has been entertaining audiences for more than 60 years, featuring country music, comedy, and family-friendly fun.
The Duttons: This show features a family of musicians who play various instruments, including violins, guitars, drums, and more, in a lively and entertaining performance. (Currently Closed)
SIX: This show features a talented a cappella group of six brothers who perform popular songs using only their voices, with no instruments.
Sight and Sound Theatres: This theater produces epic productions that bring Bible stories to life, with live animals, special effects, and stunning sets and costumes. Currently Queen Esther
Legends in Concert: This show features talented tribute artists who impersonate famous musicians and performers with songs and costumes that pay homage to the original artists.
These are just a few of the many live shows available in Branson. Visitors can also enjoy dinner shows, magic shows, variety shows, musical entertainment, and more throughout the city.
Horseback Riding
Branson is a beautiful area with plenty of opportunities for outdoor activities, including horseback riding. There are several places in and around Branson where couples can go horseback riding, including:
Dogwood Canyon Nature Park: This park offers guided horseback riding tours through scenic forests and valleys, with trails that range from easy to moderate difficulty. Whether you're riding by horse or carriage, call 1-800-225-6343 in advance for reservations.
Bear Creek Trail Rides: This company offers guided horseback riding tours through the Ozark Mountains, with trails that take visitors through beautiful scenery and past historic landmarks.
Horseback riding in Branson can be a great way to experience the area's natural beauty, with options for riders of all skill levels. Visitors can also enjoy other outdoor activities in Branson, such as hiking, fishing, and boating.
Hollywood Wax Museum Branson, Missouri
My family had so much fun visiting the Hollywood Wax Museum in Branson, MO.
I had seen a show a few years before about wax museums and how life-like the statues could be, but I still wasn't convinced.
When I mentioned the museum to my family, some were more excited than others. Look at the pictures below to see which family members enjoyed our trip the most.
The Hollywood Wax Museum is the longest-running wax museum in the United States. It has been the most visited indoor attraction in Hollywood since 1965.
I hope they add a pop-culture section dedicated to YouTube stars! I mean, really, how cool would that be?!
John Jr. takes home the award for the biggest family ham.
If this child doesn't one day end up with his statue in the museum, I will be shocked! He loved becoming part of the scene.
All four kids enjoyed our time at the museum, but none lived in the moment quite like John did.
Hollywood Wax Museums are designed for interaction. Rather than walking by and just looking, visitors are encouraged to walk into the open sets and take photos with the figures.
I think this is one of the things that makes this museum so much fun. It would have probably taken 15 minutes to walk through, but with all the posing and tomfoolery, it took us about an hour and a half.
John wasn't the only one to strike a pose; my mom also decided to get in on the action. She took great delight in posing with some of her favorite leading men while my dad stood on the sidelines, rolling his eyes.
We learned that my mom has many favorites, so many that I had to cut this collage down so you could see who she was posing with.
My mom and I love movies, but unlike my mom, I don't have any favorite leading men…
I may have one or two, but my mom is pretty dedicated. She has probably watched every single movie her favorite stars have been in.
After being there for a while, even my dad couldn't resist getting in on the action! Thanks, dad ;).
Of all the Branson attractions we visited during this trip, this one has to be at the top of my list for the funniest pictures! I wish we would have all taken a picture with the Great Ape of Branson.
Talking Rocks Cavern
When we passed a sign for Talking Rocks Cavern on our way to check into our vacation rental, I knew we had to check it out!
I had never been in a cave before and wasn't sure what to expect, but I was excited to check it out!
I highly recommend this cavern!
The staff is super friendly, knowledgeable, and handles screaming babies well!
How would I know?
Let's say when my teething baby girl realized how loud her voice was in the cavern, and there wasn't much I could do to keep her quiet!
Our guide didn't let that stop her, though!
She talked over Anna and didn't seem to get annoyed at all. In fact, in the end, my 2 yr old decided to sit down and pout in the middle of the gift shop, and the guide sat down and had one with her!
It was cute, and Lexi decided there were more fun things to do there than sit on the floor and pout about rock candy!
When we arrived, the kids played in this cave maze they had built into the wall!
Check out the pics below. It was a great way to pass the time while waiting for the next tour to start.
Then, after a brief history of the cavern, the guide started our tour, which took us down 100 feet and about 243 stairs!
It was amazing. I can honestly say I have never seen anything more impressive in my life.
The formations are so strange! The formations look so soft; they reminded me of wax.
As much as you would like to touch them, you can't. The guide said that the oil from our skin could cause the formations to die. Don't quote me; she may have said it stunts their growth.
This cavern was truly breathtaking! I hope to return the next time we are in Branson and visit the cavern during a rainstorm!
They still give tours, and the guide said it is an entirely different experience!
My favorite part of the tour was when the guide turned out the lights. It was fun trying to imagine what it must have been like for the first explorers who went in with only a rope seat and a candle!
After the tour, we played Mini-Golf and did some mining! We bought an Emerald Bag, and the kids and I had a blast finding our treasures!
Check out these fantastic formations we took pictures of: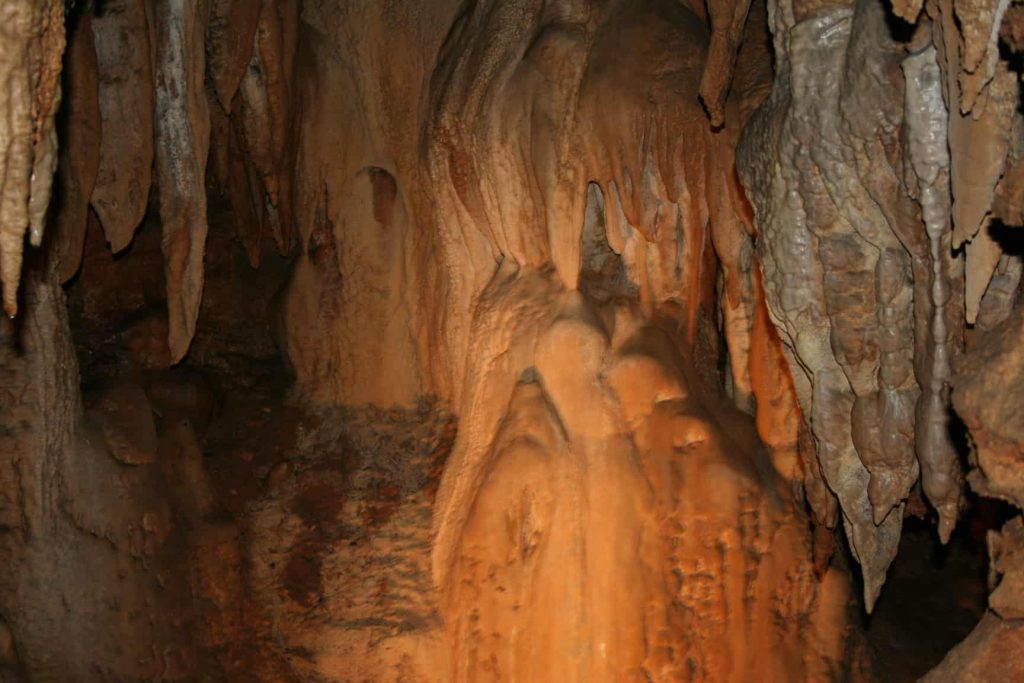 I love Talking Rocks Cavern because it's a fun and educational place that won't cost you an arm and a leg!
Talking Rocks Cavern is open from 9:30 – 6:00 daily.
Cavern Visting Tips
Get there early! There is a lot more to do there than we realized.
If you're taking kids, use a front carrier. I carried Anna through the cave and was fine, but having the carrier would have been nice! They don't recommend back carriers.
Buy the picture! How often do you have family photo's taken? Be prepared to spend $10 on a family photo! It also supports a good cause because $5 helps fund bat research!
Bring a jacket. It wasn't too cool (it's August), but it does get much cooler in the cavern, so if you get cold, easily pack a light jacket or blanket for little ones.
Things To Do In Branson MO For Couples Highlights
There are honestly too many amazing sites in Branson. Check out as much as you can and don't forget to take tons of pictures!
Titanic Museum Attraction is a museum that features exhibits and interactive experiences. The museum is located on Highway 76 in Branson, and it is designed to look like the Titanic, with a large bow and smokestacks that mimic the ship's appearance.

One of the museum's main attractions is the Titanic Artifact Exhibition, which features over 400 artifacts, including personal items belonging to passengers, such as clothing, jewelry, and luggage, as well as items from the ship, such as china, silverware, and ship fittings.

In addition to the Artifact Exhibition, the museum features a variety of interactive exhibits and displays, including a replica of the ship's Grand Staircase, a life-size model of a lifeboat, and a replica of a first-class cabin.

My most sobering experience was seeing how long we could keep our hands in the icy water.

Copper Run Distillery is a small, family-owned craft distillery known for producing a variety of handcrafted spirits using traditional methods and locally sourced ingredients.
Stone Hill Winery, as I mentioned, I don't drink, but for those of you who love a good tasting and winery tour, add this one to your list!

The distillery also offers tours of its facility, which allow visitors to learn about the distillation process and the history of moonshining in the Ozarks. Visitors can also sample the spirits produced at the distillery and purchase bottles to take home.
Butterfly Palace and Rainforest Adventure provide a fun and educational experience for visitors of all ages who are interested in learning about butterflies and the ecosystems that support them.
You don't have to spend a ton of money when you visit. Branson has miles of trails, Lake Taneycomo, the Branson scenic railway, beautiful Ozark Mountains, Table Rock State Park, and scenic views you can't get anywhere else. Soak up all the beauty nature has to offer, free of charge.
World's Largest Toy Museum: It doesn't matter how old you are; if you have ever played with toys, visit this place! It's so much fun!
Castle Rock Resort Branson MO: For Couples With Kids
During our recent visit to Branson, my family had the opportunity to check out Castle Rock Resort, an indoor water park! We were excited about it because we don't generally frequent water parks but this one looked like it would be fun for the whole family!
1. Because I've never been a fan of standing out in the scalding sun all-day
2. I hate lines
3. They scare me
4. Water parks are hard with babies
With that said, I knew this water park already had something going for it, because is inside!
Scratch one of my complaints off the list!
Anyway, we took 3 of the four rugrats and headed out. I was also scouting a possible place to stay the next time we head to Branson, so I was excited to tour the rooms and the water park.
Castle Rock Resort has some great amenities to offer its guests.
Between the well-stocked gift shop (with everything you could need), large arcade, and the Tower Grill, you never really need to leave the resort!
I was given a tour of the rooms and was surprised to see the small bedroom attached with bunk beds and a tv mounted to the wall.
I didn't have a chance to stay overnight, but from what I saw, the rooms seemed nice. It's nothing fancy, but I'm guessing you're paying more for the water park than the rooms!
Castle Rock offers 3 room types in the resort:
Standard Tower (pictured above):
2 Extra Long Double Beds
Kiddy Cove Bunk Room with bunk beds (100 lb. max weight limit)
Waterpark Access is included for your entire stay when booked as a waterpark package
Maximum Occupancy-6 People
Add a Microwave & Refrigerator for an additional $10.00 per night**
King Tower:
1 King Bed
Kiddy Cove Bunk Room with bunk beds (100 lb. max weight limit)
Waterpark Access included for your entire stay when booked as a waterpark package
Maximum Occupancy-4 People
Add a Microwave & Refrigerator for an additional $10.00 per night**
Family Suite:
2 Extra Long Double Beds
Kiddy Cove Bunk Room with bunk beds (100 lb. max weight limit)
Pull-out Sofa Sleeper
Waterpark Access is included for your entire stay when booked as a waterpark package.
Maximum Occupancy-8 People
Prices vary throughout the year, but the prices seem very reasonable from recent browsing!
The water park was quite a hit with both my kids and myself.
It was not as large as I imagined, and it didn't have all of the bells and whistles some of the others I've seen have, but that made me like it more.
Why? you ask.
Because I could relax, it wasn't too loud; it wasn't packed with people, and there were lifeguards everywhere doing a very good job keeping an eye on their stations.
Overall, I was able to relax, and if you know me, you know I don't relax easily around water and my children. I worried I would be a nervous wreck, but I enjoyed it.
If I had taken one, I would have even sat down to read a book. I felt like the kids were safe and could roam back and forth without getting hurt or into trouble.
The lifeguards looked much younger than I expected, but they did a fantastic job.
They weren't chatting with each other, and they always kept their eyes on the kids and the water. They seemed very mature and super serious about their job.
While on my tour, I learned that the lifeguards undergo intensive training. When they are not out watching the floor, they are training!
My impression of the water park was very good, but I will say that I think it caters best to toddlers – 10 yrs. After that, you would push the boredom zone with the older kids.
We all had a great time, and I think your family will too! Who knows, maybe we'll see you there!
I hope you enjoyed our list of Things To Do In Branson MO For Couples! Let us know what your favorite attractions are.
Read More Travel Posts Here: