Taking the ferry to Kodiak can seem daunting if you've never done it before. That's why I have compiled the best tips and shared my insights so you have the most enjoyable ferry experience possible.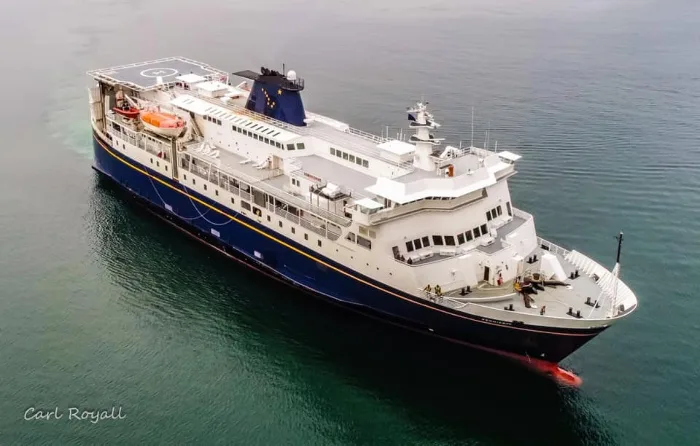 Photo courtesy of Carl Royall
First, you'll want to book your ferry trip to Kodiak as soon as you possibly can. When you book, you should get a shower in each room. Our family had to get two cabins (each room could hold four passengers), so we were allowed two cabins with showers. If you book late, you may not be able to get two batteries (which isn't a huge deal, but it makes for a smoother trip).
Taking The Ferry To Kodiak- The Route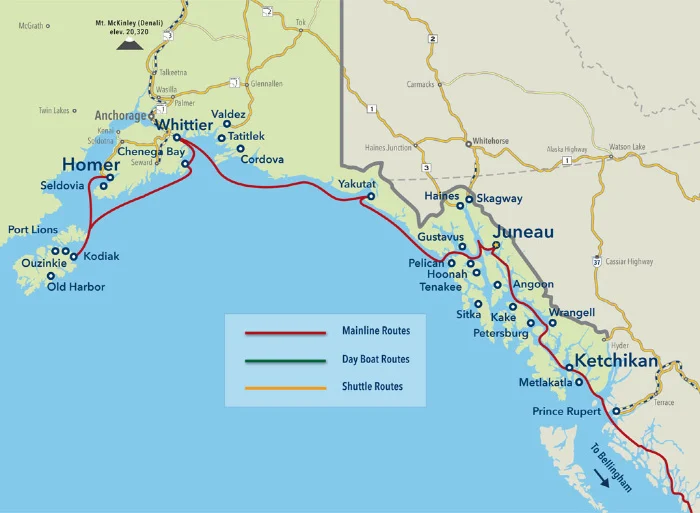 Photo Credit: Alaska Marine Highway System
As of 2018, this route was from Bellingham, Washington, to Kodiak, Alaska. I can't see anything changing, but it is possible. Always check the Alaska Marine Highway System for updated courses.
Bellingham → Ketchikan → Juneau → Yakutat → Whittier → Chenega Bay → Kodiak → Homer
This trip takes six days. We started our journey in Bellingham on Saturday (we loaded around noon and left around 4 pm if I remember correctly), and we ended up in Kodiak at around 6 am on Friday. We traveled with four children, ages 9-15. Looking back, I want to do it again; I didn't feel that way when I was on the ferry.
Taking The Ferry To Kodiak- Bellingham Port
Your journey will start at the Bellingham Cruise Terminal in Washington.
Location: 355 Harris Avenue
Bellingham, WA 98225
When you arrive, you will follow the signs to the terminal, park, and head inside to get your boarding passes and window hangers for your car(s). Afterward, they will point you to the loading area, and I wouldn't recommend getting there too early.
ProTraveler Tip: You cannot go to your car once you load and the ship starts moving. Make sure your vehicle is ready to unload before you get on the boat, and if you have a dog, go ahead and get their kennel set up with them and their food and water ready. You will also want to let your dog walk/use the bathroom before loading. You want to unload your car as quickly as possible, head to the cabin deck, and get your room keys from the purser.
My family took a cross-country trip and shopped in Washington before we went to the terminal. We ended up parking on the side of the road and rearranging our car and van to prepare us for the ferry. I wouldn't recommend this to anyone.
If anyone in your family gets seasick, take meds before you get on the boat. I'm serious! The ship is hot and stuffy for the first two days, so you don't want to get sick. Two of my four children got seasick, and it was not fun. I wish I had treated them all before we got on the ship.
Buy your meds before you go. I paid $20 for Dramamine (the kind that makes you tired) and another $20 for oils. They helped, but once you're sick, it's too late. By day three, the water gets rough, and even the toughest tummies will feel it.
Seasickness meds I recommend:
While waiting to leave the port, you can explore the ship. Want to see the boat and all its features? Check out my post on the MV Kennicott here.
Taking The Ferry To Kodiak- Our Port Schedule
I'm sharing our port schedule, so you know what kind of program the boat keeps. Of course, yours will probably differ, but at least you will see what you can expect.
Depart Bellingham Sat Evening (4ish, I think) → In Ketchikan Monday at 8 am
Depart Ketchikan Monday at 11 am → In Juneau Tuesday at 7 am
Depart Juneau Tuesday at 11:55 am → In Yakutat Wednesday at 5 am
Depart Yakutat Wednesday 8 am→ In Whittier Thursday at 6 am
Depart Whitter Thursday (Not Sure) → In Chenega Bay Thursday at 3 pm
Depart Chenega Bay Thursday (Not Sure) → In Kodiak Friday at 6 am
Taking The Ferry To Kodiak- Ketchikan Port
After being on the ferry for over a day, you will be ready to get off and stretch your legs. You will also likely want to visit the grocery store. There is an A&P grocery store to the left when you leave port that is no more than a ten-minute walk. There is also a liquor store and frozen yogurt restaurant by the A&P. If you are willing to walk a little farther, there is a bigger grocery store (Safeway) with a Starbucks, Subway, and another liquor store. You can drink alcohol on the boat but must do it in your room if you bring your own.
You will probably start to see whales when you leave Ketchikan but always listen to the announcements because they will often make on if you are entering an area with whales. You can ask to borrow binoculars from the purser's desk, but I recommend you bring your own if you want to see the whales
up close.
Taking The Ferry To Kodiak- Juneau Port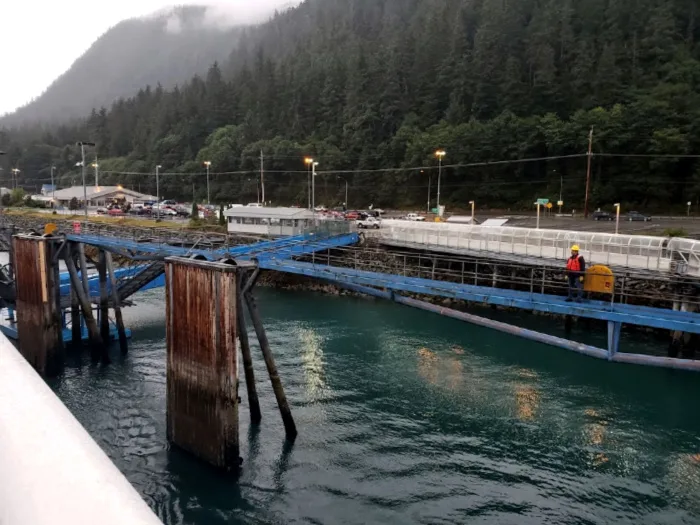 You will fall in love with this port; just be prepared. You will likely need rain gear (see a complete list of what I recommend before you leave the lower 48 here).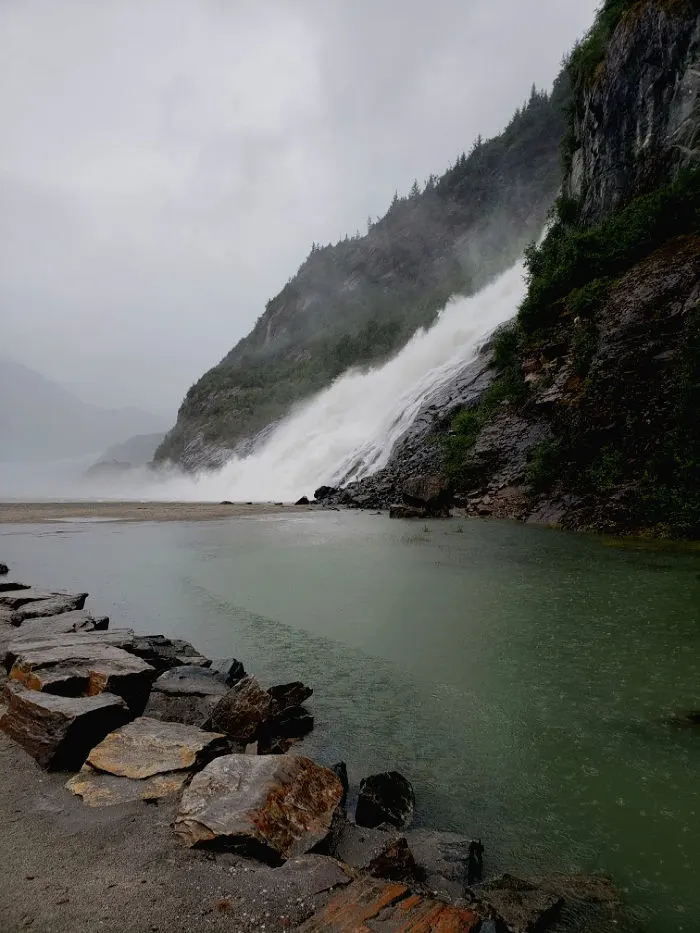 Juneau is home to a beautiful glacier and waterfall, so don't miss your opportunity to see it up close. It would be best to take a cab ($20 each way), but it is worth every penny. The park is free to walk, and the trails open when the sun rises. You will quickly learn the "Be Bear Aware" saying while visiting and living in Alaska. We spotted our first bear (what looked to be a cub) running across the street after the taxi dropped us off. It was exhilarating and also a little scary. They have restrooms, and the Mendenhall Glacier Visitor Center opens at 8 am. It rained the entire day; all we had were rain jackets and rain boots. Our pants were soaked, and we looked like wet rats!
There is a lot of touristy stuff in Juneau, but you must travel to almost everything. Fortunately, you get about 5 hours to explore (we ported at 6:30ish and stayed until 11:55). You can also shop here, but come on; you don't want to miss seeing the glacier. 😉
If you want to take glacier photos, you'll have several chances now, both off and on the ship. When you depart from Juneau, you will continue to see glaciers from the ship, so have your camera ready.
Taking The Ferry To Kodiak- Yukatat Port
We hit this port around 5 am and took our dog for a walk. We could see a playground from the ship but couldn't find it when we walked along the highway. I didn't see much to do around Yukatat, but with three hours, you could walk one mile to the Mallotts General Store or 1.6 miles to True Value (don't love True Value now? Don't worry, you'll love it soon enough).
Taking The Ferry To Kodiak- Whitter Port
Whittier is the final port call for all those lucky military members heading to Anchorage. Don't get me wrong, I love Kodiak, but they have a Target, restaurants, and doctors. Okay, they have everything, and no, I'm not jealous (much).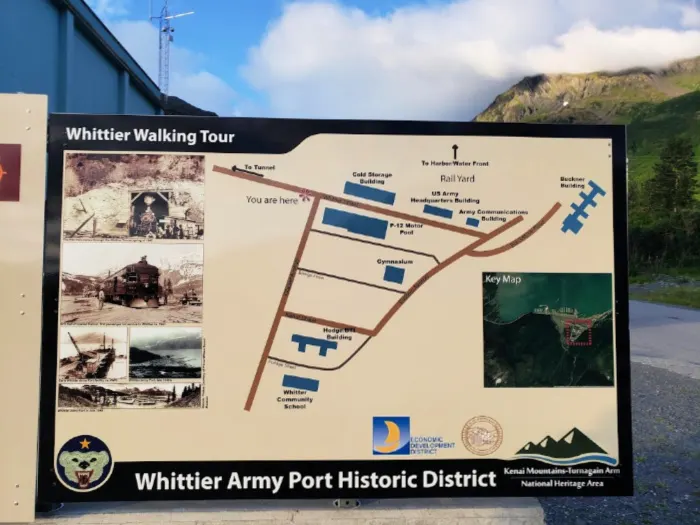 My family stayed close to the port and visited all the cute shops and the military museum (which had fascinating displays). I got my first Alaska price shock in the general store, where a cereal box was $8! You do not want to shop in Whitter, not near the port anyway.
Whittier, Alaska, is a pretty exciting place. The first thing you'll probably notice from the ship is the old abandoned military base. The structure is something straight out of a horror movie! Be sure to take lots of great pics if you like that kind of stuff. If the military aspect isn't cool enough, Whittier is also known as Alaska's "One-House Town." Everyone in town lives in the same building! Seriously, you can read about it here. You can walk behind that building, and the kids can play at the playground. The kids also enjoyed walking through the tunnels ( I found it slightly creepy).
Taking The Ferry To Kodiak- Chenega Bay Port
We were not at this port long, but we did get off long enough to take the dog for a walk and see our first glimpses of the infamous Alaskan salmon! We spotted our first fishing vessel from Discovery Channel's "Deadliest Catch."
Taking The Ferry To Kodiak- Kodiak Port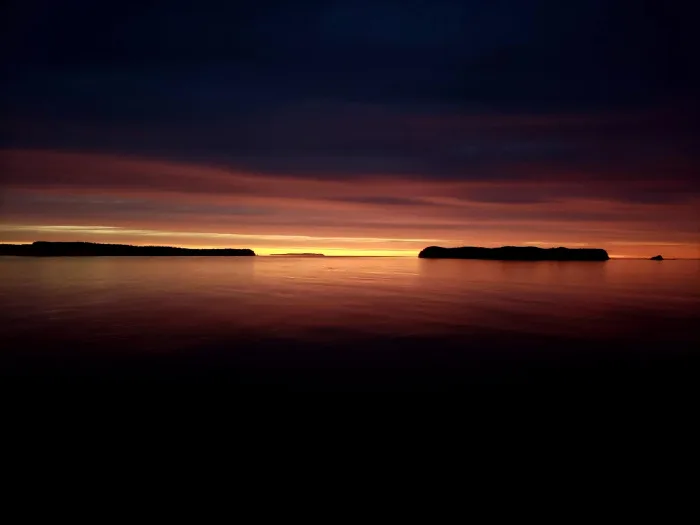 I set my alarm for 5 am to have everything ready when we heard the deboarding announcement. I ended up waking up earlier than that and was able to get everything ready, so I could watch as we pulled into our new home. I was in awe of the beauty of the first thing I saw in Kodiak. The sunrise was stunning (and I'm still amazed daily by the beautiful Kodiak sunrises and sunsets).
The first thing we did when we left the ferry was head to the only place I could find open for breakfast (other than McDonald's, of course), King's Diner. We had our first breakfast in Kodiak and went to Walmart while we waited to get the keys for our rental.
I hope this post has helped you understand what traveling on the Alaska Marine Highway System is like! Check out my other posts for more info about the ferry.
MV Kennicott Ferry Tour: Alaska Marine Highway Ship Tour
Read More Posts Like This: