When we decided to paint the girls' bedroom a few weeks ago, we weren't going to choose a theme, so we just asked the girls what their favorite colors were. For years, pink and purple have been Lexi and Anna's signature colors, but I knew that was changing. When I asked the girls what colors they wanted to paint their room they both agreed that teal and purple were their top picks, and at that moment The Little Mermaid Bedroom Makeover was born. I have to admit that Disney's The Little Mermaid has always been and will always be my favorite Disney movie of all time. I spent hours swinging on the playground at school singing "Part Of Your World". While my girls love all of Disney characters, I think my love for Ariel must have been passed down through my DNA because at that moment I learned that I wasn't the only Ariel fan!
This bedroom isn't complete. I still have so many things I would like to do, but I have been dying to share this post!
We started this journey by looking for ideas on Pinterest.
We all fell in love with this look, but the girls still wanted to add a little pink so we decided to do two pink walls in addition to the purple and teal. I'm still not completely sold on the pink, but it's not my room so.
Before I show you the finalized Little Mermaid Bedroom Makeover, I want you to see what we started with! This is the girl's room before we gave them their dream room.
This is what the room looked like before we did anything. The walls were a flat color, and I'm guessing they had never even been painted.
As you can see we had a lot of space to work with, and we had to decide whether or not to paint what is technically a part of the ceiling. I wasn't sure how it would look to break up the wall from the ceiling with two separate colors (leaving the top of the ceilings white), but that's what the girls wanted.
They also wanted both ends of the room painted pink with a matching pink chalkboard.
These are the colors we purchased from Walmart for the Little Mermaid Bedroom Makeover. You can view these colors and more on the Disney Glidden Site (now removed)
– Glidden Disney Paint in Enchanted Violet
– Glidden Disney Paint in Blushing Princess
– Glidden Disney Paint in Cool Marine
– Glidden Disney Tintable Chalkboard Paint (as asked for Blushing Princess, but she gave us Pretty as a Princess so we used that instead)
We started with the Enchanted Violet and Cool Marine to make sure we liked how it looked. I loved it, and so did the girls! I could already feel the Little Mermaid bedroom coming together, and I think I may have been the most excited person in the house!
I think the overall look turned out very well, and the girls are loving their new Little Mermaid Bedroom, so even though I still have a few more things to do, I am in love with this room!
I searched high and low for Disney's The Little Mermaid Bedding bedding, and the only place I could find it (in-store) was at Target. If you have time to wait for shipping, you can use the link above and order from Amazon.
These are two of the posters I framed for this room:
This is the Ariel Land or Sea – Disney Little Mermaid 34″x22″ Art Print Poster I purchased (I think I paid like $3 for this) you can find it on Amazon. I purchased a larger frame for this one, spray painted it white, and left the back out for a "floating frame" effect.
This is the Disney Princess Pretty Princess Snow White Sleeping Beauty Ariel Aurora Cinderella Sketched Poster and I purchased them both from the same store on Amazon. They both looked amazing but were a little bent from being rolled and shipped so I left them out flat for two days before framing them.
Here are a few other little touches we added to make this room sparkle: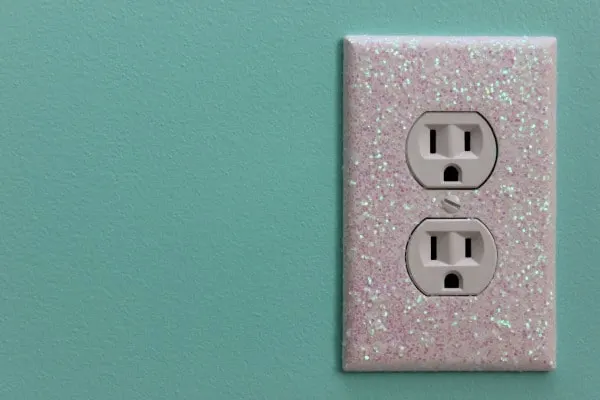 While my husband was painting I was busy prepping the chalkboard frame and the light switch and outlet plates. You can view the DIY Glitter Light Switch Plates and Outlet Covers tutorial here.
We purchased Unfinished Interior Whitewood Moulding Accent from Lowes to build the frame for the chalkboard. Then I used the paint for the room to paint the frame. I wanted it to fit in with the nautical theme of The Little Mermaid, so I painted the center white (like boat dock rope) and the sides purple to pull in the Enchanted Violet ceiling color. My husband measured and cut the molding before I painted it. I didn't want to paint any more than I had to! 😉
In case you are wondering… yes, this took forever to paint!
After the paint was dry in the girl's room, my husband leveled and placed a temporary tape frame so he could apply the chalkboard paint. Sorry, some of these pictures are pretty bad because I was shooting at all hours.
Then my husband painted the wall according to the directions. When you paint with chalkboard paint or glitter paint you should always read the directions very carefully. If you don't follow them exactly, you can end up with a mess. We learned this the hard way on a previous project we worked on!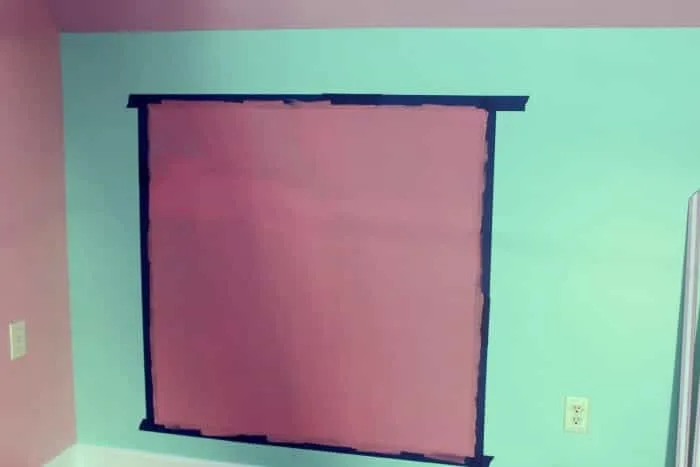 Once he had the paint exactly the way he wanted it (I can't remember how many coats he did) he let it dry for two days before hanging the frame. All you have to do is use the little white cone head nails and you're good to go. I didn't even paint over them because they aren't noticeable.
These pictures do not do this frame justice, but you'll just have to trust me when I say, it looks amazing!
Whew, that was a lot of work, but it was really worth it to see the look on their faces! Are you planning a Little Mermaid Bedroom Makeover? If so send us your pictures and we will share them with our readers!
Happy Decorating!
You can find this post, along with many other awesome DIY posts, linked up at Coastal Charm.