Have you ever considered trying a healthy homemade trail mix recipe, instead of buying the pre-packaged trail mix? I love trail mix, but I am also one of those people who like to leave things behind that I don't like. That's why my trail mix bag would have nothing but raisins in it when I'm finished. I like raisins, just not in my trail mix. I also don't like busying trail mix with chocolate in it because I'm temped to grab the bag and eat nothing but the candy… not good! I decided to buy some of my families favorite trail mix items, and make my own homemade trail mix. My biggest concern was that our trail mix would be unusually high in calories and fat compared to the store bought variety, but I was very pleased with my results!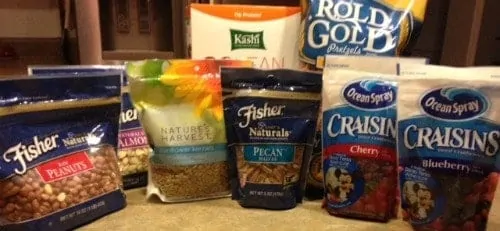 Ingredients:
– 1/4 cup Raw Peanuts
– 1/4 cup Sliced Almonds
– 1/4 cup Sunflower Seeds (unsalted)
– 1/4 cup Pecans
– 1/4 cup of Craisins – Cherry
-1/4 cup of Craisins- Blueberry
– 3/4 cup of Kashi Go Lean Crisp (Cinnamon Crumble)
– 17 Broken Pretzels
Nutrition Facts Comparison:
Homemade Trail Mix vs Store-Bought Trail Mix:
Serving Size: 1 cup vs 1 cup
Calories: 312 vs 640
Fat: 17g vs 36g
Carbs: 34g vs 56g
Fiber: 7g vs. 8g
Sugar: 18g vs. 40g
Protein: 9g vs. 16g
As you can see the Homemade trail mix wins by a landslide! I hate to think that this is what my family was consuming before I started making homemade trail mix. While the fiber and protein are a little higher, I don't think its worth an addition 19 grams of fat or 22 grams of sugar. The cool thing about this recipe is that you can make it even healthier! You can add and remove anything you want to this trail mix to adjust certain nutrition facts. For example, I'm sure dried fruit would have been a less sugary fruit to add, and granola may have been better than the Go Lean. So go, have fun, and surprise your family with their favorite trail mix!