Who doesn't love Grilled Cheese and Tomato Soup? There're not too many classic pairings like a grilled cheese and a nice hot bowl of tomato soup! Well, yes there are. There're cheeseburgers and fries, bacon and eggs, cake and ice cream…but that's not what I had for dinner. When you make a grilled cheese, do yourself a favor and get bread from the bakery. Bunny Bread just won't do. Cut big, thick slices and start stacking the cheese. You won't ever want it on sandwich bread again. I sent my husband to Publix tonight to get Goldfish and bread. I didn't have time to do my big trip tonight but needed those two things for dinner. He couldn't find the five-grain bread that was in the ad, so he got a sliced Italian bread. The slices were too thin for me, so I doubled-stacked the grilled cheese like a Big Mac. I prefer Parmesan cheese in my tomato soup, but Ella and Clay like the goldfish. Publix has Campbell's tomato soup 4-pack on sale for $1.99. Bags of goldfish are on sale 10/$10- which means they only ring up $1 no matter how many you buy. Grilled Cheese and Tomato Soup is a great go-to dinner for busy weeknights.
Grilled Cheese and Tomato Soup Recipe: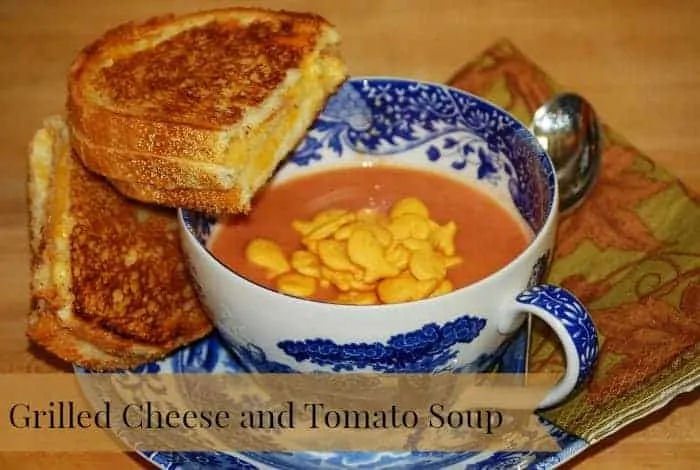 Grilled Cheese and Tomato Soup Ingredients:
Soup:
Campbell's Tomato Soup
1 can water/milk
Goldfish or Parmesan (optional)
Pour soup in saucepan. Mix with one can fill with 1/2 water, 1/2 milk. Whisk together and heat over medium heat. Reduce heat and simmer on low until ready to eat.
Grilled Cheese:
Loaf of good bakery bread (5-grain, Italian, Asiago Cheese)
cheese
mayonnaise
butter
How To Make Grilled Cheese and Tomato Soup:
Cut the bread on a diagonal to make the surface area bigger (larger slices). Spread the inside of the bread with mayonnaise. Top with cheese- whatever you have on hand- approximately two sandwich sized slices. Tonight I used Colby Jack and Mozzarella. I love Muenster too though. If you have Kraft Singles, go ahead and use them too! Use as much or as little as you like. Put the other slice of bread on top and butter. Put the buttered side of the sandwich face down on a hot skillet over medium heat. Let cook for approximately 3 minutes or until golden brown. While its cooking, spread butter on the other side. Flip and cook until golden brown and cheese is melted.
Serve alongside tomato soup. Garnish the soup with Goldfish crackers or Parmesan cheese.
Enjoy!