Since Halloween is fast approaching, I thought I would share this Frankenstein Paper Plate Craft with you.
You will find that this is a quick and easy craft you can do with your child. When the adventure is done, you can use your creation for decoration, or a mask for the child.
Gluing a wooden craft stick to the bottom of the face and cutting holes for the eyes will turn this artwork into a fun costume piece.
Frankenstein Paper Plate Craft Tutorial:
This is such an easy craft, and toddlers and preschoolers alike will have a great time painting their paper plates for this craft! Younger kids will likely enjoy finger painting, but this is a great time to start working with brushes as well. Remember to let your children use safety scissors to cut their own parts and use glue sticks and glue. The goal is never perfection but instead to build skills and creativity!
Have fun! That's what it's all about.
Frankenstein Paper Plate Craft Supplies:

Paper Plate
Apple Barrel Lime Tree Acrylic Paint (or finger paint)
Foam Brush
Scissors
Printer
Color Ink or black ink and construction paper in colors of your choice
Adhesive
Button or other embellishments (optional)
Wood Craft Stick (optional)
Free Printable
How To Make AFrankenstein Paper Plate Craft: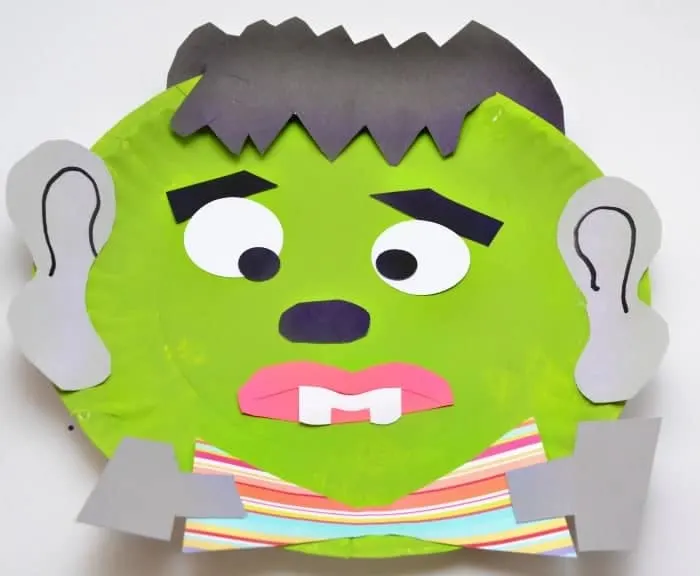 Step 1: Paint the paper plate with the Lime Tree Paint. Allow drying completely.
Step 2: Print out the free printable. Use color ink if you are going to apply the parts directly to the painted plate. Use black ink if you want to use the printable as a template to trace and cut out your colors.
Step 3: Attach the parts that you printed out or traced and cut out with adhesive or glue.
At this point, you can either attach the eyes or cut holes in the plate to make this a useable mask. The choice is yours. If you want to use this as a mask, attach a wooden stick to the bottom of the plate to hold it. In the example above a button has been added. Your child may want to add their own personal bling to the bow tie. Happy Halloween! I hope this craft idea helps make your spooky holiday fun!