This simple step-by-step tutorial on how to make a Halloween Mummy Candy Cup is just what you need if you are planning to stay in or host a party for Halloween. Made with black paper cups and t-shirt scraps, you won't find party favors that are easier, cheaper, or quicker to make.
Supplies:
Old T-shirt
Scissors
Black Paper Cups
Self Adhesive Googly Eyes
Aleene's Tacky Glue
How To Make Your Easy Mummy Candy Cup
This craft is so quick and easy you might want to let the kids handle it for you. If they can use scissors and glue, they will have no problem creating these Halloween Mummy candy cups.
Cut the t-shirt into narrow strips. Cut one strip a little wider, or use a seam so that you have a sturdier handle.
Going across the bottom and up the sides, glue the strip you cut for a handle on the cup, leaving some extra at both ends so you can make your handle. Tie the ends to form your handle. Allow time to dry.
Tie the strips together to make one long "linen bandage". These bandages are what you will wrap your "mummy" in.
Wrap the linen bandage around the black cup, leaving a short length of t-shirt out. When you finish wrapping the cup, tie the ends together. You should not need to glue the bandages down.
Attach the self-adhesive googly eyes above the bandages.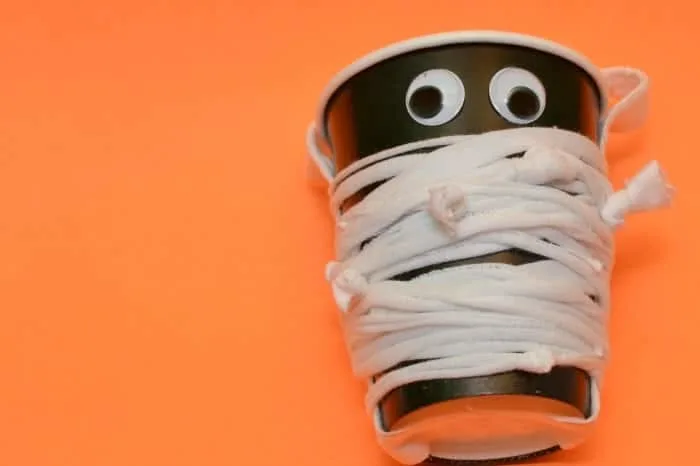 This craft is so quick and easy that you or your child will be able to make enough for everyone at your party so that all of your guests get to enjoy their Easy Mummy Candy Cup party favor. Your investment in the supplies to make these spooky sweet cups will be so small that you will have the cash to fill them up with your choice of decadent surprises.