Are you looking for a Halloween card for kids to make at home? Today we are sharing a super simple Halloween card your child can make with a little help from you.
Halloween Card For Kids:
Making this card with your child will be a fun experience for everyone, and it is a great way to sharpen those developing motor skills. As you can see our card is pretty easy for a toddler or a preschooler, but you can also help older children get a little more creative with this card!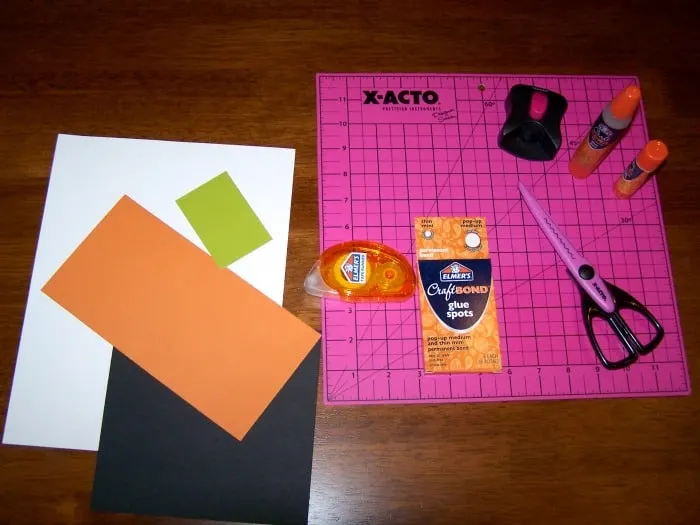 Supplies:
Cardstock (white, orange, black, and green)
Decorative Edge Scissors
Elmer's Craftbond Permanent Tape Runner
Elmer's Craftbond Clear Glue Pen
Elmer's Craftbond All-Purpose Glue Stick
Elmer's assorted glue Spots
Scissors
Glass from Kitchen
Magic Marker
Paper Trimmer (works well for long straight cuts)
How To Make DIY Halloween Card For Kids:
Step 1: Cut white cardstock down to 8" x 6 ", fold in half. Even if you're using a paper cutter allow your child to help straighten the paper on the cutter and fold it in half.
Step 2: Trace your glass from the kitchen on orange and cut it out. Children love this, just make sure you're not using a permanent marker! 😉
Step 3: Cut two small squares out of black and cut in half to make 4 triangles. Remember, this project is not about perfection.
Step 4: Cut a smile out of black using the Decorative edge scissors and regular scissors. This is where it can get tricky for children and why decorative scissors can come in handy.
Step 5: Cut ½" by 1" rectangle out of green.
Step 6: Glue the orange circle on the front of your card. Let your child help with the glue and don't worry about messes. Messes can always be cleaned up.
Step 7: Slide the green rectangle under the edge of the orange circle and glue.
Step 8: Using glue dots attach the two black triangles for eyes and one black triangle for a nose.
Step 9: Glue on your smile.
Step 10: Use a marker or crayon to write "You Make Me Grin" on the front of your card. If you want to help younger children write the messages, simply give your child "dots or dashes" to trace. This can be especially helpful in handwriting training!
Step 11: Use a marker or crayon to write "Happy Halloween and your signature on the inside of the card.
~ This post contains affiliate links to help you find the products we use.