~This shop has been compensated by #CollectiveBias, Inc. and its advertiser #BabyDiaperSavings. All opinions are mine alone.

A few months ago, I wrote A Prayer For The Childless. What I didn't mention at the time was that this prayer was actually for my sister-in-law. After trying for years to get pregnant, I am honored and thrilled to announce that my brother and sister-in-law will have their first child in January! I can't even put into words how happy we are for them and how glad we welcome a new niece into the family. To celebrate this wonderful little blessing, my mom and I decided to try our hands at an adorable baby shower gift. We knew that we wanted to include baby diapers because new parents can never get enough diapers. After much thought, we chose to create our very first diaper wreath! I won't lie; this is probably one of the most complicated crafts we have ever worked on because we had no idea what we were doing, but after some serious trial and error, we got it all worked out, and I think it turned out nice.

As you can see from the picture above, I had no idea what to purchase for this so I chose to buy lots of little goodies, but in the end, what made it onto the wreath cost us less than $30, and of course, I will be using the other items to make future gifts for our new little princess. I went with Parents Choice diapers because after using them with four children, I know that they are not only the most absorbent diaper brand, they are also the best value diaper brand, so basically, they are perfect for a gift-giver on a budget.

Note: Everything in the picture above cost me less than $55, so if I had been able to use everything I purchased at Walmart for this diaper wreath, it would have still been very affordable. The issue I ran into with the diaper wreath was the weight, so if I had made a diaper cake, I think I would have easily been able to include everything pictured. To make the diaper wreath pictured at the top of this post, you would only need to purchase one pack of Parent's Choice diapers for about $6 and not the entire box (which is still a great buy at only $13.77).
Are you ready to make your very own diaper wreath? Let's get this party (or shower) started!
How To Make A Diaper Wreath: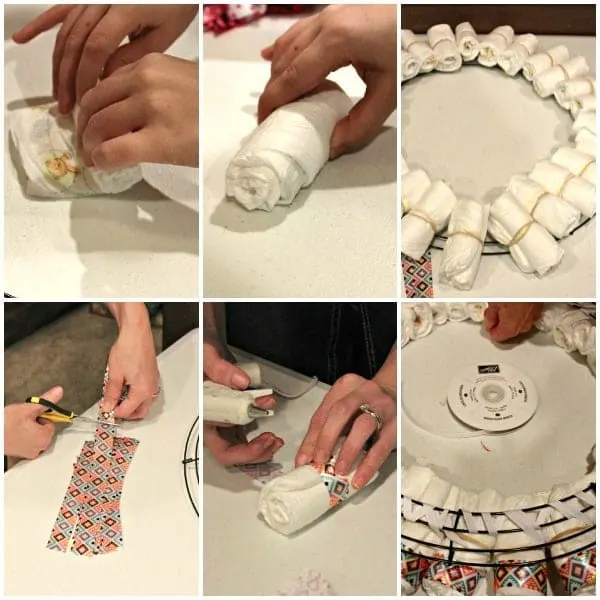 1. Roll the baby diapers and secure them with a rubber band.
2. Measure and cut your decorative ribbon.
3. Hot glue your ribbon (we started with the ribbon in the middle of the diaper and quickly realized that the diaper wreath looks better with the ribbon at the top of the diapers.
4. Secure the diapers to the wire wreath frame using a white ribbon. We only looped around one set of wires but realized that the diapers are more secure when you loop around all cables. As I said, this was total trial and error. Another option would be to hot glue the diapers (on the ribbon, of course) to a cardboard or wooden wreath frame (this option is probably quicker than using ribbon to attach diapers to a wire wreath frame).
5. Attach goodies to diapers using double-sided tape, hot glue, white ribbon, and rubber bands.
6. When attaching baby bottles, gifts, and toys, make sure you distribute the weight evenly, or you will have issues when hanging your wreath.
7. Attach a ribbon to the top of the wreath frame for hanging. Using a wooden or cardboard wreath frame, you can hot glue this ribbon; if you choose a wire wreath frame, you can attach the ribbon by tying it on.
The remarkable thing about creating a diaper wreath is that you can personalize your baby gift based on gender and the parent's interests. We chose a princess crown baby toy because we have been calling her a princess since we found out it was a girl! You can spend as much or as little as you want on this diaper wreath, which makes it the perfect baby shower gift for any budget! Whatever you do, make sure the diapers are still usable! Also, don't forget to purchase a "centerpiece" to hang from the top of the wreath.
So, what do you think? Do you think my sister-in-law Krystle will like her baby shower gift?
Moms can save $240 a year using Parent's Choice, so introducing them to the brand before the baby comes is a gift that keeps on giving! If you would like to make your diaper wreath is sure to print these Parent's Choice diapers coupons before you head to Walmart. That way, you can save even more. , If you're looking for the new and improved Parent's Choice diapers, you can find them here.