This Coffee Bar Ideas post was sponsored by Dunkin' Donuts as part of a Influencer Activation for Influence Central. I received complimentary products to facilitate my review.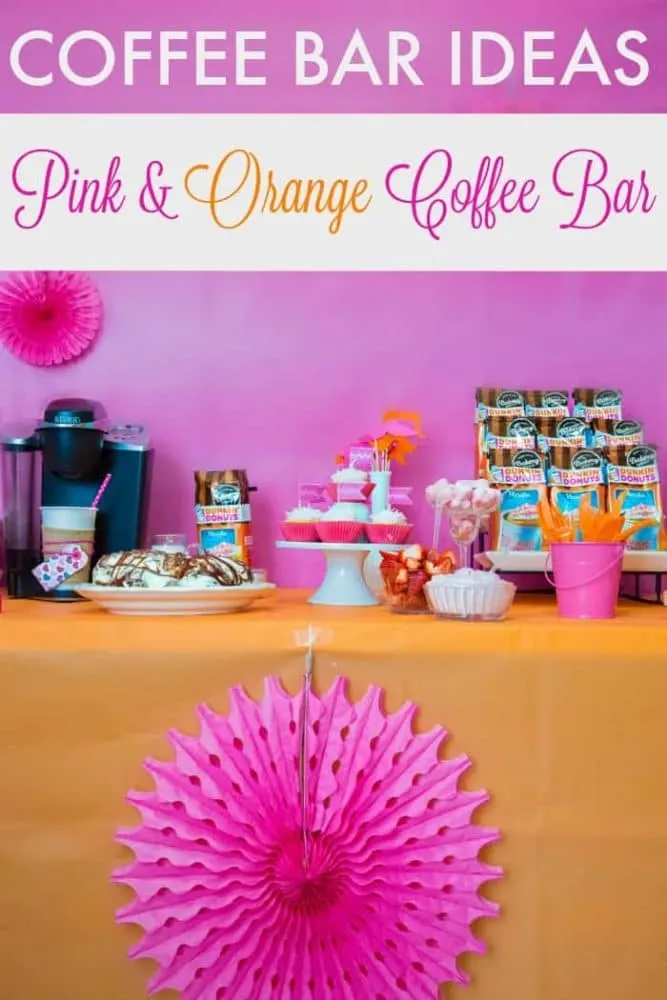 If you are looking for cute coffee bar ideas you've come to the right place. I love coffee and a few weeks ago my sister in law hosted her daughter's first birthday party with a super cute coffee bar. After seeing what a big hit, it was I couldn't wait to share my pink and orange coffee bar with you. Since Valentine's Day is right around the corner I though a "lovely" pink and orange coffee bar would be a perfect feature here on Faithfully Free.
Now I don't know about you, but I love coffee, and I enjoy trying different flavors every month. My Keurig is probably the best gift I have ever received. Don't get me wrong, I love my Kitchen Aid mixer, but the Keurig makes number one on the list because it gets used every single day, and I take it with me when I travel.
When it comes to coffee bar ideas, the first place to start is with a theme. For each theme you will have two main components, your overall theme (holiday and reason for celebrating) and your color scheme. Today's party themes are cupcakes and orange and pink. Why cupcakes you ask? Well, if cupcakes alone aren't enough of a reason to celebrate I am also celebrating the newest flavor from the Dunkin' Donuts coffee collection. Did you know they have a bakery series? Well, they do, and it's one of my favorites! I love pairing my morning coffee with bakery items so the Dunkin' Donuts Bakery Series was made for me. If you've never had Vanilla Cupcake Flavored Coffee, you're in for a treat!
As you probably know, I live the keto lifestyle, and this means that everything I eat and drink is low carb and loaded with fat. I have managed to lose weight, keep it off, and help others do the same, which is something I'm very passionate about. For that reason, you will notice that everything about this party is good for you. Today I'm sharing three recipes that don't have to feel guilty about eating or serving your guests!
Coffee Bar Ideas:
Here are the supplies you will need to decorate your coffee bar in my orange and pink theme, and don't forget to check Pinterest for more awesome coffee bar ideas:
Coffee Bar Decor:
Coffee Bar Table
Pink Table Cloth
Orange Backdrop for the wall (I used an additional table cloth)
Pink Hanging Decor
White Cake Stand
White Three Tier Serving Stand
Holiday Themed Decor (my theme was love)
Orange Cake Plates
Pink Coffee Napkins
Orange Utensils
Pink Utensil Pail
White Disposable Coffee Cups
Burlap Ribbon
Pink Twine
Love Themed Gift Tags
White Vase
Printable Mustaches
Kebab Sticks
Pink Paper Straws
Orange Paper Straws
Pink Cupcake Toppers
Coffee Bar Food / Drink:
Coffee Pot
Reusable Keurig Cup (if using a Keurig)
Dunkin' Donuts Bakery Series Vanilla Cupcake Flavored Coffee
Cream
Sugar (we use sugar substitutes)
Best Every Keto Coffee Cake
Keto Raspberry Valentines
Keto Coconut Raspberry Cupcakes (recipe below)
Fresh Strawberries and Raspberry Dip
Once you have all of your supplies together, you can go ahead and set up your table and decorate your party space. I like to start by darwing out a party plan, so I have a good idea of what I want my coffee bar to look like before I set it up. You'll want to choose your space first and hand your backdrop if you choose to use one. I just use tape, but you can also use putty if you're worried about damaging your walls.
Once my backdrop is up, I start working on the table. I put my table cloth on and go ahead and set up my empty food containers. I like to make sure I have enough space for everything. After everything that can be set up before hand is ready I start working on my recipes and any crafts I plan to make. For this party, I purchased almost everything pre-made, so all I had to do was prep my coffee cups.
For the cups, I started by measuring and cutting my burlap ribbon. Then I used a hot glue gun to secure the ribbon and added my love themed labels to the cups with twine. I cut and measured my twine before adding each tag and then ties the tags around the cup. Tags are a great idea when you are planning to have lots of guests because it makes it easier for them to keep up with their cups. You can also put a marker on the table so you can label the cups.
You don't need a ton of food to host a coffee bar, but I like to make sure I have options for everyone. I've included the recipes for everything I made for my party but feel free to get creative.
Fresh Strawberries and Raspberry Dip (the dip is just the frosting recipe from the cupcakes below)
Keto Coconut Raspberry Cupcakes:
Nutrition Information for Keto Coconut Raspberry Cupcakes:
This is for one serving (makes 16) Reserve additional Raspberry Frosting for strawberries.
Calories: 225
Total Fat: 19g
Carbohydrates: 6g – 3g Fiber = 3 Net Carbs
Dietary Fiber 3g
Sugars: 1g
Protein: 5g
Now that you have everything ready to go, sit back and enjoy your party! I hope these coffee bar ideas inspire you to get creative and enjoy your favorite cup-o-joe with your friends. It's a new year which means we have lots to look forward to and plenty to celebrate!