I am in the process of redecorating my guest bedroom on a small budget. If you've read my previous craft posts, you know that Hobby Lobby is my craft store of choice, so once again, I was on a mission! I wanted a corner shelf that would match my decor, but I knew I finding a perfect match wouldn't be easy. I couldn't find a corner shelf that matched the room (or came anywhere close) so I found one and painted it to match the wall hanging I already had in the guest room.
I personally love corner shelf decor because there is only so much you can do with the corners of a room. To be honest, I can't think of many things other than corner shelves, if you have any ideas, please feel free to share them with me!
If you would like to hang a corner shelf, but can't find one that matches your room, maybe my little project will inspire you! I'll share the colors and techniques I used, but you can choose the colors of your choice.
DIY Corner Shelf Decor Supplies:
Iron & Wood 2-Tiered Foldable Corner Shelf (only $17.49 at 50% 0ff this week)
DecoArt Dazzling Metallics 2-Ounce Rich Espresso Acrylic Paint
Folk Art Acrylic Paint, 2-Ounce, Blue Willow
Ranger Liquid Pearls Glue 1/2-Ounce, White Opal
How To Make The DIY Corner Shelf Decor :
1) Paint the metal parts of the shelf with the Rich Expresso Dazzling Metallics Craft Paint.
2) Paint the shelves. I mixed the Blue Willow Folk Art Acrylic Paint and the Liquid Pearls White Opal together to get a shimmer paint look for the shelves. Then I painted a very thin layer of paint on the shelves and wiped the shelves with a paper towel to make the paint even thinner.
My finished product was a fairly close match to the wall hanging I already had hanging on my wall. I can hardly wait to head back to Hobby Lobby to see what I can come up with to put on the shelves to bring this creation to completion for my room without spending a fortune!!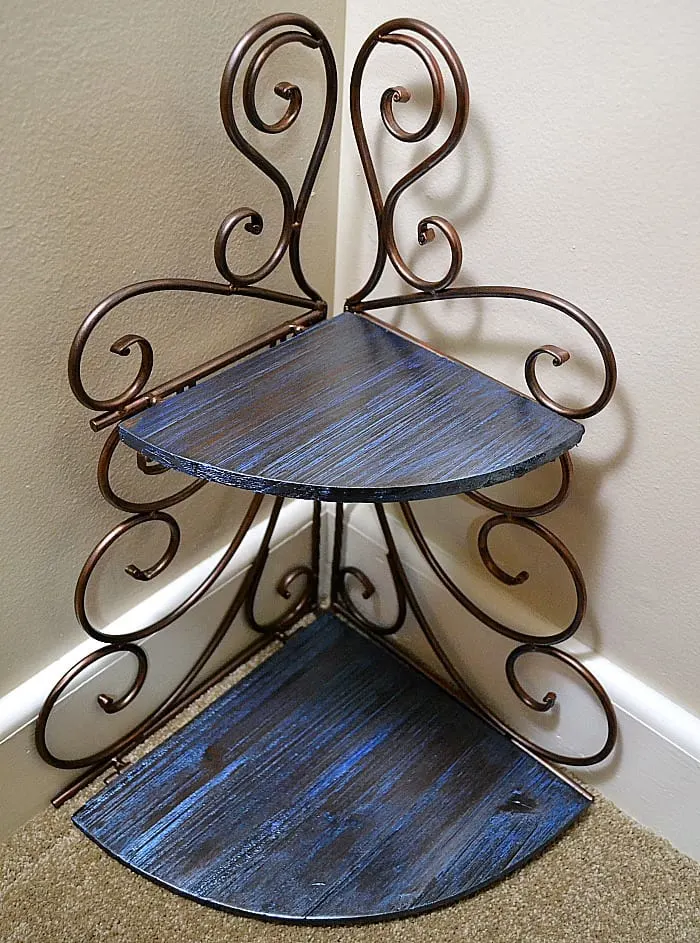 So what do you think of my corner shelf decor? I think the colors came out beautifully! I have never thought to customize my corner shelf decor until today and I am so glad I did.
I'll have to share the room in a separate post, once I finish decorating!