Bible memorization is something that I consider vital to my spiritual walk which is why I'm so excited to share these Bible Verse Coloring Pages for Psalm 119:103. Since we are only weeks away from fall, I decided to go with a candy corn theme.
I hope you enjoy using these coloring pages with your children or Sunday School Class, and I will also be including some ideas and activities you can use to go along with these sheets.
NOTE: My watermark will NOT print on your worksheets! To print your worksheets click on the photos of the worksheets or the link for the PDF all worksheets will print together or you can choose which worksheets to print! You do not have to print the cover page!
Bible Verse Coloring Pages:
Memory Verse: How sweet are your words to my taste, sweeter than honey to my mouth! Psalm 119:103
Repetition is key when it comes to memorization, but every child learns differently, so I tried to include a variety of different worksheets to keep kids excited about memorizing verses. While you could simply have a child say the verse over and over again, I like to use as many senses as possible when teaching my children anything new.
Bible Memory Verse Coloring Page Download Link:
Here are a few ways you can do just that:
Sight:
Have them visualize the words by seeing them in different fonts and sizes using the coloring sheets and by coloring them in ways that bring out their God-given creativity.
Take It Up A Notch: Have your child create a short video with background music and this verse fading in and out using a free program like Windows movie maker or iMovie then watch it back!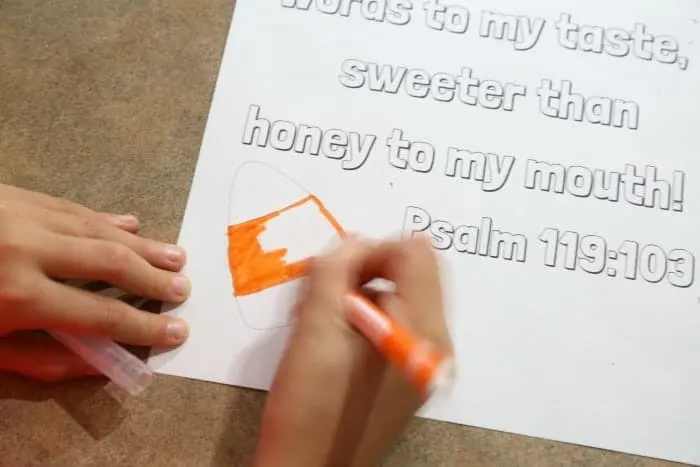 Taste / Smell:
Since we are using a fall theme with this post and I've included a candy corn coloring sheet this one is pretty easy! You can talk about the sweetness of God's word and give each child candy corn to nibble on. I used this time with my daughters ask them questions about what they thought this verse meant to them. Here are some questions you could ask your children.
Why do you think David said God's word is sweeter than honey?
How did it make you feel when I gave you this candy corn and told you, you could eat it?
Do you feel the same way when you read your Bible?
Unlike this candy corn that only makes you happy for a moment and then it's gone, God's word will continually fill you, and it will never disappoint you or make you sick if you eat too much of it!
Sound:
Have your children put Psalm 119:103 into a song they can easily remember. You can also look up memory verse songs online if you want to!
Touch:
Use our coloring sheets to take a hands-on approach to learning this memory verse.
Bible Memory Verse Coloring Page Download Link: