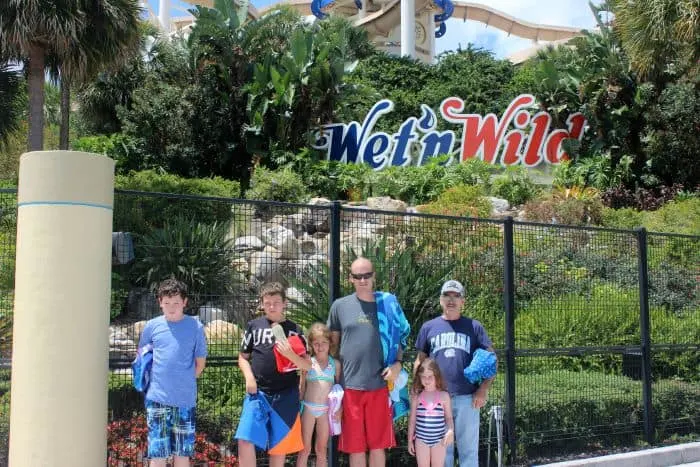 On our first day in Orlando, we planned a visit to Wet N Wild Waterpark. We have a Wet N Wild here in North Carolina, but I have never been there before.
We arrived about an hour after the park opened, and it was a little more crowded than I had anticipated. The lines for the waterslides were pretty long, and during our four-hour visit my husband and I rode four waterslides with the girls (ages 5 & 7). The boys (ages 11 & 12) ran off with Grandpa, and I'm pretty sure they managed to get on more slides than we did.
When I consider which attractions to take the kids to, height requirements are always necessary. I have to make sure we go somewhere where everyone can have fun. Because our children vary in age, this can be difficult. Thankfully this is becoming less of an issue as my five-year-old is starting to hit some pretty sweet growth spurts.
My overall opinion of Wet N Wild was excellent. I think I would enjoy it more if it were just my husband and me because the park is large and waterparks with thrill rides scare me as a mom. I know the kids had a fantastic time, but it was hard for me to relax (which is clearly my problem and has nothing to do with the park itself). The park does have play areas for younger children, but my daughters are of the age where they want to do what the bigger kids are doing.
The park is very clean and well maintained. There is a variety of food and drink options available, and they even have a store where you can purchase souvenirs and anything you may have forgotten (like towels or sunscreen). They clean the bathrooms non-stop and were using a squeegee on the floor every time we went in. I have never seen that at a waterpark before, so I was pretty impressed. They also have lockers, and that was a must-have for us because we had too much stuff to carry around (phones, shoes, shirts, water bottles).
I think Wet N Wild is great for families with children of all ages, but would probably be easier for a mom like me if only my husband and older children were there. For example; when my husband and I took the girls on the Disco Slide we hit a bump, and we both thought our daughter Lexi was about to fall out of the float. We held on tightly to both of the girls because the holes in the floats are so large, and they are tiny. My youngest daughter Anna kind of fell through her float and at one point her bottom was scrubbing the slide.
I will wait a few more years before heading back to Wet N Wild, but we will return in the future!
What You Need To Know:
Location: 6200 International Drive Orlando, FL 32819
Prices: Parking $13.00 (Cars w/ Trailers and RV's $17.00)
They have a few different options, but single day tickets range from $39 – $57 for adults and $39 – $52 for children.
*Every child 2 and under is FREE!
Ages: All
Learn more about Wet N Wild Here:
Website / Facebook / YouTube
~We received complimentary day passes for the purpose of writing this review. All opinions are my own!