This low carb baked spaghetti recipe is so delicious; you won't even miss the noodles!
Are you trying to find a way to cut some carbs out of your diet? Well, today's recipe will not only help you cut the carbs, but it will also help you sneak some veggies into your diet! Okay, I guess it's not really sneaky if you're the one baking it, but your eyes and taste buds will never know the difference!
I have been living the keto lifestyle for the past year and as of January 1st, my entire family has joined me. We have many foods in this house that remind us of our families traditions. Things like sausage balls, homemade mac n cheese, and, of course, spaghetti. We have decided that 2016 is the year of new traditions. Foods that our family has altered to meet our new lifestyle goals while reminding us of the memories that make us smile, cry, and laugh out loud.
I want my children to grow up eating healthy foods and to remember that I loved them enough to find ways to make our old traditions a healthy part of our lives.
With that in mind, I am sharing our new favorite gluten free low carb spaghetti recipe with you.
Healthy Baked Spaghetti Recipe: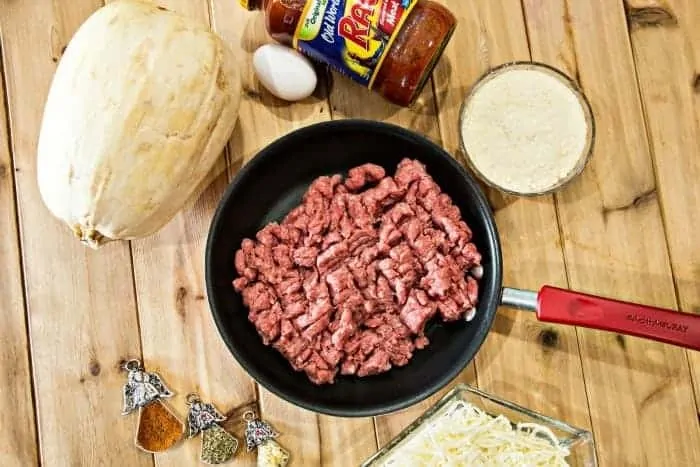 Baked Spaghetti Ingredients:
1lb Ground Beef (cooked & drained)
Medium Spaghetti Sauce (about 4 cups)
Ragu Traditional Meat Pasta Sauce
1 1/2 Cups Grated or Shredded Parmesan Cheese
3 1/2 Cups Shredded Mozzarella Cheese
1 tsp Chili Powder
1/2 tsp Oregano
1/4 tsp Minced Garlic
How To Make Low-Carb Baked Spaghetti:
First things first, Preheat your oven to 350.
I was talking with my mom last weekend, and she said that she has never been able to shred a spaghetti squash. I guess she was trying to cook it in the oven, so today I'm going to tell you how to easily shred spagetti squash for this or any other dish!
You start by cutting the squash in half and placing it in a bowl in the microwave. It usually takes 5-7 minutes to cook the squash and soften it up. Once it's soft enough let it cool (or do like I do and handle it with oven mitts). When it's cool enough, take your fork and remove the super fleshy area that contains the seeds. It's usually darker than the rest of the squash. Once you remove that you can discard it unless you want to roast the seeds, like this.
After the seeds are removed, you can shred away. You should be left with a squash skin (even when you think you're done keep shredding).
While you're working on the squash, you can also brown the ground beef, adding your garlic and spices and heat your Ragu Traditional Meat Sauce on the stove. Once browned drain the beef and set aside.
Pull out a 9 x 13 baking dish and spread out the spaghetti squash covering the bottom of the dish. Then top with ground beef.
Top your ground beef with shredded or grated parmesan cheese.
Then spread your Ragu sauce on top of that. Don't worry about spreading it perfectly it will spread as it bakes.
For your final step cover the sauce with mozzarella cheese, and you're ready to get baked (I mean get baking). Bake for 30 minutes.
How stinkin' delicious does this look?
Seriously, I gobbled this up! Thankfully it makes enough to send the kids to school with leftovers. No more boring sandwiches for my kiddos.
Like this recipe? Check these out:
Yield:

12 Servings
Low Carb Baked Spaghetti Recipe
Additional Time:
5 minutes
Total Time:
1 hour
5 minutes
Yummy low carb baked spaghetti that the entire family will enjoy!
Ingredients
1 lb. ground beef (or turkey)
12 oz. spaghetti noodles
1 tablespoon butter
1 tablespoon olive oil
1 cup onion, diced
1 cup green pepper, diced
1 garlic clove, minced
1 8-oz. package mushrooms, sliced
1 can diced tomatoes, undrained
1 cup sliced olives
1 can Cream of Mushroom
1/4 cup water
2 cups shredded cheese
1/4 cup parmesan cheese
salt and pepper
Instructions
Cook spaghetti noodles according to package directions. Drain and set aside. In a large saute pan, brown ground beef over medium heat. Drain off excess fat. Transfer cooked meat to a bowl and set aside.
In the same skillet, saute onion, pepper and garlic in olive oil and butter over medium heat for 4 minutes. Add the mushrooms and cook for another 8 minutes or until most of the liquid has cooked out of the mushrooms. Add the tomatoes, olives and ground beef. Season with salt and pepper. Simmer over low heat for 10 minutes.
Place half of spaghetti noodles in the bottom of a greased 13 X 9-inch baking dish. Top with half of the meat mixture and 1 cup shredded cheese. Repeat layers. Mix the soup and water until smooth. Pour over the mixture and lightly spread. Sprinkle with parmesan cheese. Bake, uncovered, at 350 degrees for 35 minutes or until bubbly and lightly browned.
Nutrition Information:
Yield:
12
Serving Size:
1
Amount Per Serving:
Calories:

301
Total Fat:

18g
Saturated Fat:

8g
Trans Fat:

1g
Unsaturated Fat:

9g
Cholesterol:

57mg
Sodium:

507mg
Carbohydrates:

16g
Fiber:

2g
Sugar:

3g
Protein:

18g
This giveaway has ended and the winner has been notified.