This Easy Crescent Sausage Balls Recipe is a new take on an old favorite and it was quite a hit! If you're short on time, try this recipe!
I don't know about you, but I love Thanksgiving! Not only is it an excellent excuse for the entire family to get together, but it is the day we put up our Christmas tree and decorate the house and yard for Christmas! Oh boy, it is jam packed day full of fun! It's also exciting to comb through all of the Black Friday ads and see if there is anything worth braving the crowds for. I have been shopping on Black Friday almost every year since the kids were babies, and I always have fun. It does, however, seem a little less exciting each year because the stores seem to open earlier every year. I mean pretty soon it will be more like Black Week Of Thanksgiving!
Aside from all the hoopla of decorating and shopping I enjoy spending time in the kitchen with my family. My favorite thing to do is start cooking appetizers at the beginning of the week, so we have plenty to munch on when we start cooking (we have been known to start as early as the day before).
One of my favorite snacks/appetizers to serve while cooking Thanksgiving dinner would have to be sausage balls. I had never eaten a sausage ball until I met my husband (when I was 16). His mom made them every year, and I didn't care for them at first because I didn't like pork, but after a few years they started to grow on me, and now I love them.
Since my mother-in-law passed last September I have made sausage balls twice now. It's amazing how food can bring back so many wonderful memories. The smell, the sight, and of course, the taste remind me of all the times we gathered around in the kitchen snacking and talking during the holidays. It reminds me of how she would make an extra batch for John and me to take home because she knew they were his favorite. Man, I miss her.
Without further ado, here is our delicious and simple appetizer recipe that is sure to delight both family and guests this holiday season!
Easy Crescent Sausage Balls Recipe:
Easy Crescent Sausage Balls Ingredients:
1lb Mild Pork Sausage
2 Cups Sharp Cheddar
1 Can Pillsbury Refrigerated Crescent Rolls
2 Tbsp All Purpose Flour (divided)
How To Make Easy Crescent Sausage Balls:
Sprinkle your flour on the Pillsbury Refrigerated Crescent Rolls and then spread evenly to prevent sticking when cutting.
Use a pizza cutter or knife to cut Pillsbury Refrigerated Crescent Rolls into tiny squares.
Incorporate your crescent rolls into your meat mixture and form 30 sausage balls.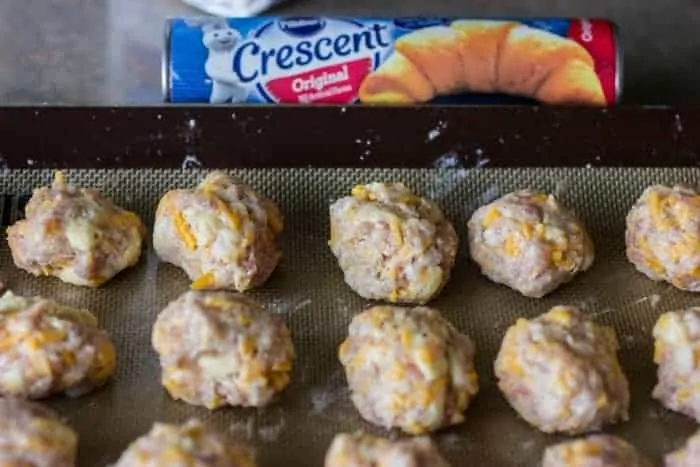 I always use this non-stick sheet, but because of the grease you really don't need to worry about the balls sticking to the baking sheet.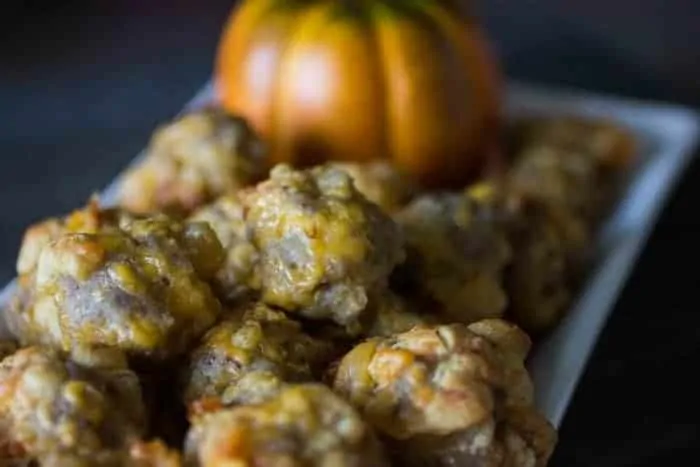 Serve and enjoy!
Yield:

30 sausage balls
Easy Crescent Sausage Balls
Ingredients
1lb Mild Pork Sausage
2 Cups Sharp Cheddar
1 Can Pillsbury Refrigerated Crescent Rolls
2 Tbsp All Purpose Flour (divided)
Instructions
Pre-heat oven to 375
Place sausage and cheese in a large mixing bowl and combine well
Spead Pillsbury Refrigerated Crescent Rolls onto a baking sheet and sprinkle with 1 Tbsp of flour
Cut crescent rolls into small squares
Add crescent squares a little at a time to meat and cheese mixture combining well
Pull meat mixture apart and form into 30 balls
Place sausage balls onto a baking sheet and bake for 15-17 minutes or until golden brown
Serve and enjoy!
Want to make this recipe and save a little dough?! (See what I did there?)
More Thanksgiving Recipes To Try: