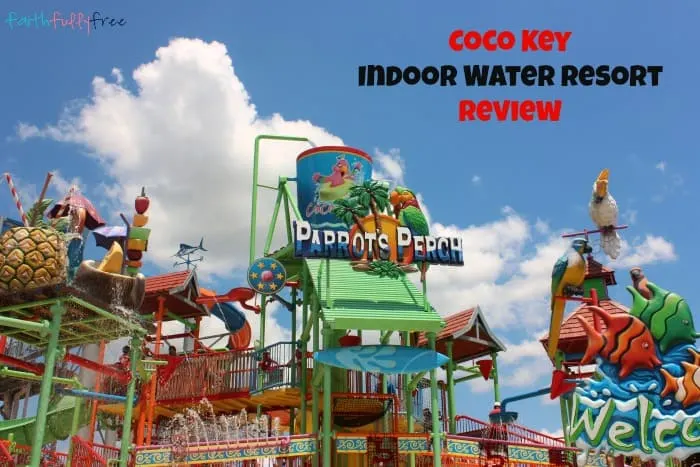 If you are considering taking your family on a Coco Key Indoor Water Resort trip, this review is for you!
My family just returned from Orlando, FL, and we spent our last full day of vacation at Coco Key Water Resort in Orlando. We would have probably been there from open till close if it hadn't started lightning!
My kids couldn't get enough, and honestly, it was the most relaxing day of our vacation.
Coco Key was the perfect water park for our family. My children are 12, 11, 7, and 5, and the size of the Orlando location was small enough to make me feel comfortable but large enough to keep the kids entertained all day.
As a mom, my goal for every family vacation is that everyone in the family enjoys the day's activities. This can be painful with such a significant age gap between boys and girls. The boys are getting into the "tween" scene, while the girls are often too small or afraid to do the things the boys want to do.
Thankfully this indoor/outdoor water park has the best of both worlds! It's both thrilling for the older kids and fun and exciting for the younger ones. Oh, and let's not forget Mom and dad! My husband and I spent time splashing in the pool, riding the slides, and sipping drinks in the cabana.
We never felt stressed or had to search for the kids. It was an all-around excellent experience for everyone (even Grandpa enjoyed a slide or five when he wasn't catching up on R&R in the shade of our cabana).
We didn't stay at the resort during this vacation because I had already booked a Resort through Armed Forces Vacation Club (I will be writing about this unfortunate experience soon).
We received day passes to test out the park, and if you'd like to try it out before booking, you can learn more about day passes here.
So what's to love about the Coco Key Water Resort?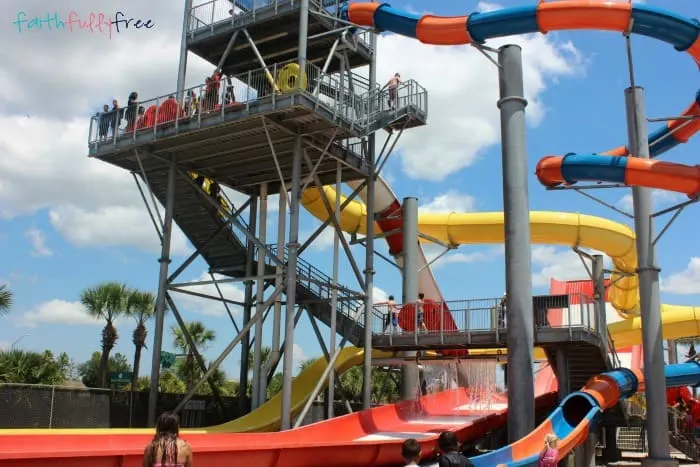 The Slides: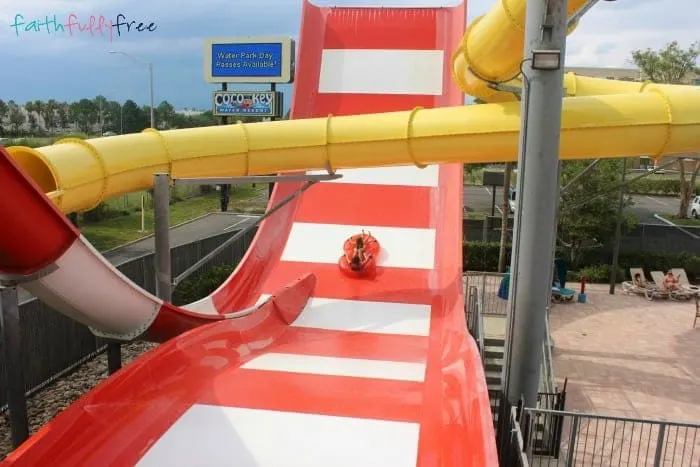 The Boomerango Tube Slide was a fast favorite! This one scared me a little, but I loved every minute of it! I had never seen a slide like this, and my husband couldn't wait to ride it with me!
I can't tell you how many times my family went down this slide, but it was everyone's favorite. Anna was the only child that wasn't tall enough for this one, but she was okay with that! 😉
About the slide: Specially created for the adventurous, the Boomerango is named for its shape. Double- tube riders enjoy a trip down the slide's first ramp, dropping down to the vertical slide. Riders then travel back up a watery wall and slide backwards to a watery finish! Be sure to grab a friend, double riders only. Must be at least 48 inches to ride.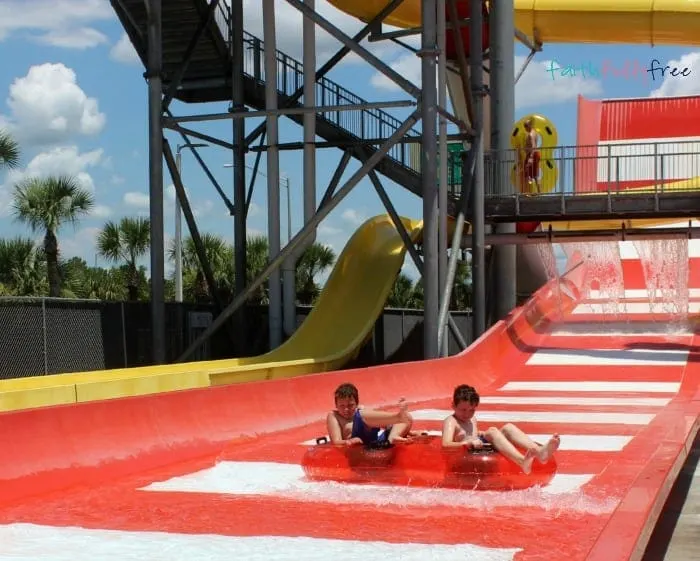 The Surfer's Splash Tube slide was probably the second favorite of the day, and even Anna could ride this one. She was a little scared but said it was "the awesomest" so I think she liked it!
The boys liked this slide because they could ride together or alone, which is nice when you don't want to wait for a double float and when a double float comes available before two singles.
Do you see the pattern? They just wanted to get back on the slides as quickly as possible.
About the slide: This one and two person tube ride will be sure to leave a smile on your face. Travel up and down, left and right, and end in a magnificent splash. Must be at least 42 inches to ride.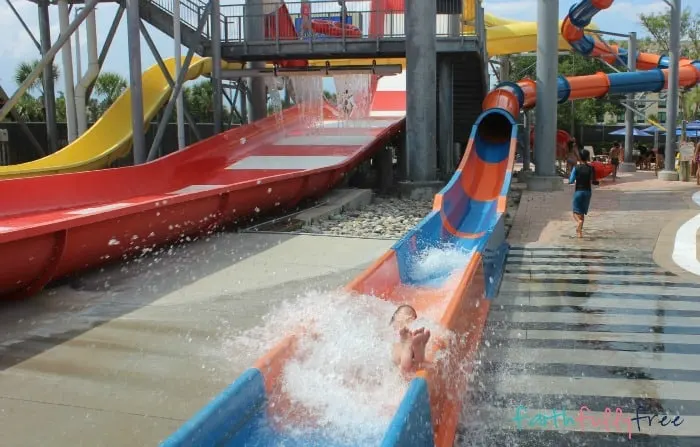 The Over The Falls Slide doesn't require a float, and everyone in the family also took a few trips down this slide. The over the falls slide takes you down quickly, and the wait is always short.
This slide can be a little painful for adults, but it wasn't as hard on the back if you lifted your shoulders off the slide a little. That didn't seem to deter the kids, but they could go down sitting up, so that's what they started doing.
My youngest also rode this one, and it was the only time all day that I heard her scream, which I admit was pretty cute.
About the slide: This water rollercoaster is sure to leave a smile on your face. Get ready for unexpected thrills, twists, turns, and a corkscrew that will keep you coming back again and again! Must be at least 42 inches to ride.

The Water Play Park: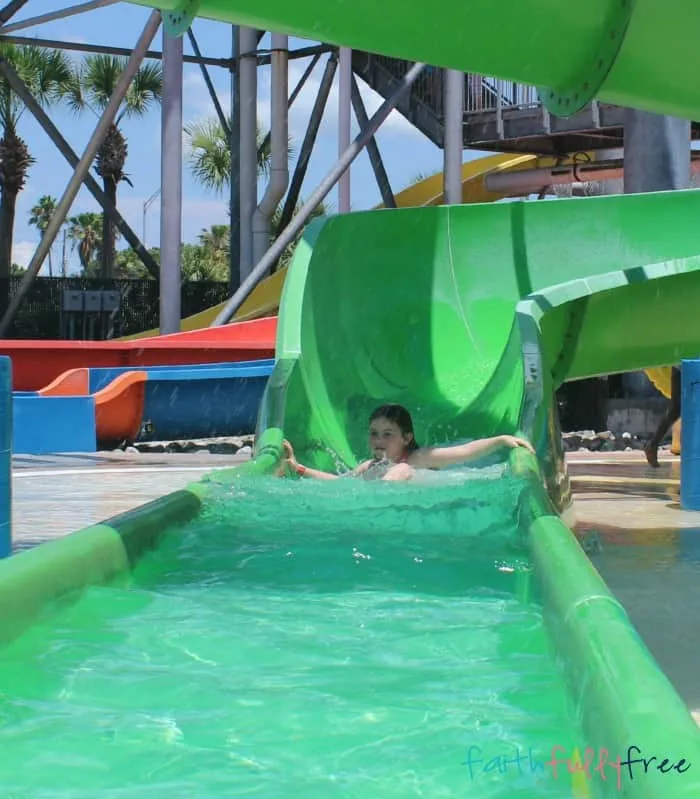 Called Parrots Perch, this is where both girls spent the majority of their day. We got a cabana beside Parrots Perch, so we could easily watch them play and slide.
We also had a perfect view of the bigger slides to keep an eye on the boys as they went from slide to slide.
Coco Key may seem small compared to other water parks, but as a parent of four, it is perfectly sized for an exciting and peaceful day of play.
The Indoor Water Park: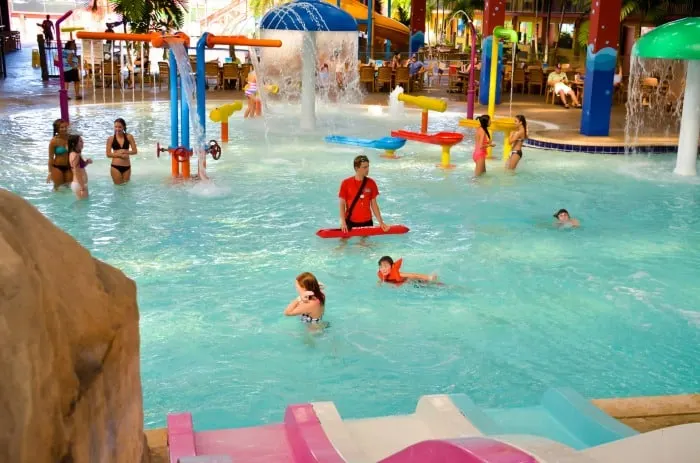 If being in the sunshine isn't for you, or you are traveling with toddlers and preschoolers, then Minnows Lagoon is perfect.
My girls went back and forth, and the boys swam a bit because the pools were indoors.
Although it's still a bit like being outside because the end that leads to the outdoor park is open, so you can still feel the sun's warmth, and it doesn't get stuffy).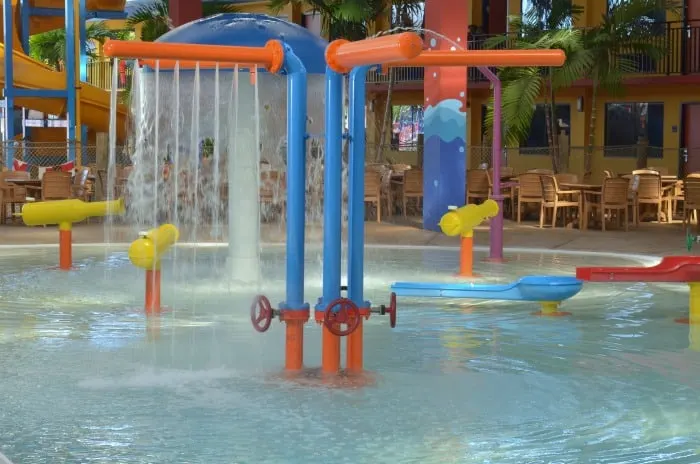 They recommend that children under 48 inches wear a life jacket, which I would also recommend. I let Anna go without one when she went down the first slide, and it gave me a bit of a scare.
The water rushes down the slides, making standing difficult if your child's head is just above the water. She made it out okay and could walk fine once she got away from the flowing water, but I felt more comfortable when she was wearing a life jacket.
You can also bring your floaties or puddle jumper (my recommendation).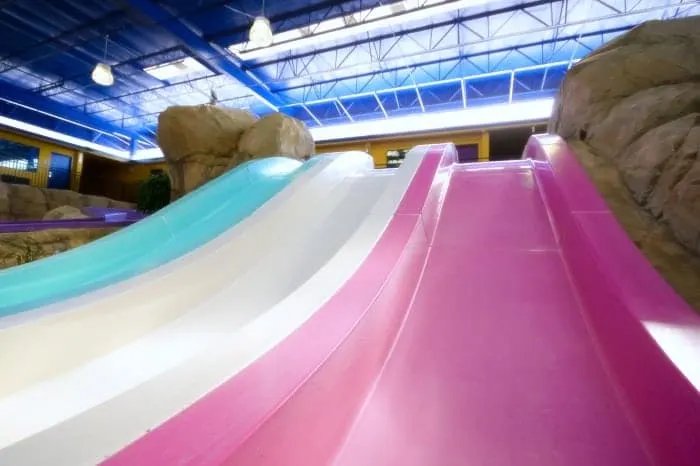 The Arcade:
We are an arcade-loving family and had a blast playing in the arcade together. Coco Key has some cool games I have never seen in an arcade.
I couldn't pass up testing my skills with the laser maze. Had I not been using my kid's cards I would have probably spent the entire time trying to snag the high score (I'm not even kidding… that game is addicting).
You can purchase cards for the arcade; the tickets you win go directly to the card. That is great because my kids won over 600 tickets, and no one wants to keep up with that many tickets.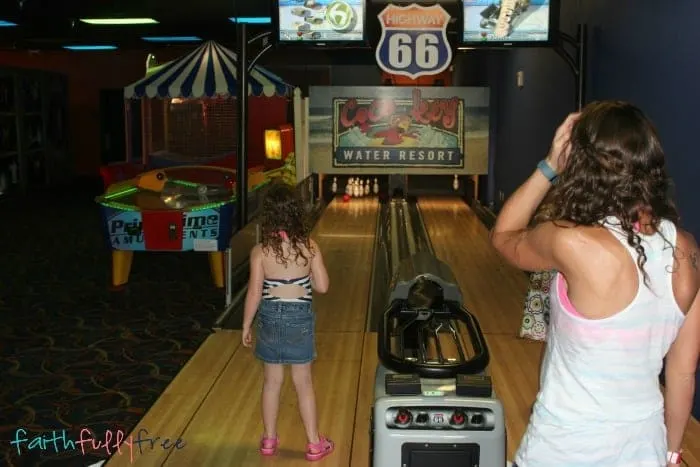 Oh, and by no one, I mean I didn't want to because somehow I am always the designated ticket holder, and I can't play laser tag while holding 600 of those in their hands!
The Amenities:
Coco Key has everything you need to have an enjoyable experience. As I mentioned, we got a cabana perfect for a family like mine.
We come with a lot of baggage 😉 And we needed a place to store it all while we played! The Cabana offered a place to keep all of our towels, water, cameras, arcade prizes, and a place to lounge when we needed a break from the sun.
It's also a great idea for parents that need a place for the smaller kids to nap while the older ones play.
If you don't want to leave for lunch, you can do what we did and eat lunch at the park. If you need to get away from the heat to enjoy your meal, you can go indoors, but we chose to eat outside.
We ordered pizza and salad from Callaloo Grill and Pizza Hut Express, which were great.
Ensure you order before the kids get too hungry because it can take 15-20 minutes to get your order (if they are busy).
The Experience:
I can't say enough good things about Coco Key Orlando! The experience was fantastic, and I can't wait to go back. It wasn't packed, and the slides' lines weren't bad.
The lifeguards are awesome, and they take their jobs very seriously. While I always do my best to watch my kids around water, I felt at ease knowing that the lifeguards also paid close attention to the kids and ensured everyone stayed safe.
Everyone we met during our visit was super friendly and seemed happy to be there. The bathrooms were clean and well-maintained (not always the case with water parks), and everyone in my family had a blast.
It doesn't get much better than that.
My favorite thing about this experience was watching my kids play so well together.
My children aren't perfect, and after being in the car for hours together, sometimes I feel like I live in a war zone!
Thankfully they managed to put their many differences aside for a day, and they could share, play together, and have an incredible day without one fight!
You can learn more about Coco Key Orlando by visiting their website. You can also follow them on their social media channels to see more pictures, hear from other guests, and learn about exclusive promotions here:
Twitter – Facebook – Instagram – Flickr – YouTube – Google+
Coco Key Indoor Water Resort Orlando Day Pass Prices:
FL Resident Pass: $21.95 per person per day
Non-Resident Pass: $24.95 per person per day
Peak Season Weekend Pass: $26.95 per person per day (FL Resident Rate Does not Apply)
~We received complimentary day passes to write this review. All opinions belong to my family and me!