Dawn Hoover, the Mobile Register's Spice of Life columnist, sent this Oat-Topped Sweet Potato Crisp to me last year. I've been holding onto it and waiting for the right time to make it. Easter sounded perfect. We had my Mom's Sweet Potato Casserole last year, so this year I wanted to change it up some. My Mom made this and brought it with her to my house. Oh. My. Gosh. This was probably my favorite thing we had for Easter Brunch. I kid you not. The swirls of cream cheese throughout the potatoes was scrumptious. The oat topping with the pecans and cranberries and the crunchy apples…Oh…I just can't say enough. You have to try this. I hope you can make it as good as my Mom did! I will be requesting this from her more often. I even ate the leftovers cold right out of the fridge. Yeah, I guess I'm weird like that because it was awesome!
Oat-Topped Sweet Potato Crisp Recipe: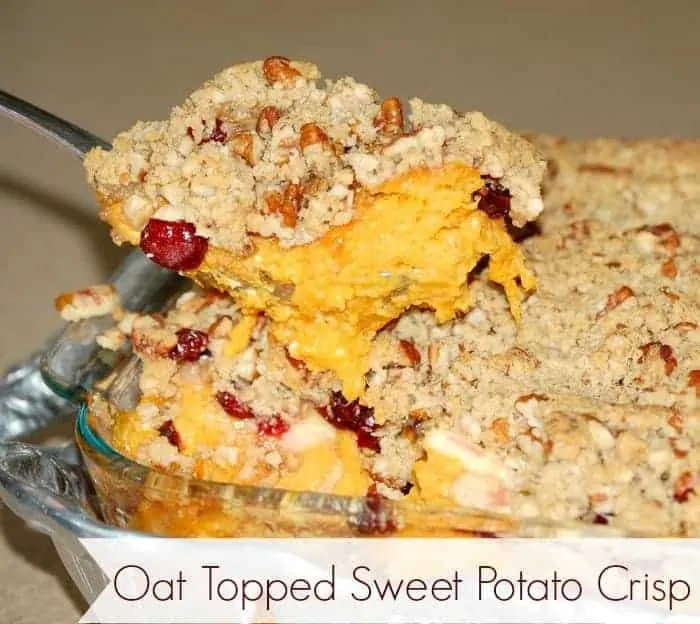 Oat-Topped Sweet Potato Crisp Ingredients:
1 8-oz. package cream cheese
1 40-oz. can cut sweet potatoes (Mom used about 7 fresh sweet potatoes)
3/4 cup packed brown sugar, divided
1/4 teaspoon cinnamon
1 Granny Smith apple, chopped
2/3 cup chopped cranberries (Mom used Craisins)
1/2 cup flour
1/2 cup old-fashioned or quick-cooking oats (uncooked)
1/3 cup cold butter
1/4 cup chopped pecans
How To Make Oat-Topped Sweet Potato Crisp:
Preheat oven to 350 degrees. Beat cream cheese, potatoes, 1/4 cup sugar and cinnamon with mixer until well blended. Spoon into 1-1/2 quart casserole; top with apples and cranberries. Mix flour, oats and remaining sugar in medium bowl; cup in butter until mixture resembles coarse crumbs (I just use my fingers). Stir in nuts. Sprinkle over fruit layer in casserole. Bake 35-40 minutes or until heated through.
*You can make this the day before and make the topping before you bake it the next day.
Enjoy!
(adapted from Kraft Foods- Sent by Dawn Hoover)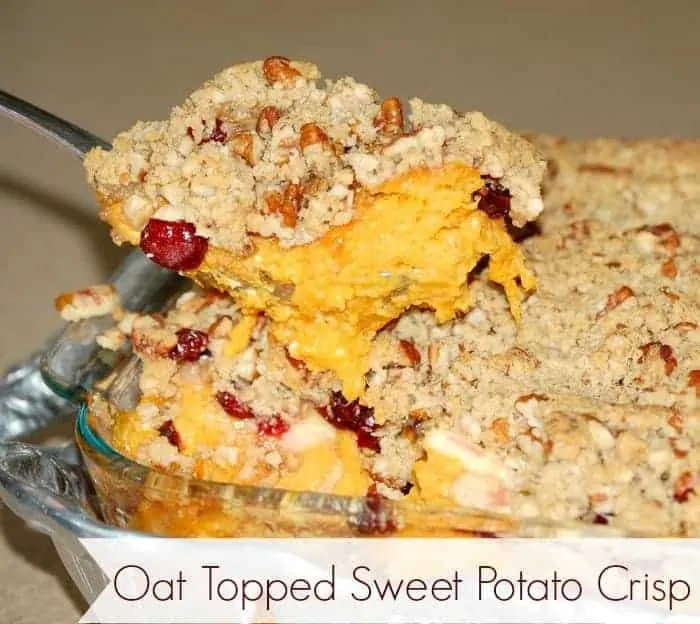 Oat Topped Sweet Potato Crisp
Ingredients
1 8-oz. package cream cheese
1 40-oz. can cut sweet potatoes (Mom used about 7 fresh sweet potatoes)
3/4 cup packed brown sugar, divided
1/4 teaspoon cinnamon
1 Granny Smith apple, chopped
2/3 cup chopped cranberries (Mom used Craisins)
1/2 cup flour
1/2 cup old-fashioned or quick-cooking oats (uncooked)
1/3 cup cold butter
1/4 cup chopped pecans
Instructions
Preheat oven to 350 degrees.
Beat cream cheese, potatoes, 1/4 cup sugar and cinnamon with mixer until well blended.
Spoon into 1-1/2 quart casserole; top with apples and cranberries. Mix flour, oats and remaining sugar in medium bowl; cup in butter until mixture resembles coarse crumbs (I just use my fingers). Stir in nuts.
Sprinkle over fruit layer in casserole.
Bake 35-40 minutes or until heated through.
You can make this the day before and make the topping before you bake it the next
Nutrition Information:
Amount Per Serving:
Calories:

359
Total Fat:

6g
Carbohydrates:

70g
Protein:

8g