Dumb Ways To Teach Your Children About Safety is sponsored by Dumb Ways JR and The Motherhood all opinions are my own!
Have you ever heard of Dumb Ways To Die? If you have children with app bearing devices chances are good you have. What you may not know is that Dumb Ways to Die was created as a PSA campaign for Metro Trains in Australia. It all started with a viral video, and the rest is history.
I think it's funny that Dumb Ways To Die was created with safety in mind because when my kids first downloaded the game, I made them delete it. I'm not even kidding. It was gory, and the way the characters died was unlike anything I had ever seen in a "game" before.
My boys probably consider themselves unfortunate because unlike other kids their age they have to keep their devices downstairs at all times. They can only play them in the living room, which means their sisters can watch them, which means if it's not appropriate for their sisters they can't play it.
Yes, they are living the tough life.
Believe it or not, all of the kids were pretty stoked when they learned that Dumb Ways had released two more games, this time, gearing them towards the younger app players (3-7 years old) and putting them under a new brand called Dumb Ways JR.
The two new games do away with the gore and death and keep the humor and safety messaging. That's refreshing!
Dumb Ways JR Boffo's Breakfast (Apple & Google Play) & Dumb Ways JR Loopy's Train Set (Apple & Google Play) are both available for download from the App Store (iPhone) and Google Play (Android).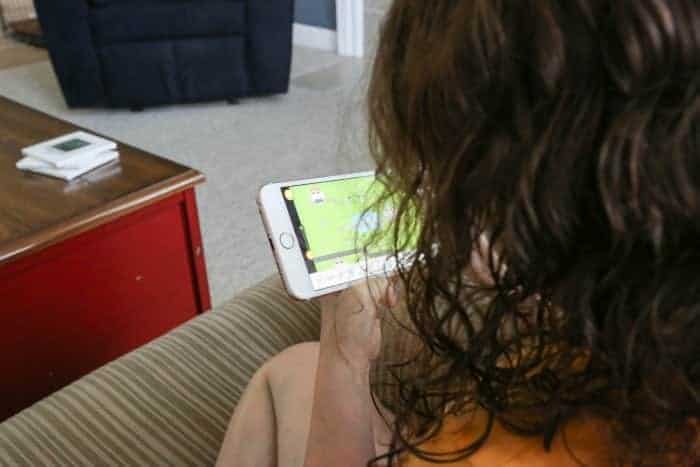 As a mom who used to homeschool and still believes in the power of teaching our children at home I love the thought that went into designing these apps. I attended a conference call with the creators of the Dumb Way JR Apps and I loved hearing everything they had to say about the apps. Their goal was to focus on gentle learning. Which in what I like to call teaching kids without them even realizing it.
Dumb Ways To Teach Your Children About Safety:
The best way to teach something to a child is to find out what they are interested in and get them as heavily involved in it as possible. If it's a game, let them PLAY! If they love robots, birds, whatever the subject may be you can teach them anything. We have this idea that children have to be taught things in this compartmentalized way, but that's just not the way we learn. We all learn best when we are doing what we love.
Children love to play so it makes sense that they would learn the most when they are playing. Even when it seems like a child is just sitting on the floor playing with blocks they are learning so much about the world around them and how things work. I think the same can be said for these apps.
The lessons learned through Dumb Ways JR Boffo's Breakfast & Dumb Ways JR Loopy's Train Set may not be taught in the way you would expect. While you may expect a child's kitchen safety app to tell a child "If you turn the heat up too high you could burn the food, you could set the house on fire, you could…" this isn't always the best way to approach things. Children learn best through their experiences. They learn through experimenting and problem-solving. When they see Boffo's reaction to the heat getting hotter and hotter, they make a personal connection that resonates with the child.
Being told what to do and what not to do, that's not learning. While following commands is an important part of life, learning the how and why of life is where true learning takes place, and these apps are great tools for helping your child explore their world in a fun and safe way!
The Dumb Ways JR Apps win because they were built with a child-centered design!
Dumb Ways JR Boffo's Breakfast:
In Boffo's Breakfast, Boffo (the younger version of one of the characters in the original Dumb Ways to Die video) is hungry, and the child playing with the app is his personal chef. Children make him an awesome cooked breakfast by chopping and grating ingredients. They can also add sloppy items such as eggs and milk, stir the mixture, cook it, add seasonings, and serve their meal to Boffo. Players are encouraged to experiment with how many different creations they can make for Boffo.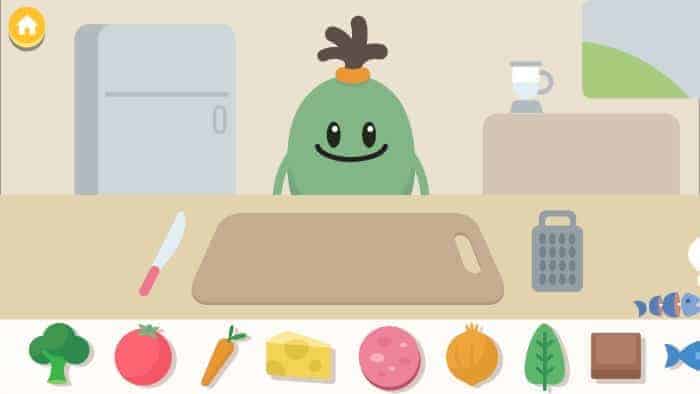 This app engages children in a fun, imaginative play where players can create endless food mash-ups for a hungry Boffo.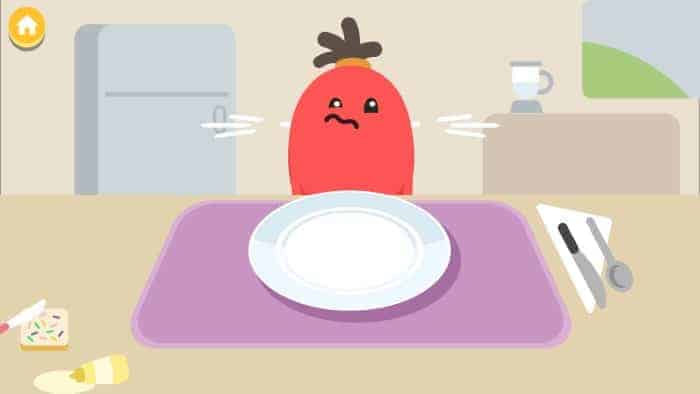 Watch Boffo react when he bites into a whole chili or when weird ingredients are combined – sprinkles with eggs just don't go well together! Kids think it's hilarious when Boffo screws his face up to combinations he doesn't like. Players create fun meals from 20 ingredients, learn about food combinations and experiment as they tap, stir, mix and swipe.
Children can learn about various aspects of kitchen safety in the app such as when Boffo gets worried when the heat is too high on the stove cooktop.
Just take a look at us playing the game here:
Dumb Ways JR Loopy's Train Set
With train safety at the core of Dumb Ways to Die, and trains having universal appeal for both young boys and girls, creating an app centered on a train network seemed logical.
In Loopy's Train Set, players can select from two modes of play: Drive or Build. In Drive mode, children interact by using onscreen controls to drive Loopy's train around a prebuilt track. The design encourages children to create their narratives as they assist passengers to board and exit the train as well as select the train speed and more points to alter the route.
In Build mode, the children are the makers. They create their train track by arranging and connecting different-shaped pieces of track. They can also add items such as houses, trees and animals to their scene. After they have built some track, players can drive the train along it.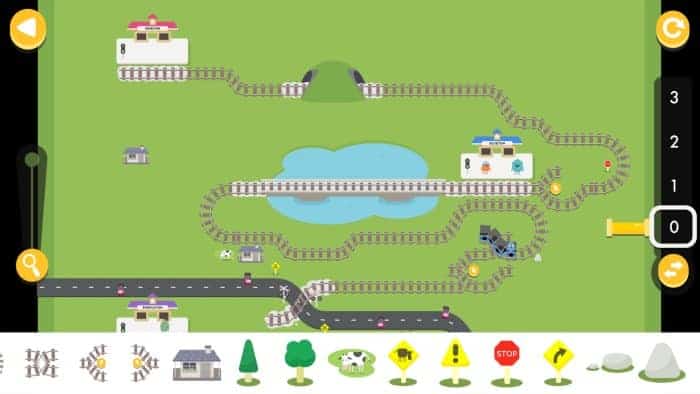 Children can learn about various aspects of train safety in the app such as the characters cannot cross the tracks, and the boom gates at the level crossings automatically come down when the train approaches.
Wanna see how we played the game? Check this out:
Connect with Dumb Ways JR online:
Dumb Ways JR
Dumb Ways JR Facebook
Dumb Ways JR Instagram