Cinnamon Raisin Bagel Bread Pudding is so yummy! The last time I bought Lender's Bagels B1G1 one whole bag sat in my refrigerator until they were too old to eat. I wasn't going to let that happen this time, so I searched out a recipe to make something sweet. Nothing sweet ever goes to waste in my house! I came across this one, and it appealed to me because you whip it up and stick it straight in the oven. No sitting in the fridge to soak. Put it in the oven while you eat dinner, and dessert is ready when you're done! Most of the ingredients you should have on hand too. I did have to buy cream at Publix, but it was only $1.29. So, nothing that will blow your totals 🙂
You may have noticed that the Chicken and Honey-Buttered Waffles have slipped by the wayside this week. If you were looking forward to that one, send me an e-mail, and I'll send the recipe to you. Otherwise, I'll post it again when I put it on the menu another week. I also didn't make Sunday's Best Chicken because the Essentials have changed at Publix, and the whole chicken was no longer on sale…so it didn't find its way to my buggy.
In the meantime, break out the Lender's Bagels and make the family smile with this one…
Cinnamon Raisin Bagel Bread Pudding Recipe: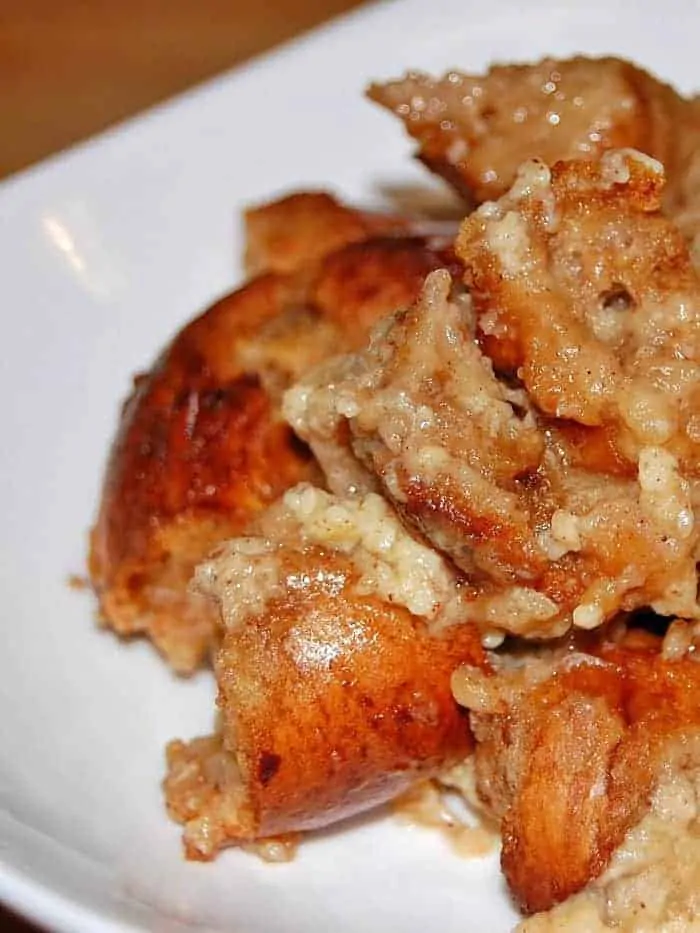 Cinnamon Raisin Bagel Bread Pudding Ingredients:
6 cinnamon raisin bagels, torn into bite-size pieces
1-1/2 cups milk
1 cup whipping cream
1/4 cup unsalted butter, melted
3 large eggs, beaten
3/4 cup sugar
1/2 teaspoon cinnamon
1/4 teaspoon nutmeg
1 teaspoon vanilla
How To Make Cinnamon Raisin Bagel Bread Pudding:
Preheat oven to 375 degrees. Generously butter a 9X9 baking dish.
Place was torn bagels in a large mixing bowl; pour over milk and cream. Let absorb for about 10 minutes. Meanwhile, melt butter and let it cool. When cooled, mix with beaten eggs and remaining ingredients.
Combine with bagel mixture. Pour into prepared baking dish; place in the center of oven. Bake uncovered for 45 minutes or until knife inserted in center comes out clean (mine took a little more).
Serve warm alongside vanilla ice cream (ice cream optional, of course, that's just the way I like it!)
Enjoy!
(adapted from RecipeZaar)
After School Snacks and the Latchkey Kid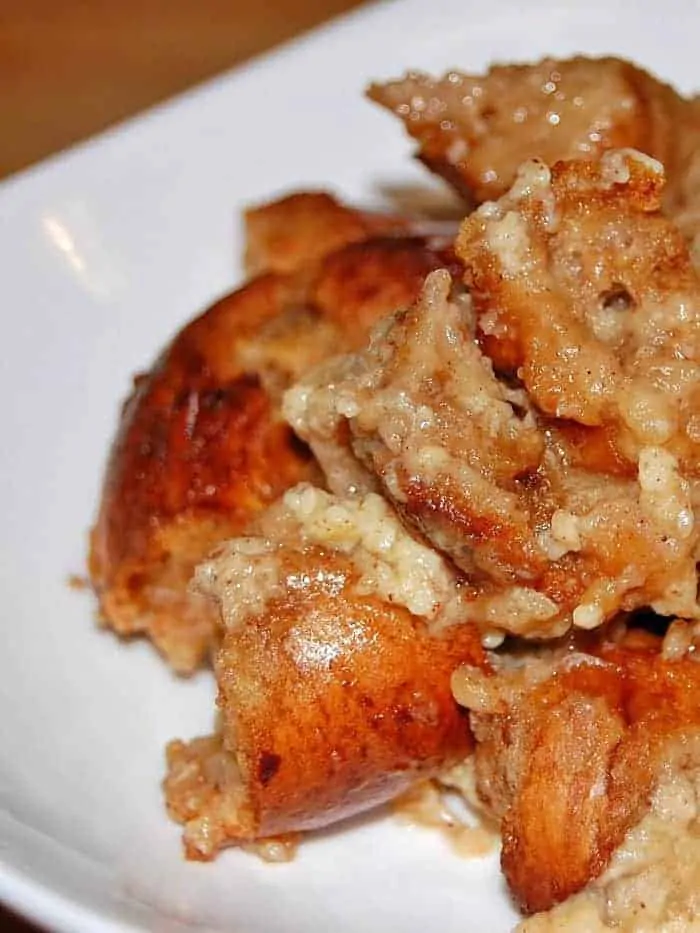 Cinnamon Raisin Bagel Bread Pudding
Ingredients
6 cinnamon raisin bagels, torn into bite-size pieces
1-1/2 cups milk
1 cup whipping cream
1/4 cup unsalted butter, melted
3 large eggs, beaten
3/4 cup sugar
1/2 teaspoon cinnamon
1/4 teaspoon nutmeg
1 teaspoon vanilla
Instructions
Preheat oven to 375 degrees. Generously butter a 9X9 baking dish.
Place was torn bagels in a large mixing bowl; pour over milk and cream. Let absorb for about 10 minutes. Meanwhile, melt butter and let it cool. When cooled, mix with beaten eggs and remaining ingredients.
Combine with bagel mixture. Pour into prepared baking dish; place in the center of oven. Bake uncovered for 45 minutes or until knife inserted in center comes out clean (mine took a little more).
Serve warm alongside vanilla ice cream (ice cream optional, of course, that's just the way I like it!)
Nutrition Information:
Amount Per Serving:
Calories:

307
Total Fat:

3g
Carbohydrates:

59g
Protein:

11g