Clever Girls sponsored this post.
I'm a mom of four which means I get calls from the school nurse on a regular basis. I have very strict rules about leaving school when you don't feel well. Unless the kids are running a fever or have something contagious, they know they are staying in school. Children whose parents work from home are more likely to try to get out of school any way they can and I get that. I remember when my mom worked nights and was home during the day. Even though I knew she was sleeping, I still wanted to go home. My kids are the same way.
Thankfully they learned pretty early on that mom doesn't mess around. School attendance is important to me, but even more important than perfect attendance awards is a strong character. I want my children to work through itchy throats and watery eyes. I want them to understand that in life we often have to do things we don't "feel" like doing. Yes, they will call me over anything. Allergies acting up? I get a call. Sore finger… ring ring. I'll admit, when they first started school I would pick them up over any little thing, but I quickly learned to "Just Say No".
My kids have gotten better about not calling home over every little thing, but they always know that they can call home for medication. I watch my kids pretty closely and usually know when I'll likely be making a trip to school to dispense medication. During the summer I am often treating allergies, eczema, and migraines. During the winter it's sore throats and minor colds. That's why I keep an all seasons medicine box in my car.
Having a DIY On The Go Medicine Box helps me because I can drop what I'm doing here and home and run over to the school without having to search for medications. I like having everything in one place and it also makes travel easier.
Before I tell you how we stock on medicine box, I'll show you how to make one for yourself.
DIY On The Go Medicine Box Materials:
Wood
Rope (or cute decorative knobs)
Saw
Sander
Drill (not pictured)
Staple Gun
Tape Measure
Wood Glue
Paint & Paintbrushes
Pencil
Start by measuring your car's console (if you want it to fit inside) or decide on a size that works well for you. Then measure and line your wood accordingly.
Once you've marked your wood cut your wood. Make sure to hold your box together before painting to make sure everything fits together well.
Paint the wood front and back giving it plenty of time to dry before assembling your box.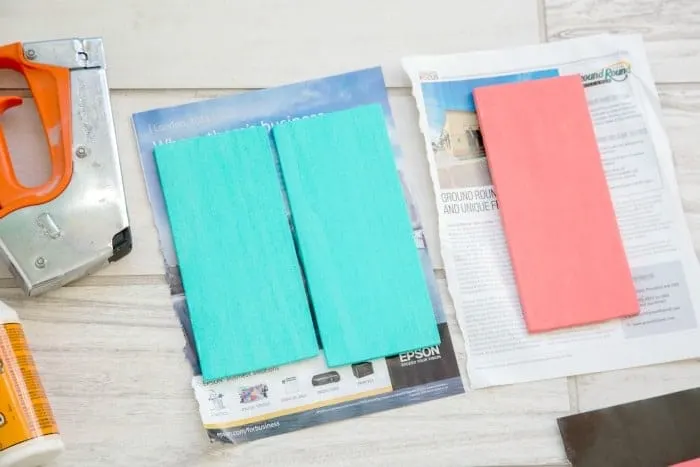 If you are using multiple colors make sure you leave them set up the way they will be assembled or you will end up painting the wrong ones. Don't ask me how I know this. 😉
Once your paint has dried start gluing your pieces together.
After gluing your box together, you will need to let it sit for a few minutes before stapling.
Be careful to line up the stapler well or you will end up going through the front of the wood. Again, don't ask how I know! Once you've assembled your box you can go back and paint over the staples.
Drill a hole or holes on each end so you can add any decorative accents to your box. I liked the rope idea, but afterward saw some cool knobs that would have been awesome too.
After you've drilled your holes you can run your rope through or screw on your decorative knob and you're ready to go. You may also want to sand around the holes and paint them so it doesn't look unfinished.
So what do I keep in my DIY on the go medicine box? I'm glad you asked.
My kids can't take any medicine at school (sometimes even prescriptions can't be administered if the nurse is not there). This means I have to be prepared for everything.
To stock your medicine box you need headache medicine and pain relievers for headaches (duh) and any injuries that may occur at school. I like to use the medicines that last up to eight hours so I know the kids can make it through the day. For cold and flu seasons I like to keep both the new cherry flavor Chloraseptic Spray® and Chloraseptic® Sore Throat + Cough Lozenges. With cold and the flu season comes runny noses and coughs that make throats raw and sore. Chloraseptic® is the # 1 sore throat relief brand that provides fast-acting relief for sore throats and mouth pain to help you get through your day. Chloraseptic® lozenges have a soothing liquid center that relieves pain and cools nasal passages. Thankfully, as long as I am there to give the kids the lozenges they can go back to class with them. Did you know that you can stay ahead of the flu this season with their online Cold + Flu tracker To check for outbreaks and symptoms in your area, go here and click on Cold + Flu Tracker and enter your zip code.
My other go-to school meds include allergy medicine, eczema creams, and essential first aid supplies. While I don't really need to keep bandages in my car for school I still keep them in my medicine box for road trips along with my son's inhaler and first aid cream.
If you'd like to try out the Chloraseptic® Sore Throat + Cough Lozenges or new cherry flavored throat spray you can save ".00 here.
My favorite method of treatment is prevention. I don't enjoy making multiple trips to the school for sick kids so I try to keep them as healthy as possible. I do this by making sure they know how to take care of their bodies by eating healthy and working out as well as being safe at school.
Here are a few tips from Chloraseptic® Pharmacist Maria Mantione's for cold and cough season:
Wash your hands often. Washing your hands with soap and water is the best way to prevent the spread of the common cold.
Prevent illness by practicing healthy habits. Make sure to get enough sleep, eat a balanced, nutritious diet, exercise, and minimize stress.
If you do get sick, talk with your pharmacist about how to manage your symptoms with medications. Before the cold season, stock your medicine cabinet with the essentials. Stick to single ingredient products, so you have you what you need to treat your specific symptoms. These include pain relievers and fever reducers, a decongestant, cough medicine, lozenges and a sore throat spray. Topical medications, like Chloraseptic sore throat sprays and lozenges, are great to have on hand because they are portable, can be used safely with other cold medicines, and have very few side effects.
I hope you enjoyed this DIY project and found our tips helpful. I will love to know if you try this project out for yourself because I love featuring DIYs from our readers!
I was selected for this opportunity as a member of Clever Girls and the content and opinions expressed here are all my own.