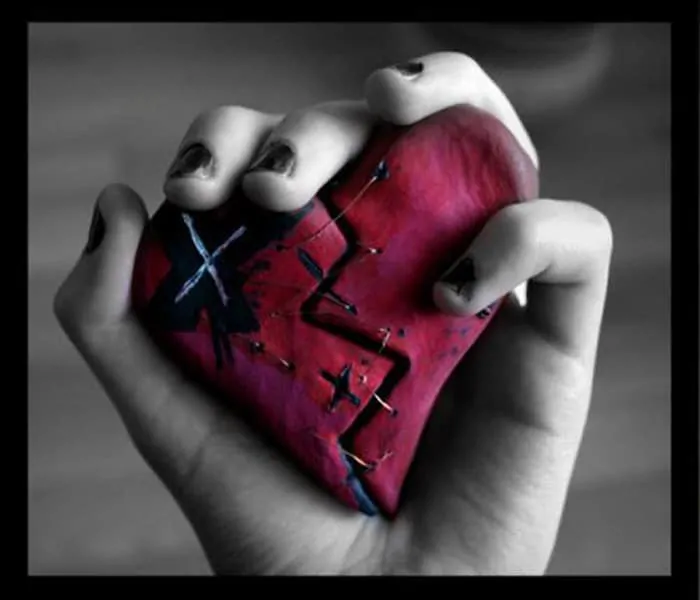 If you have ever been betrayed by the one you love you know what a broken heart feels like. There is a pain that is so deep it chokes you, you literally find yourself gasping for air in-between sobs for what has been lost. Maybe it's trust, a relationship, your joy. Betrayal always costs something. It can come quickly or slowly over time but it has a price.
I am learning that nothing and no one can heal the pain of a broken heart and tattered soul.
No one but Jesus.
Only Jesus can fully understand the extent of your brokenness, and only He can heal you.
The mistake we fall in to is believing that something (alcohol, work, money) or someone (friends, family, new love, old love) can heal our hurts. These things actually tend to compound our issues and pain because they don't satisfy, and leave us longing for something that we can't quite grasp.
What we truly want is to be whole again. We think that if they just come back, or if we just find new love we will have our joy restored.
It's a lie.
If they broke your heart, and came back to you, you would have to forgive them. You can't forgive them apart from Christ because the pain they caused is just to severe. If they don't come back and you are to experience healing you still have to forgive them. The only way you can heal and forgive is to turn to the one who restores us. He can restore a broken heart without any of the circumstances you would think are required. He can ease the pain when your mind takes you back to all of the painful memories that stab you like a knife. He can change your life!
I know, because He's changing mine.
When my mind goes back to the places that haunt me, to the thoughts that plunge me into the pit, He is there. He tells me to come away from those thoughts and live in the peace and joy of the day. He rescues me when I want to return to the dwelling place of the pain, and heart ache. It's not about covering up the pain with false ideas, and anger or sin. It's about restoring my heart and giving me a better life in the midst of the destruction.
Only He can do that!
This is what the Bible has to say about the broken-hearted:
~ The Lord is near to the brokenhearted and saves the crushed in spirit. Psalm 34:18
~ Trust in the Lord with all your heart, and do not lean on your own understanding. In all your ways acknowledge him, and he will make straight your paths. Proverbs 3:5-6
~ He heals the brokenhearted and binds up their wounds. Psalm 147:3
~ My flesh and my heart may fail, but God is the strength of my heart and my portion forever. Psalm 73:26
~ Peace I leave with you; my peace I give to you. Not as the world gives do I give to you. Let not your hearts be troubled, neither let them be afraid. John 14:27
~ Cast your burden on the Lord, and he will sustain you; he will never permit the righteous to be moved. Psalm 55:22
~ Come to me, all who labor and are heavy laden, and I will give you rest. Take my yoke upon you, and learn from me, for I am gentle and lowly in heart, and you will find rest for your souls. For my yoke is easy, and my burden is light." Matthew 11:28-30
~ He himself bore our sins in his body on the tree, that we might die to sin and live to righteousness. By his wounds you have been healed. 1 Peter 2:24
~ The thief comes only to steal and kill and destroy. I came that they may have life and have it abundantly. John 10:10
~ "Remember not the former things, nor consider the things of old. Isaiah 43:18
~ Brothers, I do not consider that I have made it my own. But one thing I do: forgetting what lies behind and straining forward to what lies ahead, I press on toward the goal for the prize of the upward call of God in Christ Jesus. Philippians 3:14-14
~Be strong and courageous. Do not fear or be in dread of them, for it is the Lord your God who goes with you. He will not leave you or forsake you." Deuteronomy 31:6
The Lord tells us that He has the power to help us move forward, to heal the hurts others have left on our hearts, and to forgive us for the hurts we have inflicted. We desperately need these from Him before we can start living again. We need to be able to forgive without the person asking for forgiveness, we need to look forward to the future God has for us or this life is pointless. Jesus didn't just say he came to give us life, but ABUNDANT life. That is regardless of our circumstances.
I will leave you with this today…
Were you a slave to your previous way of life? Did God pluck you out of that lifestyle (possibly against your will)? Are you really going to look at where God has brought you and question His goodness and plan for you? God is always working, and His ways are always best, we just don't experience it until we change our mindset. The Hebrew people were slaves to the Egyptians, some of them were "comfortable" and some were ready for change. When God brought them out they rejoiced at His power, but as soon as they didn't understand His plan (no food) they missed their life of slavery. Do you miss your life of slavery? Can you not see the promised land?
Turn to Him, and trust Him with all your heart, then ask for wisdom, faith, and patience. I don't know about you, but I don't want to have to wait 40 years…