Who doesn't love Loaded Twice Baked Potatoes?These are WAY better than those frozen ones. Publix has a 5 lb. bag of Idaho potatoes for $2.49 this week. I found a 10 lb. bag of Russet potatoes at Allegri's Farm Market today for $1.99. I've even done a recipe similar to this where I used red potatoes. So, use what you've got on hand. Change it up a bit if you need to. I wonder if you could freeze these? I've thought about it before, but never tried it. I usually just half the recipe.
Loaded Twice Baked Potatoes Recipe: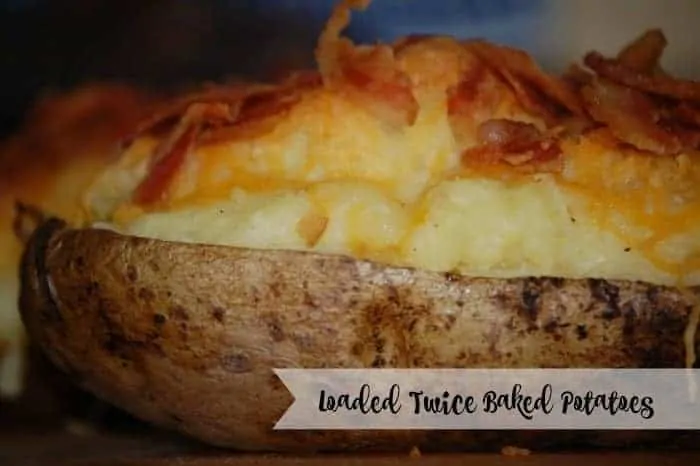 Loaded Twice Baked Potatoes Ingredients:
4 large baking potatoes, scrubbed
6-8 tablespoons butter (I used Smart Balance)
2 teaspoons salt
1/4 teaspoon black pepper
1/4 cup milk, or as needed
1/4 cup sour cream (I used light)
2 egg yolks, beaten
1 cup shredded sharp cheddar
4-6 slices bacon, cooked and crumbled
How To Make Loaded Twice Baked Potatoes:
Preheat the oven to 400 degrees. Bake the potatoes on a rack for 1 hour or until soft. Allow them to cool slightly.
(Or you can cook in a microwave in four minute intervals, flipping over after each one, until soft. Be sure to prick the skins with a fork. Mine took approximatley 24 minutes in the microwave this evening.)
Cut the potatoes in half, scoop out the pulp, and place in a mixing bowl, setting the skins aside. Add the butter, salt, pepper and sour cream. Mash well, adding enough milk to make a fairly stiff mixture. Add the beaten egg yolks and stir well.
Spoon the mixture into the potato skins and top with the shredded cheese. (If I bake 4 potatoes- 8 shells- I usually fill 6 of them because I like them really full. If I bake 3 potatoes- 6 shells- I fill 4 of them).
Place on a cookie sheet and bake for 20-25 minutes or well browned. Top with the crumbled bacon when you take them out of the oven.
We served the potatoes tonight with Grilled Chicken Breasts and green beans.
Enjoy!
(adapted from Junior League Celebration Cookbook)