My daughter Alexis has been training for American Ninja Warrior since the day she was born. She learned how to climb out of her crib at a young age, quickly started climbing and breaking baby gates, and is constantly walking up the door frames. She reminds me of my younger brother Hallie. He spent months trying to teach me how to walk down the hallway without ever touching the carpet (which I never learned). If she's not inside climbing the walls, she's outside doing flips which are why I knew the Lil' Monkey Dome Climber would be perfect for her.
I ordered the climber from Amazon and when it arrived she couldn't wait to put it together. Anna and Lexi both helped me build the dome, and we finished in under 30 minutes, so set-up is a breeze. I did manage to pinch one of my fingers when hooking two of the parts together, so please watch out for little hands while building this. I made sure my girls kept their fingers clear of the holes (if only I had followed that same advice).
After we got everything put together the girls immediately started playing on it, swinging from it, and scaring me by standing on top of it. Which is only really scary when my husband moves it onto the concrete patio so he can cut the grass. It is big enough for both of the girls to play on, but Lexi has almost sized out of it because she's so tall. I also have to make sure they don't get too crazy when they are on it together because if it's not anchored down too much weight could make it flip over. It hasn't flipped over yet, but I can see it coming off the ground a little if they rock it.
The age range for Lil Monkey is 3-6, so technically Lexi is too old to be on it. I figure she'll be fine if she's on it alone because she's so light, but I think we are going to have to purchase a bigger one next summer. Then I will pass this to one of my nieces or nephew. The reason I wanted to try this out was because I wanted to see if it would hold the girls attention. They have been asking for a climber for a while now, but I assumed it would just sit in the yard and never get used. Now I know that they will play on it, and they even invite the neighbors to play on it as well.
Anna will still get another year out of it, and we plan to bring it in the house this winter so they can use it as a movie fort. Overall. I think it is an excellent product and perfect for 3-6-year-olds. As with most toys now this dome is paired with a free app that can be downloaded and used during play. I'm not a big fan of allowing electronics outside, so this will be something we explore more when we bring the climber in for the winter.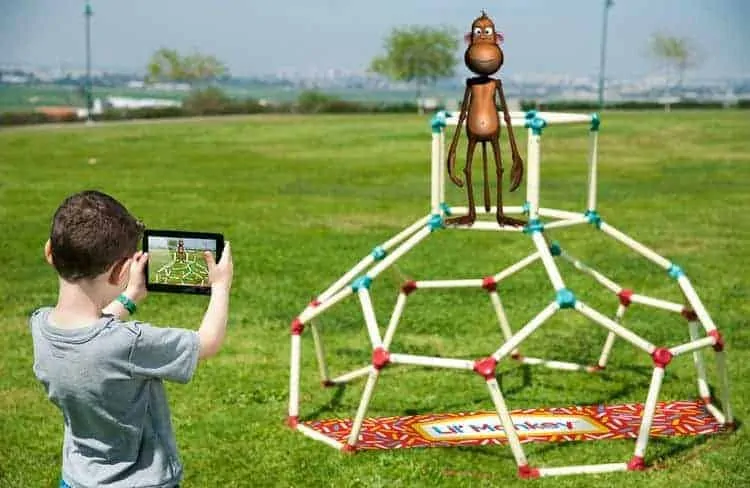 Info about the app:
The APP which is free to download once the Dome has been purchased, cleverly detects the location of the child and the Dome. When the child moves around the Dome, the App will identify the location of the child and will reveal a virtual world of fun! A Lil' Monkey character will appear and instruct the child to feed him with fruits, discover treasures and win points. The player gets points by completing objectives as quick as possible. The quicker the child, the better chance to win those points!
What you need to know:
Where to buy: You can purchase the Lil Monkey Dome Climber on Amazon.com
Price: $139.99 with free shipping
Ages: 3-6
Where to find the app: Apple & Google play
I received this product in exchange for my review. All opinions are my own.