Good news! Now you can re-use an empty candle jar by making a Halloween Mummy Candle Jar out of it.
I have had three of those air freshener candles that were all burned down sitting on my kitchen counter for about a month. I kept thinking, I hate to throw that glass away. Indeed there is a way to recycle this.
Well, I am happy to say that I finally used them. One of my favorite things about this craft is that you don't glue the bandages to the jar! I am planning on re-using this re-used jar again for the next holiday. So stay tuned for another great easy way to update your Halloween Mummy Candle Jar craft. Now I want to share my idea with you so that you can mummify your house for Halloween.
Halloween Mummy Candle Jar Tutorial:
Halloween Mummy Candle Jar Supplies:
Some used candles
An old t-shirt
Scissors
Pliers
Wet wipes
Self-Adhesive Googly Eyes
LED flickering tea lights
How To Make A Halloween Mummy Candle Jar:
Step 1: Start with a used candle. Scrape the remaining wax out with a butter knife. You might want to save this wax if you enjoy the fragrance to be re-used in your warmer.
Step 2: Remove the wicks with a pair of slip-joint pliers. After removing the wicks, use baby wipes to remove any remaining wax from your jar.
Step 3: Cut strips from the old t-shirt and tie them together to make your "linen bandage
Step 4: Wrap your jar with the "cloth bandage" you just made. Tie the ends together when you are finished mummifying your jar.
Step 5: Attach your Self-Adhesive Googly Eyes to the jar. Put your luminary in the jar as well.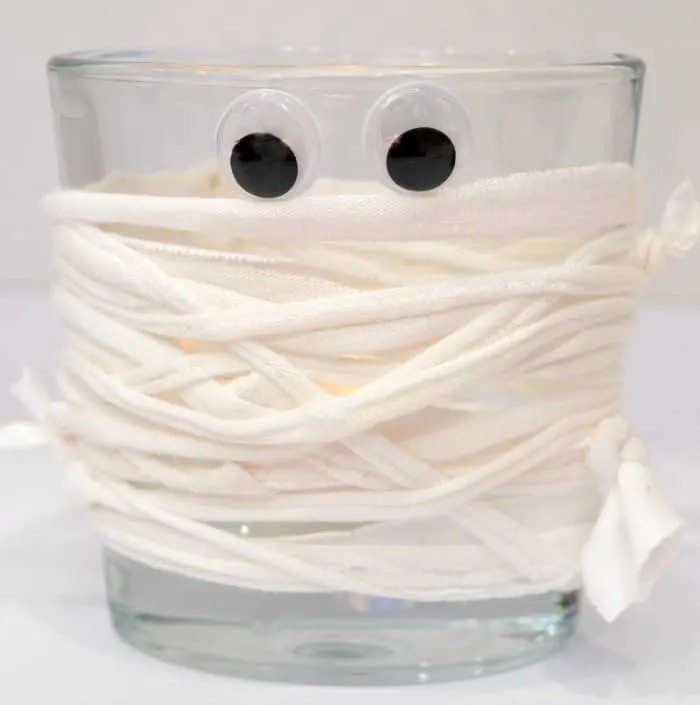 Well, that was easy! You are now the proud owner of a Halloween Candle Jar Mummy Craft! I am so excited to create something with things you already have around the house. I already had the candles. We enjoyed burning them until they were gone. The old t-shirt was not an issue since I keep his old ones for rags when he buys new ones. I remembered that I had some luminaries in my Christmas decorations from last year. And, as they say, the rest is history.
Happy Halloween.