We decided it was time for a set of DIY Cornhole Bags when a friend of ours made us this fantastic and amazing set of cornhole boards!

We were so excited about this gift that we rushed out and bought some bags so we could play.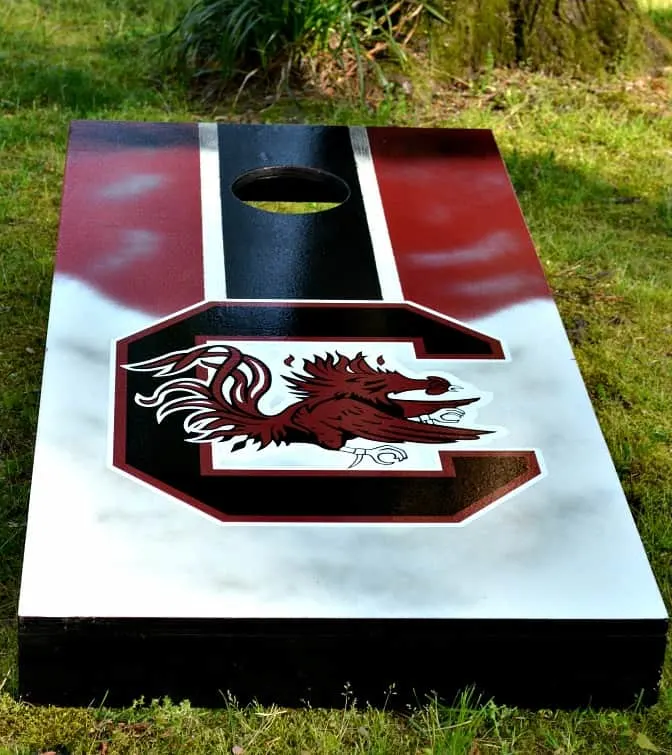 Well, the bags we purchased were too small and when we tossed them they would hit the board and fly off the back! It almost looked like they were picking up speed as they crossed over the board and went off the back. In spite of our difficulties with the bags, we had a ball. When we were worn out from our session of cornhole, we decided we MUST make our set of bags. Now that we found out how much fun it is to play I decided to share this tutorial with you.
DIY Cornhole Bags:
These bags are inexpensive to make, and you will love being able to choose your fabric to personalize your "secret weapon" to win at cornhole!

DIY Cornhole Bags Supplies:
1/2 yard Fabric** of each color you choose (Duck is recommended)
Thread
Scissors
Straight Pins
Ruler and/or MeasuringTape
Ink Pen
Digital Scale
Funnel
Shelled Corn Wild Bird Food
Tacky Glue (optional)
Iron
**(By the way, 1/2 yard will make six bags, so you can cut down on the fabric if you wish. Or you can keep the extra in case of breakage.)
How To Make DIY Cornhole Bags:
Step 1: Wash and dry your fabric.
Step 2: Iron the wrinkles out of your fabric to prepare it for marking and cutting.
Step 3: Mark your fabric. You need 8-7-inch squares for one set of cornhole bags.
Step 4: Cut out your squares.
Step 5: Pin right sides together.
Step 6: Sew 1/2-inch seams on three sides. On the fourth side, sew all but enough space to get your funnel inside for filling with corn.
Step 7: Trim corners. (Optional add some glue to your seams to reinforce them)
Step 8: Turn right side out.
Step 9: Fill with enough dried corn that the sewn bag weighs from 14.5 ounces to 16 ounces. Too bad we can't get 16 oz of patience to go along with this step so that when the corn falls out it won't bother us!
Step 10: Turn 1/2-inch under on each side of the open end and glue together. Then sew it shut along the edge.
Now you have one DIY Cornhole Bag done. Your completed dimensions should be 6-inches by 6-inches. Repeat the steps above for the next seven bags and you can call "Game On!"
Ok, we are ready to play. Cornhole anyone? I hope you enjoy playing yours as much as we do!!