When I came home from the hospital after having Ella, my first daughter, a friend of mine brought me a Cream Cheese Pound Cake. I thought I had died and gone to heaven. I had never had a "real" homemade pound cake. I ate it for breakfast, lunch and dinner! Obviously, losing the baby weight wasn't on my mind yet. I searched out recipes and found this one. I'm not sure if my friend used cream cheese, but this cake is just as good. The first time I made it I lost count of the sugar I was adding, and I ended up using an extra 1/2 cup. It was delicious! So, the second time I counted correctly and the cake wasn't as good. Figure. More sugar equals better pound cake! This is my "edited" version that includes the extra 1/2 cup of sugar. The crust on the cake is great. Probably my favorite part. I promise you, though, if you make this, plan to take some to somebody else. If this cake sits in your house, you WILL eat all of it!
Cream Cheese Pound Cake Recipe: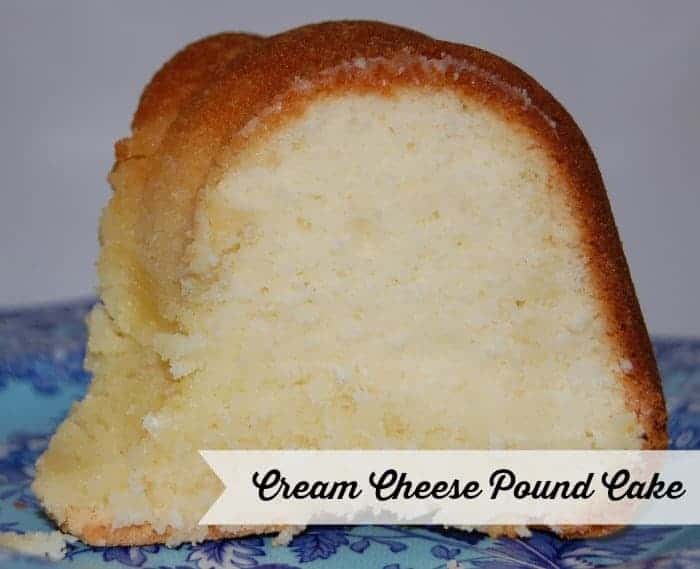 Cream Cheese Pound Cake Ingredients:
3 sticks unsalted butter, softened
1 8-oz. block cream cheese softened
3-1/2 cups sugar
1/2 teaspoon salt
1-1/2 teaspoons vanilla
6 eggs
3 cups cake flour
How To Make Cream Cheese Pound Cake:
Cream butter, cream cheese and sugar in an electric mixer until light and fluffy, about 3 minutes. Add salt and vanilla. Add eggs one at a time and beat after each addition. Add flour, dividing into four additions. Pour into a 10" round tube cake pan or bundt pan, buttered. Bake at 325 degrees for 1-1/2 hours or until done (I used my Pampered Chef Stone Bundt pan, so I increased the temperature to 350 degrees). Let cool in the pan 10 minutes, then flip out onto a platter. Cool completely.
Enjoy!
(adapted from NorthPole.com)